CITY 2 COLCHESTER UNITED 1
Nationwide League Division 2
31st October 1998
attendance 24,820
Scorers
City Horlock(49 pen), Morrison(53)
Colchester Dozzell(58)
City Weaver, Edghill, Morrison, Wiekens, Crooks, Vaughan, Allsopp, Mason, Horlock, Goater, Branch – subs Bishop(45), Dickov(79), Fenton(unused)
Colchester Emberson, Dunne, Stamps, Williams, Greene, Buckle, Dozzell, D Gregory, Lock, N Gregory, Duguid – subs Sale(71), Abrahams(79), Betts(unused)
BRANCH IS BROUGHT DOWN IN THE AREA AND KEVIN HORLOCK CONVERTS THE PENALTY
ANDY MORRISON SCORES ON HIS DEBUT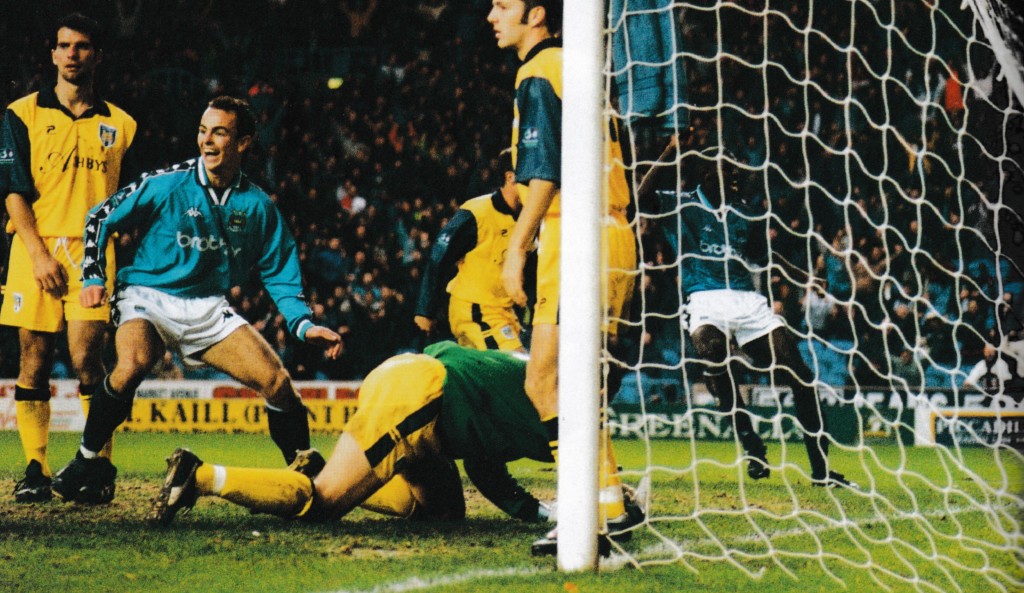 ANDY MORRISON SCORES ON HIS DEBUT
What a fantastic debut for on loan Andy Morrison, the 13 stone defender built like the preverbial brick shit house was commanding and confident and drove the Blues on to victory scoring City's second goal himself. Michael Branch also had a good debut as did Ian Bishop who was making his first appearance after rejoining the Blues in the Summer. The first half was forgettable, but with the introduction of Bishop after the break City looked more potent and in the 49th minute Branch was pulled down in the box and Kevin Horlock converted the spot kick to put City in the lead. Born leader Morrison then showed what City had been missing as he scored the Blues second with a bullet header. It should have been comfortable for the last half hour but Colchester grabbed a goal back, but City held on for a well needed victory.
Andy Morrison receives his Man of the Match award from Dennis Tueart
from THE GOOD, THE MAD AND THE UGLY, THE ANDY MORRISON STORY By Andy Morrison with David Clayton … I stayed at the Copthorne Hotel in Salford Quays overnight and returned to Maine Road at one the next day, ready to make my debut against Colchester United. I was nervous, more so than usual and we piled into a bus and went to a local school to do our warm up. This was Willie's [Donachie] idea and it was designed to keep the younge players away from the negative comments and pressure for as long as possible. He wanted them to enjoy walking down the tunnel and have the adrenalin pumping rather than be apprehensive at the prospect of going on to the pitch. The fans gave me a decent reception but were probably wondering who the hell I was. In my first tackle I sent a Colchester forward into the air with a solid challenge and the whole stadium got a lift. I had the impression it had been a while since they had seen a full blooded tackle, but it was exactly what they wanted to see. It was music to my ears. We went 1-0 up and then, just after half time, we won a corner on the right. I jogged into the box, wondering if I could do what I'd done at Huddersfield and Blackpool: score on my debut. The ball came in and fell perfectly for me to time my run and jump. I thumped a header past the Colchester keeper and ran off to celebrate with the City fans. Other than receiving three stitches in a shin wound, I can't recall much more but I had got what proved to be the winning goal in a 2-1 victory. What a start! I also picked up a bottle of champagne for being voted man of the match by director and former City legend Dennis Tueart.