CITY 4 CHELSEA 5
Full Members Cup Final
Played at Wembley
23rd March 1986
attendance 67,236
scorers
City Kinsey(9), Lillis(85 & 89 pen), Rougvie(88 og)
Chelsea Speedie(23, 51 & 58) Lee(36 & 79)
Ref Alan Saunders
City Nixon, Reid, Power, Redmond, McCarthy, Phillips, Lillis, May, Kinsey, McNab, Wilson – used subs Simpson, Baker
Chelsea Francis, Wood, Rougvie, Bumstead, McLaughlin, Pates, Nevin, Spackman, Lee, Speedie, McAllister – unused subs Hazard, Dublin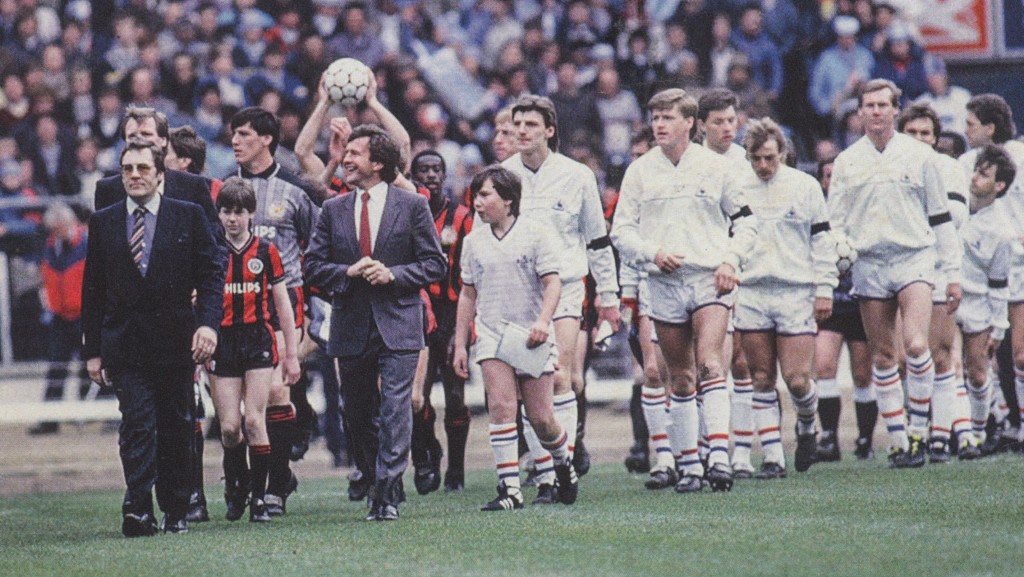 FROM THE PRESS BOX
BLUES CASH IN ON THE FUN FINAL
DEFEAT SO TOUGH ON LILLIS, BUT CITY GET £90,000 SWEETENER
At least the Full Members Cup will go down into the record books with some dignity and respectability.
The Football League's most embarrassing and ill-conceived competition finished a money spinner at Wembley yesterday. A remarkable 68,000 turn-out poured in an equally staggering £500,000-plus.
Just as amazing was the climax with Manchester City plundering a dramatic three goals in four minutes to pull the score back to a face saving 5-4 against Chelsea. In retrospect it has to be considered something of a bizarre finale. Who in their right mind could envisage a side throwing away a 5-1 advantage in the more serious business of FA or Milk Cup finals. But then the game they had dubbed the 'fan's final'  should be re-christened the 'fun final'.
Chelsea chairman Ken Bates who, with his Maine Road counterpart Peter Swales had underwritten Wembley expenses to the tune of £150,000, claimed "Perhaps this is the way football has got to go with more competitions and more excitement. It was the fans' final and they really enjoyed their Wembley day out".

Football purists and advocates of less soccer would doubtless ridicule that Bates opinion. Yet rival bosses Billy McNeill and John Hollins drooled over a game in which David Speedie became the first player in 20 years to score a hat-trick in a Wembley cup final.
…Receipts of £508,000 will guarantee £90,000 to each club.
…City's failure was that they again allowed  the opposition a generous start and still expected to win.
…City's double substitution of Graham Baker and Paul Simpson for Nicky Reid and David Phillips came when the Blues were trailing 5-1. And it was the wing wizardry of Simpson that opened the door for Lillis to launch his sensational goal scoring flurry, in which he struck twice and was instrumental in Doug Rougvie heading an own goal.

…City as at Old Trafford the previous day, gave away silly goals through a sloppy approach at the back. Yet they had the encouragement of a flying start with Kinsey clipping in a 9th minute opener.
Then Speedie and Colin Lee. who scored twice, tore City apart. City had no one to match Chelsea's hat-trick hero, although Lillis came mighty close!
Extracts from an Article by Peter Gardner in the Manchester Evening News 24th March 1986
KEN LAWRENCE WRITING IN THE SUN 24TH MARCH 1986
David Speedie and Mark Lillis yeaterday made sure the Full Members Cup became a legend in it's own lifetime.
The Chelsea striker scored the Wembley Cup Final hat-trick in 20 years and Lillis thought he had joined him in a history making double.
For never have been two hat-tricks been scored in a Wembley final and the last man to get a treble was Geoff Hurst in England's 1966 World Cup triumph over West Germany.
But the Manchester City striker left the field believing he, too had grabbed an incredible treble, he found Chelsea defender Doug Rougvie had been credited with an own goal in Lillis'amazing four minute burst.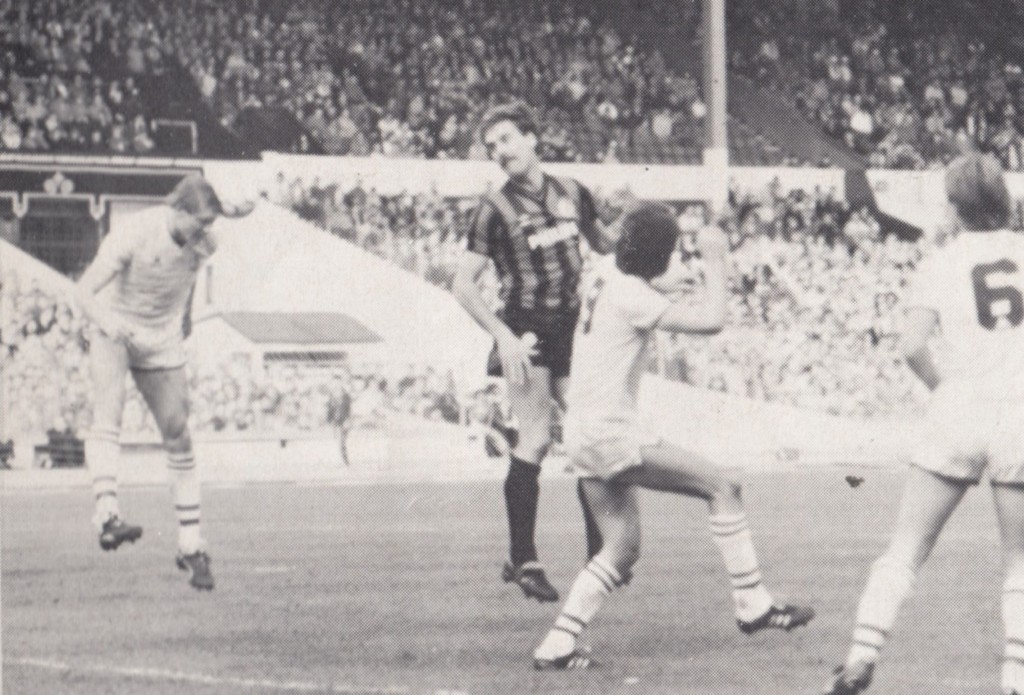 Yet Lillis' personal sorrow could not detract from one of the most entertaining finals seen at Wembley.
A final watched by 68,000 people, a friendly final and one that, the contributions of Speedie, Lillis and two goal Colin Lee apart, could guarantee a future for this heavily criticised competition.
Criticisn no matter how well founded, would have fallen on deaf ears yesterday as two teams, only 24 hours after bruising League action, scrapped out a match of pure theatre.
It had everything, except bookings.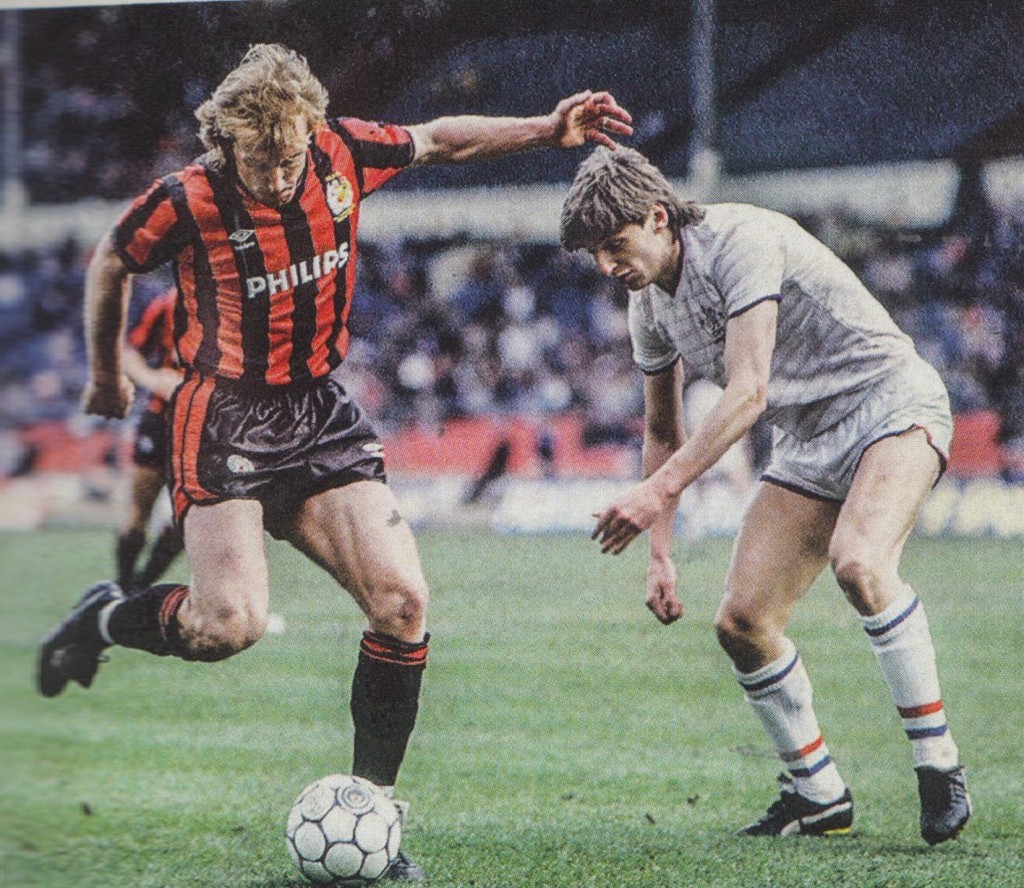 City moved into an early lead through Steve Kinsey but Speedie banned from Scotland duty this week then took over, rattling home a 25 minute hat-trick with Lee contributing the first of his goals in the process.
By the 79th minute, Lee, playing his first game upfront for two and a half years in the absence of rested England striker Kerry Dixon, had struck his second and City were 5-1 down.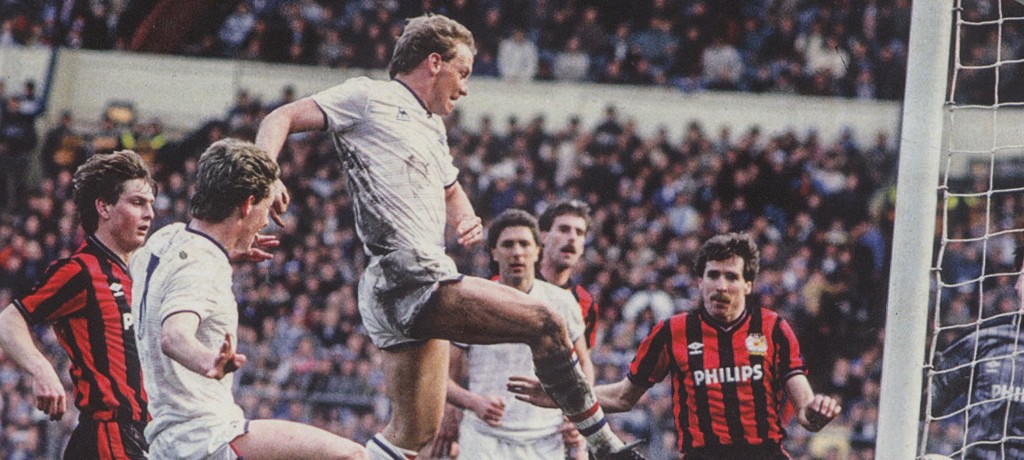 Yet almost unbelievably the Maine Road side that came down from 2-0 the previous day at Old Trafford, suddenly rallied, thanks to Lillis' inspirational burst.
He headed home his first in the 85th minute and looked to have grabbed his second goal three minutes later with another header, but Rougvie was given the doubtful distinction of a Wembley own goal by referee Alan Saunders.
Then the City striker got what turned out to be his second a minute from time.
By now, with Chelsea gasping and City rampant, we believed anything could happen. But time ran out on City's superhuman rescue bid.