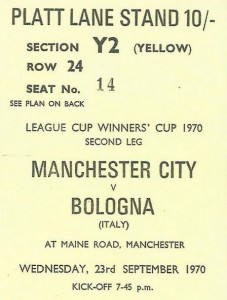 CITY 2 BOLOGNA 2
Anglo Italian League Cup Winners Cup 2nd Leg
23rd September 1972
attendance 25,843
scorers
City Lee(25), Heslop(75)
Bologna Perani(25), Savoldi(73)
Ref C Bello
City Corrigan, Book, Pardoe, Doyle, Heslop, Oakes, Hill, Bell, Lee Young, Towers – sub used Summerbee
Bologna Vavassori, Prini, Ardizzon, Cresci, Janich, Gregori, Perani, Rizzo, Savoldi, Liguori, Pace
THE CITY PLAYERS APPLAUD THE VICTORIOUS BOLOGNA TEAM OFF THE PITCH
 FROM THE PRESS BOX


BOLOGNA BARRIER BLUNTS BLUES
PETER GARDNER WRITING IN THE MANCHESTER EVENING NEWS 24TH SEPTEMBER 1970
Put this latest Manchester City setback down to lack of experience against massed defences.
The Blues once more monopolised a game with some vigorous attacking, but it was the clever, skilful Bologna who ultimately pulled all the strings at Maine Road last night.
The result was that another trophy was allowed to slip through City's hands following a 2-2 draw and a 3-2 aggregate defeat in the Anglo=Italian League Cup Wimmers Cup.
Yet for a non-event there was plenty of excitement and intelligent football, although the bad tempers that occasiomally flared did little to promote further goodwill between two nations still at soccer loggerheads.
City's Colin Bell and George Heslop along with Bologna's £250,000 centre forward Giuseppe Savoldi were all booked by a referee who was clearly out of order in refusing the Blues a penalty for blatant hands early in the second half.
The Italians gave City lessons in the art ofdefence and devastating counter-punch… Bologna remained a calm and completely unruffled side, refusing to be pushed out of their stride by the non-stop aggression of City whose enthusiasum often boiled over with Bell particularly at fault as he carried out a running war of words and gesticulations with the referee.
Yet had Bell and Francis Lee been provided with more support up front City could have pulled the game out of the fire despite having to score three goals once Bologna had sneaked into the lead with a polished first goal after 16 minutes.
But there was not the midfield command and authority from Mike Doyle and Alan Oakes, who appear to be going through a particularly lean patch. Freddie Hill, although at times he used the ball effectively, often brought the game to a standstill, tactics foreign to the hard running style City has favoured in the past.
The substitution of Tony Towers for Mike Summerbee was a strange switch, for Towers was one of City's few successes, and it was perhaps no coincidence that two minutes after he had departed Bologna hit their second goal.