ASTON VILLA 1 CITY 5
League Division 1
23rd April 1991
attendance 24,168
Scorers
City White 4, Brennan
Villa Platt(pen)
Ref R Groves
City Coton, Hill, Pointon, Heath, Hendry, Redmond, White, Brennan, Quinn, Harper, M Ward – unused subs Reid, Allen
Villa Spink, Price, Gage, McGrath, Comyn, Neilsen, Daley, Platt, Olney, Cowans, Ormondroyd – used sub Cascarino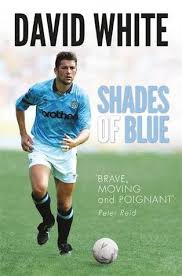 From DAVID WHITE, SHADES OF BLUE By David White with Joanne Lake
The most memorable match of my football career… was on the evening of Tuesday 23rd April 1991, not only did my team dole out a 5-1 thrashing to Aston Villa on their own turf, but I also achieved a personal feat by scoring four goals and making the other.
The home side's manager, Czech born Dr Josef Venglos, had become the first overseas boss to secure a top job in Division One. He began the game with his side's biggestdefensive treat, Paul McGrath, sitting in front of the back four. McGrath was without doubt one of the Leagues finest centre halves, he was a beast of a player, and was a supreme athlete, and had gained cult status.
Within minutes, and in spite of McGrath's imposing presence, we'd twice breached the home defence. Playing in white, Mark Brennan and Niall Quinn exchanged clever passes and, as Brenn picked up the ball in the inside left channel, I made a run behind the centre backs. My teammate executed a brilliant pass and I finished with my left foot, low into the far corner.
Minutes later we scored a classic route one goal, with Quinny flicking on Tony Coton's long clearance and leaving me one on one with keeper Nigel Spink. The ball took it's only bounce and couldn't have sat up for me any better. Spink was stranded as I lifted the ball over him to make it 2-0.
Those first two goals at Villa summed us up as a team, we could play both ways, either neat, intricate midfield passing to carve out a chance or, if need be, a more direct attacking approach.
… With Villa trailing, Venglos immediately changed his formation in order to halt the slide. McGrath was ordered to police me until the interval and, despite David Platt coming close to pulling one back, the score remained 2-0 at half-time.
As the match resumed, and with an under pressure home side chasing the game, Mark Ward put me through on the right, and I crossed the ball for Brenn to score our third. Our opponents kept plugging away, though, and earned themselves a penalty, duly converted by Platt, after Steve Redmond had handled on the goal line. Venglos soon released McGrath from his defensive duties to try to salvage something from the game and I quickly took advantage, finding the space for Quinny to locate me with a pass to set up my favourite ever goal.
Having had a decent first touch, and with the ball at my feet, I glanced up to see Spink advancing, arms outstretched. The goal seemed like it was twenty yards wide, so confident did I feel. I visualized, believe it or not, the red brick garage wall of my childhood and unleashed the same shot that I'd hit millions of times at home in Eccles. It was a perfect strike, the ball whacking against the stanchion before hitting the back of the net, right in front of the exultant City fans. It was my 50th senior goal for City and the one that gave me the most satisfaction of all …
The Blues' fans had more cause to cheer when, a few minutes later, Quinny rose again to pinpoint me with a fabulous headed pass. I cut in from the left before cannoning in a low shot at the near post, my fourth and final goal capping what, in hindsight, was to be my finest performance as a professional footballer.