1998/99 SEASON REVIEW
It was not a fact that any City fan wanted to hear but City started the season for the first time ever in the third tier of English football, following the traumatic relegation from Division 1.
The Blues had to cut their cloth, and stars, Gio Kinkladze and Uwe Rosler both left the club in the Summer, in addition club captain Kit Symons also left.
Kinkladze moved to Ajax for around £5M. In his parting shot the Georgian stated that, had he been picked more for the end-of-season run-in, City would not have been relegated and he would not have left. Joe Royle retorted "His parting shot was like all his others…delivered from a long way out and hopelessly wide of the mark. I selected Kinkladze for three matches. In two he was totally anonymous. In the other one he was abysmal."
Rosler Ian Brightwell and Symons moved away on 'frees' Rosler to Kaiserslautern, Brightwell to Coventry and Symons to Fulham.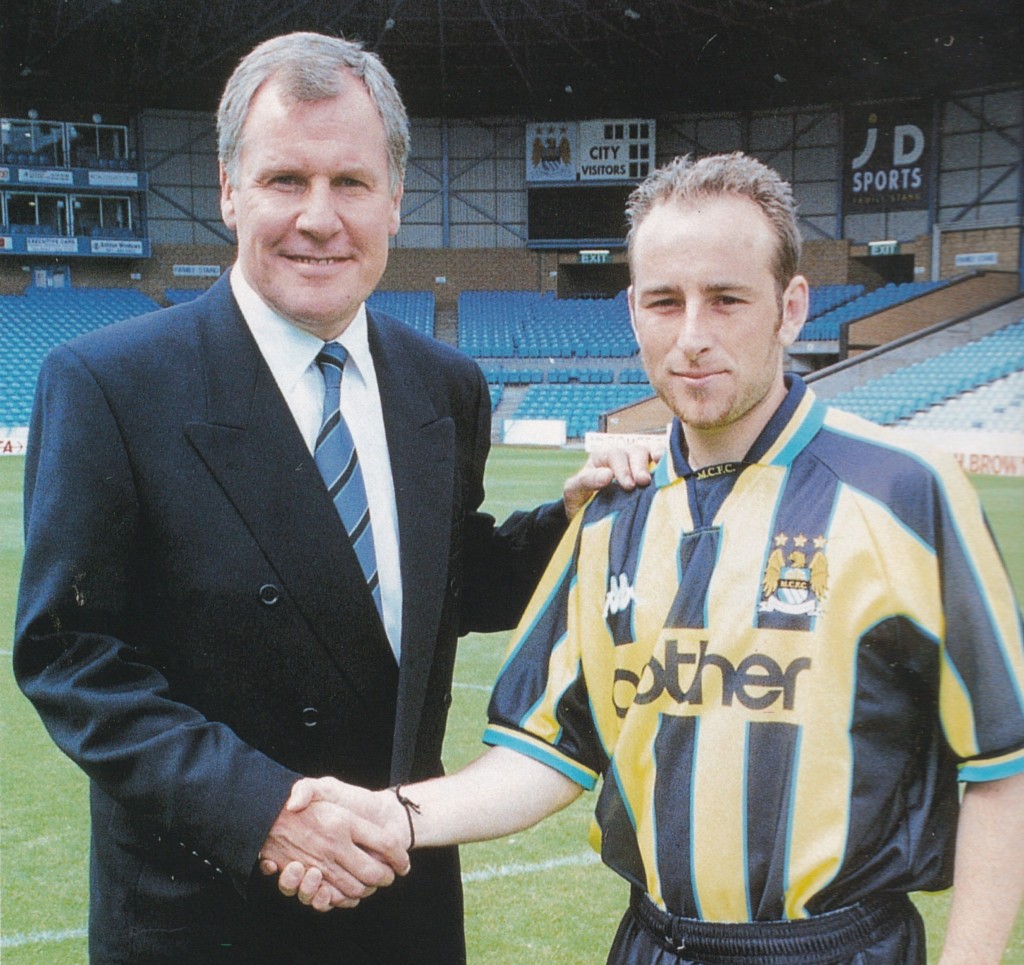 Danny Tiatto was brought in from Baden for £300,000 and Ian Bishop joined for his second spell at the club, youngster Danny Allsop was also signed for £10,000 from Port Melbourne Sharks.
City's long pre-season started with a short training camp at HMS Raleigh, the Royal Navy's premier training establishment in the Cornwall, and City played two friendlies against local non-league sides in the area, winning 3-1 at Torpoint Athletic and 6-0 at Newquay.
Back to Manchester and a 3-2 win at Droylsden followed by Ian Brightwell's testimonial game at Maine Road where City drew 0-0 with Sunderland in front of a disappointing crowd of just over 7,000.
The Blues continued their season build up with further games against non-league opposition winning 4-1 at Altrincham and 2-0 at Bamber Bridge.
City then drew 0-0 at Sheffield Wednesday before winning 7-0 at Congleton Town, 4-1 at Scarborough and 3-0 at Lancaster.
City then drew 0-0 at Cardiff, followed by two games in the Bill Shankley Shield, a 3-2 win over Preston and then in the final they drew 2-2 against Tranmere, City losing 4-2 in the penalty shoot-out.
Three further games at non-league opposition finished the pre-season warm up, a 3-2 win against Altrincham , a 2-2 draw against Radcliffe Borough and a 2-0 win against Glossop.
An expectant Maine Road crowd of over 32,000, the highest third tier attendance for over twenty years,  watched City start their promotion push with an excellent 3-0 win over Blackpool. Young 19 year old Nicky Weaver making his debut as City's custodian.
An early outing in the Worthington Cup at Notts County ended 2-0 to The Blues in the 1st round, 1st leg, however back in the league City flopped to a 3-0 defeat against a strong Fulham side at Craven Cottage.
With the two goal lead in the Worthington Cup, City swept Notts County away at Maine Road in the 2nd leg walloping them 7-1, shortly before the Blues next game Scott Hiley signs for Southampton on a 'free'.
A dissapointed Maine Road crowd saw an early stutter from City as they drew 0-0 with Wrexham.
More players leaving Maine Road, Paul Beesley moving to Port Vale on a 'free', David Morley signs for Southend for £10,000 and Martin 'Buster' Phillips moved to Alan Ball's Portsmouth for a fee of £100,000.
A 'Goater last minute equaliser salvages a point for the Blues in a 1-1 draw at Notts County and the he scores two more as City get back on track with a 3-1 win at home to Walsall.
Another two league wins followed, 2-1 at home to Bournemouth and 1-0 at Macclesfield.
In the Worthington Cup 2nd Round City drew 1-1 in the first leg at Derby and then back in the league drew 1-1 at home to Chesterfield. And so with eight games played the Blues were out of the promotion pack sat in 7th, nine points behind leaders Stoke.
In the return leg of the Coca Cola Cup 2nd Round there was just one goal which seperated City from the Premier League's Derby County as the Blues lost 1-0 at Maine Road. City were still very much in a financial crisis and the annual financial report showed pre-tax losses of £6.3M from the previous season, leaving weekly payments of £21,000 in interest alone.
Back in the League and City dropped another two points drawing 2-2 at Northampton and then lost more ground on the promotion pack drawing again, this time 1-1, at Millwall, where the City players and fans had to endure some ugly scenes caused by the Millwall 'fans'. Willie Donachie was now temporarily in full charge of the team as Joe Royle went into hospital to have a hip replacement operation..
The Blues were now becoming known as the draw specialists as they drew again, 2-2 at home to Burnley, despite the lack of points the pack in front of City were also dropping points as well and City were now six points behind leaders Stoke.
Nigel Clough then left the club, his contract was 'paid off' with a reported £250,000 boosting Clough Jrs' bank account, he would soon take up a job as player manager at non-league Burton.
Another woeful home display ended in defeat, 1-0 to Preston, City were now without a league win in five games, hardly promotion form!
With Joe Royle out of hospital and back at the helm it seemed City might be showing the form expected of them as they beat Wigan away 1-0 however they then lost 2-1 at Lincoln and 1-0 at home to Reading to leave Joe Royle and the Blue's fans perplexed as to why City were finding it so hard in the 3rd tier of English football.
Joe Royle, realising that the squad may not be good enough to gain promotion rang the changes at Maine Road, out went Lee Bradbury to Crystal Palace for £1.5M, and Ged Brannan moved to Motherwell for £375,000, in came Michael Branch in on loan from Everton
Andy Morrison also comes in on loan from Huddersfield and scores on his debut as City beat Colchester 2-1 at Maine Road, with Branch and Ian Bishop also making their debuts.
Joe Royle realises Morrison could be the man to help City get back on track in the promotion race and City make it a permanent move with a fee of £80,000 paid to Huddersfield. The commanding defender scored again in his next game at Oldham as City win 3-0.
City's inconsistency label showed it's face again as they lost 1-0 at Wycombe, however The Blues won 3-0 in their next game against Halifax in the first round of the FA Cup at Maine Road.
The Blues were still struggling to score in the league and they drew 0-0 at home against Gillingham. Joe Royle managed to persuade the board to spend some of the cash from the Lee Bradbury deal and brought in striker Gareth Taylor from Sheffield United for £400,000.
Taylor made his debut at Luton Town where City drew 1-1. Michael Branch finished his loan period and returned to Everton before The Blues then earned a replay in the FA Cup second round as they drew 1-1 at Darlington. City fans barracked the team throughout the game which led Willie Donachie to say "It left me feeling sick… I can honestly say it left me wondering why I bother."
Taylor was also picked in a much changed side for City's daliance with the Auto Windscreens Trophy, City inexplicably lost the game 2-1 to Mansfield  however the game will be remembered for the wrong reasons as Maine Road witnessed it's record low crowd ever, just 3,007.
The fans were back for the next league game, but unfortunately the players 'didn't turn up' and City drew again in a lifeless 0-0 draw against Bristol Rovers.
In the FA Cup The Blues scraped through to the 3rd Round by beating Darlington 1-0 in the replay at Maine Road.
City's league form was a great concern for Joe Royle as The Blues lost again, 2-1 at York, leaving The Citizens 15 points adrift of an automatic promotion place and just 11 points from the relegation zone with over half the season gone.
Ray Kelly was then released from his contract so he could go back to college in Ireland and play part-time for Bohemians. The crucial Christmas period would be make or break for City and Joe Royle's team stepped up to the mark winning 1-0 at Wrexham on Boxing Day and then beating Stoke 2-1 at Maine Road two days later.
1999 didn't start too well for City as they were knocked out of the FA Cup losing 1-0 at Wimbledon in the 3rd Round.
In the League a trip to the seaside saw City draw a blank as they drew 0-0 at Blackpool.
Terry Cooke was brought in on a 3 month loan from Manchester United and the young winger was plunged straight into the action as City made it three wins in four league games with a 3-0 home win against Fulham. Joe Royle's men kept the unbeaten run going with a 1-1 draw at Walsall.
A good 1-0 away win at Stoke was followed by a good 3-0 win over Millwall at Maine Road. The Blues were unbeaten in the league in 1999, they just about managed to keep up the run as they drew 0-0 at Bournemouth having Pollock and Horlock sent off.
The Blues despatched Macclesfield 2-0 at Maine Road, but then drew 1-1 at Chesterfield and although City were now unbeaten in 10 league games they were still 13 points away from an automatic promotion place.
Kevin Horlock was sent off again in another 0-0 draw this time at home to Northampton.
Eventually the goals flowed for City as they won 6-0 at Burnley with the Goat grabbing a hat-trick. However a home game against another local side saw Oldham beat City 2-1.
Joe Royle's team got back on track with a 2-1 win at home to Notts County and then a 1-0 win at Colchester, leaving themselves seven points adrift of Preston who sit in the second automatic promotion place with nine games to play. Former United striker Mark Robins then signed on loan from Panionios of Greece
Terry Cooke helped himself to a brace as City win 3-1 at Reading, and the loan star was the hero again as he scored the only goal at Maine Road in a 1-0 win over promotion rivals Wigan.
The big games were coming thick and fast and City drew 1-1 at high flying Preston, the Blues now just four points behind the second placed team.
City gained another two points on Preston as they trounced Lincoln 4-0 at Maine Road with Paul Dickov scoring a hat-trick.
The Blues made it seven wins in eight games as they beat Luton 2-0 at home and then won 2-0 at Gillingham to leave them breathing down the necks of Walsall who were now in the second automatic promotion place. After some dazzling displays, City made Terry Cooke's loan move permanent, paying United £600,000 which would rise to £1M dependant on appearances.
The Blues then pressed the self destruct button and lost 2-1 at home to Wycombe to virtually write off any chance of automatic promotion.
City's place in the play-offs was confirmed as they drew 2-2 at Bristol Rovers.
The last game of the season saw City beat York 4-0 which sealed third place, which meant just a play-off place, but it also saw York relegated.  And so to the Play-offs and the Semi-Final. The first leg was played at Wigan and City earned a 1-1 draw to take back to Maine Road, where in a tense affair a brave Wigan were beaten by a Shaun Goater goal and the Blues were at Wembley!
The play-off final will go down as one of the most amazing and memorable days in City's history. The Blues were odds on favourites but Gillingham scored two second half goals to put them 2-0 up and with just 1 minute to go it seemed Joe Royle's side were doomed to stay in the second Division and possible obscurity
What happened next is still unbelievable for many City fans. With thousands of fans dejectedly streaming out of Wembley Kevin Horlock scored what was thought would be City's consolation goal in the 89th minute, As Gillingham kicked off the 4th official showed 5 minutes added on time and suddenly there was a buzz amongst the City fans left in the stadium and with just one minute of injury time left Paul Dickov booked his place in City's Hall of Fame by equalising and taking the game into extra time. The game ended 2-2 and City won 3-1 on penalties with Nicky Weaver saving two penalties. City had avoided a defeat that could have left them in oblivion, instead they were being promoted back into the second tier of English football.