1994/95 SEASON REVIEW
Following the Taylor Report All seater stadia in the Premiership was deemed compulsory from the start of the season and the new seated Kippax was not yet ready. And therefore sell outs of around 25,000 were expected at Maine Road, until February 1995 when the Kippax was expected to  open in full and increase the capacity to around 32,500.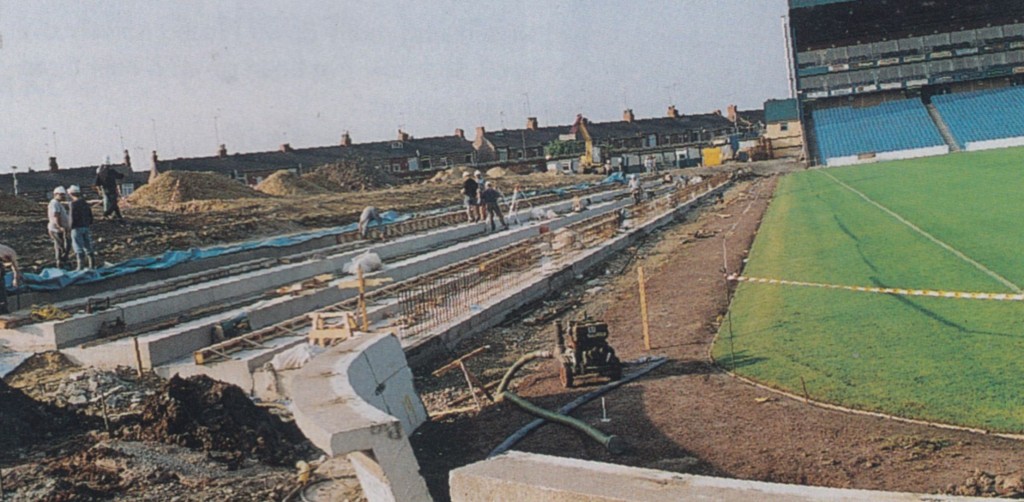 The big Summer signing saw a familiar name return to Maine Road, Summerbee!, Not Mike but his son Nicky who joined from Swindon for £1.5M. In addition Uwe Rosler's loan deal was made permanent with a £375,000 transfer fee being paid to FC Nurnberg.
City's first outing was a friendly in the Isle of Man against a Manx XI which the Blues won 4-1. However they then lost 3-0 at Oldham also in The Isle of Man.
City then went on a pre-season tour to Norway and won their first game against Falk SK 4-0, then beat Rosenborg 1-0, before suffering an embarrassing 5-1 reverse against Bodo Glimt.
Back on English soil The Blues beat Portsmouth 2-1 at Fratton Park.
David Rocastle's short stay with City was ended as he left for Chelsea for a fee of £1.25M The last pre season game was a prestigeous friendly against Feyenoord at Maine Road which City lost 4-2.
It was a tough start to the League programme for City as they visited Highbury and were beaten 3-0 by Arsenal . However at home they beat West Ham 3-0 four days later.
Young striker Mike Sheron then left the club for Norwich in a deal worth around £1M, and he wasn't missed by the Blues as they disposed of Everton at Maine Road 4-0. during the following week Alfons Groenendijk left the club and moved to Sparta Rotterdam.
City's away form was a concern as they were beaten again in London 3-0, this time against Chelsea , however it was three games unbeaten at home as they drew 1-1 with Crystal Palace .
The first point away from home was gained in a 1-1 draw at Sheffield Wednesday . However the Blues suffer a humiliating 1st leg 1-0 defeat at Barnet in the Coca Cola Cup 2nd Round.
The unpredictability that is Manchester City then struck again as they beat Norwich 2-0 at Maine Road but lost 2-0 at Leeds to leave them in mid table after 8 games played.
The Blues made amends for their 1st leg discretion as they beat Barnet 4-1 at Maine Road to progress to the 3rd Round of the Coca Cola Cup.
High flying Nottingham Forest came to Maine Road and the crowd were treated to a very entertaining 3-3 draw.
At Loftus Road The Blues had both Andy Dibble and Richard Edghill sent off but still managed to beat QPR 2-1.
The plaudits were out for the Blues in their next game as a magnificent performance produced a 5-2 victory over Spurs at Maine Road. A game described by John Motson as the game of the decade. And then The Blues scored four more goals to beat QPR 4-3 in the Coca Cola Cup 3rd Round at Loftus Road.
Due to Andy Dibble's suspension, City bring in Simon Tracey on loan and he makes his debut in a 1-0 defeat at Coventry , and then plays again in a 3-3 draw against Southampton at Maine Road.
The Manchester Derby brings a humiliating defeat as League leaders United win 5-0 at Old Trafford, however City manage to pick themselves up from the defeat with a good 1-0 win at Leicester to leave them 8th in the league after 15 games.
The Blues then beat Wimbledon 2-0 before Steve McMahon moved on from the club to take up a player/management post at Swindon.
In the Coca Cola Cup 4th Round City earned a replay with a 1-1 draw against Newcastle at Maine Road.
The Blues made it three wins on the trot in the league with a 2-1 win over Ipswich at Portman Road. However then lost 2-1 at home to Arsenal and 3-0 at West Ham . Brian Horton decides he needs to bolster the City midfield and he brings in German international Maurizio Gaudino on loan until the end of the season.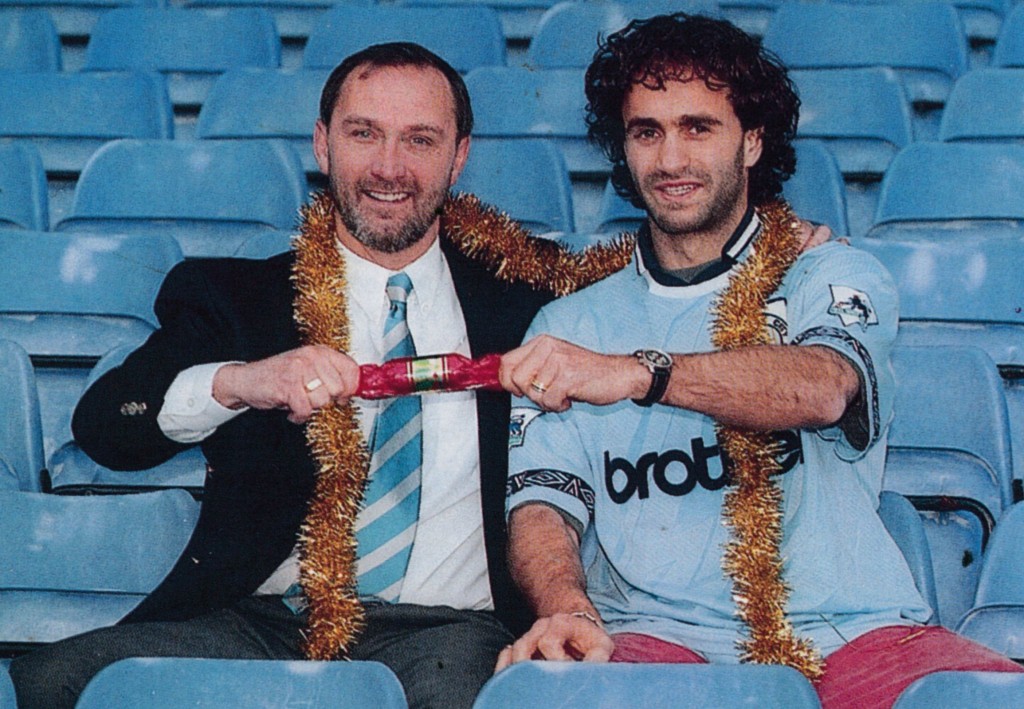 Gaudino makes an immediate impact helping City into the 5th Round of the Coca Cola Cup as The Blues beat Newcastle 2-0 in the 4th Round replay at St James Park.
Back in the league it was four defeats on the trot as City lose 3-1 at home to Blackburn and then 2-0 to Liverpool at Anfield. With half the season gone City sat mid-table on 28 points.
It was then three draws on the trot, A 2-2 draw at home to Aston Villa , an Andy Dibble penalty save kept it to 0-0 at Newcastle and then in the FA Cup 3rd round City earned a replay with a 2-2 draw at Notts County .
The Blues weren't so lucky in the Coca Cola Cup as they were unceremoniously dumped out of the 5th Round losing 4-0 at Crystal Palace .
A return to league football saw a 0-0 draw at home to Coventry and then in the FA Cup Replay at Home to Notts County an Uwe Rosler hat-trick helped City win 5-2. City's game at White Hart Lane is postponed dut to heavy rain conditions, and the rain also continued in Manchester, but the game went ahead and City lost to Leicester at Maine Road 1-0 on a sodden pitch.
The Blues qualified for the FA Cup 5th Round beating Aston Villa 1-0 at Maine Road in the 4th Round tie. But back in the League The Citizens failed to win for the 9th game on the trot drawing 2-2 at Southampton , Brian Horton's men had dropped to 13th in the league and more importantly were now only four points above the relegation zone.
City lost again in the league at home in the Manchester Derby, United winning 3-0. And then City's chase for trophies was finished for another season as Newcastle knocked The Blues out of the FA Cup winning 3-1 in the 5th Round at St James' Park.
Brian Horton's side won a league game at the 11th time of asking, beating Ipswich 2-0 at Maine Road and then kept another second Maine Road clean sheet drawing 0-0 against Leeds .
Away at Carrow Road City drew 1-1 against Norwich, but then lose 2-1 at home to Chelsea , before another 1-1 draw at Everton and so with ten games left City were 16th just five points off the relegation zone.
An important win at Maine Road see's City comeback from 2 goals down to beat Sheffield Wednesday 3-2, however three days later The Blues lose 2-0 at Wimbledon .
The Citizens then play an impromptu friendly in Spain drawing 1-1 with Atletico Madrid , but back in the league it's two further defeats, 2-1 at Crystal Palace and by the same score at Tottenham . With six games left City were now only three points from the relegation zone. Easter brings a memorable 2-1 win against Liverpool at Maine Road and then an equally memorable 3-2 win at Blackburn , virtually putting an end to all talk of relegation. However Uwe Rosler in his autobiography remembers what happened following the Blackburn victory; "… When the team coach headed for a pub in Haydock on the way home, like everyone else, I thought the gaffer was taking us for a few pints to celebrate a good night's work, but we were taken into a side room and the doors were closed. The room fell silent and the gaffer told us he would be leaving the club at the end of the season. Here was the man who had brought me to England, given me my opportunity and helped me flourish, and now he was leaving? I was devastated…"
John Burridge at 43 becomes City's oldest post war player in the League as he comes on for injured Tony Coton in The Blues next game, a 0-0 draw at home to Newcastle . Another draw followed, 1-1 at Aston Villa and in the penultimate game of the season City lost 1-0 at Nottingham Forest , meaning the Blues weren't safe from relegation, however results elsewhere a few days later secured The Citizens place in the Premiership for another season. The last game of the season saw City lose 3-2 at Maine Road to QPR , it had clearly been a disappointing season and just two days after the game it was officially announced that Brian Horton would be leaving his post as City's manager.
Uwe Rosler was voted as City's player of the Year.