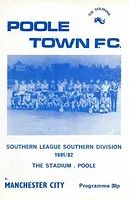 POOLE TOWN 1 CITY 6
Friendly
15th February 1982
from Torbay Express and South Devon Echo 16th February 1982
Manchester City manager John Bond said he would take disciplinary action against Nicky Reid after the defender had failed to turn out in a friendy at Poole Town. City won 6-1.
A contribution from Nick from his comments left in the 1981/92 season review section a midweek Friendly at Poole Town that I estimate took place between 9 Jan – 23 Jan 1982. My memory was that the north had had a lengthy cold snap and John Bond brought a strong X1 south to his old Dorset stamping ground for some impromptu warm weather practice/ training? I definitely remember Trevor Francis (RIP, very sad) playing and scoring a couple of goals and City eventually ran out something like 1-6 winners. Bondy – sheepskin cost and all of course – was the target of a fair bit of 'good-natured banter' from the stands yet took it in great spirit.