The Blues had brought in Dave Watson from Sunderland during the summer for a fee of £275,000 with Jeff Clarke moving in the opposite direction.
Pre-season started with three games in the Anglo Scottish Cup. It was a fruitless trip to the seaside as they were beaten 1-0 by Blackpool , then a further 1-0 defeat at Blackburn followed by a home 3-1 victory over Sheffield United . The pre-season finished with a 1-1 draw in a friendly at non league Macclesfield .
Chairman, Peter Swales wrote in the first programme of the season "This season we have got to fancy ourselves with the addition during the summer of Dave Watson to our defensive strength… There are a lot of things in our favour this time. For instance Tony Book has had a full year under his belt as a manager and must be wiser for the experience… The supporters have shown they have faith, we have sold 15,000 season tickets – an all time record for City."
John Bond's Norwich City were the visitors to Maine Road for the season's opener, and an impressive City side swept them to one side with an excellent 3-0 win, John Bond wasn't as impressed as he accused City of "unneccessary elements of nastiness".
City were then held to a 1-1 draw at Maine Rd by Leicester, before their away day hoodoo of last season returned, as they were beaten 2-0 by Coventry at Highfield Rd and then 1-0 at Aston Villa . Mike Summerbee enjoyed a good pay day as City were beaten 4-3 by a Manchester United European Cup Winners XI 4-3 in his testimonial at Maine Road. Back in the league they were to lose again on their travels, 1-0 to West Ham. Luckily City's home form had kept the Blues above the relegation zone in 13th place as they beat Newcastle 4-0 the week before. However this week saw City win the 'first trophy of the season' as Miss Manchester City, Susan Cuff was crowned Miss Great Britain in the televised final from Morecambe this coming just a month on from when she came runner up in the Miss United Kingdom contest staged in Blackpool. 
City finally scored a goal away from home as they forced a replay in the 2nd Round of the League Cup with a 1-1 draw at Norwich. The Blues then confirmed that Maine Road was a fortress by thrashing Middlesbrough in another 4-0 win.
It was back to the League Cup and City still couldn't see off Norwich as they drew 2-2 after extra time in the replay at Maine Road. But before City could prepare for the 2nd Replay they were to fail miserably on there league travels again as they were beaten 1-0 at Derby. They had now lost all four away games in the League without scoring a goal and had slipped to 14th in the table. 
Contrary to the alarming away form City continued to be unbeaten at home with a 1-0 win over Stoke . Then came the return of the Manchester Derby against the newly promoted Manchester United , honours were even in a 2-2 draw. Back to the League Cup and after 2 drawn games against Norwich the Second Replay was played at neutral Stamford Bridge and City made a mockery of the last two draws with an emphatic 6-1 over John Bond's Norwich , which included a Dennis Tueart hat-trick. It was to be a good end to the week for the Blues as they traveled to Highbury five days later and eventually won away from home in the League with a 3-2 victory over Arsenal .
Games were now coming thick and fast with City's involvement in the League Cup and they progressed to the 4th round with a 2-1 home win against Notts Forest . This was followed by a disappointing draw in the League, 0-0 with Burnley at Maine Road. Following the game the press reported that Dennis Tueart and coach Ian McFarlane had been involved in a post match punch up in the dressing room. Rodney Marsh in his book Priceless recollects Ian McFarlane made a complete clown of himself. He stood there ranting and raving, making no sense whatsoever at times. Dennis Tueart told him to calm down
"Don't lose your rag Ian. It's still a good point" he said. McFarlane launched a left hook at Tueart knocking him completely off his feet. That's when I was convinced everybody had lost the plot.
A 2-2 draw away at Tottenham, followed and back to Maine Road, and a 1-1 draw against Ipswich and finally a 2-2 draw against Sheffield United at Bramall Lane, in between these games City had time to play Stockport at Edgeley Park in a friendly and won 5-0. The Blues were now unbeaten in the last nine games in all competitions and had climbed to ninth in the table. The only downside was the form of Rodney Marsh, and Tony Book decided that his attitude was not right to stay at the club and placed Rodney on the transfer list. This coupled with Mike Doyle's (who had taken over as Captain from Rodney Marsh) comments backing Tony Book on the decision caused some discontent with the Maine Road crowd and both Book and Doyle were booed by certain areas of the ground during the game against Ipswich. The boos were quelled with a 10th game unbeaten as Birmingham were beaten 2-0 at Maine Road. Rodney Marsh gives his own thoughts on this in 'Priceless'; Peter Swales had called me into his office.
"Rodney" he said "as captain, I want your honest opinion about Tony Book and Ian McFarlane" so I told him.
"If you want my honest opinion, I'll give it. They're both fucking useless".
Just after the meeting, Tony Book called me into his office.
"If you think I'm effing useless" he said "it's not going to work. Do you want to take it back?"
"No chance" I said "in fact, thinking about it more, you're not that good".
And that was the end of my Man City career. I was immediately transfer listed, ordered to train with the kids and injured players, and never pulled on a City shirt again.
It was clear that the City players were also part of Marsh's demise at Maine Road. Dennis Tueart recalls in his biography; 'I went to Tony Book and told him exactly what I thought of Rodney "He's not right for City and he's letting down his teammates and the fans" he goes on; 'I found out later that Dave Watson, Joe Corrigan and captain Mike Doyle had also been to Tony and told him something had to be done. Rodney had obviously guessed that I'd been to see Tony as when I attended his eventual leaving do at Slack Alices in Manchester, I didn't stay long, but as I left I stuck my hand out to him and said "Good luck Rod". "Fuck Off!" he replied.
Next up at Maine Road were Manchester United   in the 4th Round of the League Cup and what should have been a celebration of a 4-0 rout of Tommy Docherty's side turned into tragedy as Colin Bell was carried off with a career threatening injury after a challenge by Martin Buchan,
Colin's knee exploded in the challenge causing, what was identified for the first time in the football media, as a cruciate ligament injury. it was thought Colin would be out of the game until the end of the season however, as it turned out, it would be much worse.  So with the absence of perhaps, the best player ever to pull on a City shirt, the Blues had to fight on, with a 1-1 draw at Everton  and then a 2-1 win against Tottenham at 'fortress' Maine Road. Even City's away form was now improving as they went to Molyneux  and thrashed Wolves 4-0. And so moving into December they were 14 games unbeaten and had moved up into 7th place in the League. A feat which was to bring Tony Book a much deserved Bell's Whiskey November Manager Of the Month Award just 17 months into his fledgling managerial career.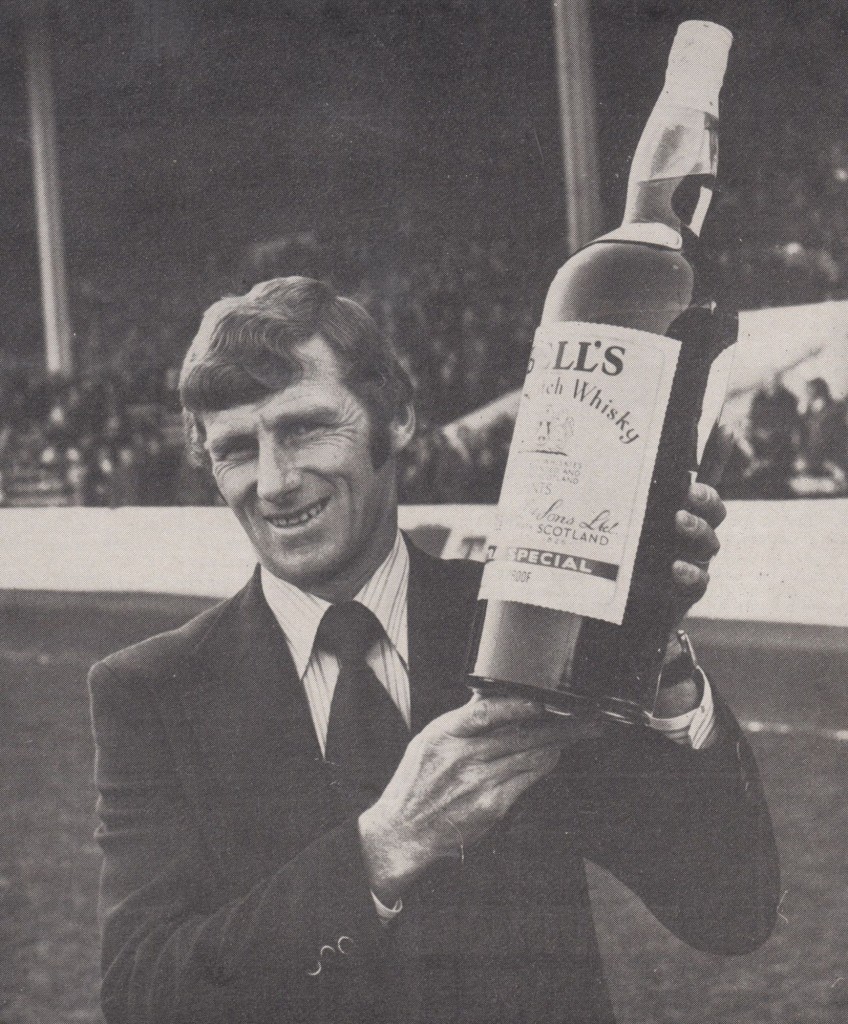 City continued their unbeaten run, moving into the semi-finals of the League Cup by beating Mansfield Town 4-2 at Maine Road, followed by a goalless affair against League leaders QPR , again in Moss Side. And then another 4-2 home victory, this time against Coventry . A fifth game of the season against Norwich saw a 2-2 draw at Carrow Road as City moved into a crucial Christmas period. Boxing day was to see City's 18 match unbeaten run stopped in it's tracks,  as Leeds performed a smash and grab act at Maine Road with a 1-0 win. The next day it would be League leaders Liverpool who would beat the Blues 1-0 at Anfield and so a disastrous Christmas saw City still in 7th place but six points adrift of the top.
And so to the F.A. Cup and Hartlepool were lambs to the slaughter as City beat them 6-0 in a 3rd Round tie which sensationally saw Dennis Tueart sent off for retaliation.
To Ayresome Park, and what was to be a prelude to the first leg of the League Cup Semi-Final against Middlesbrough which was to take place three days later, City were to lose 1-0 in the league, a score which Middlesbrough matched in the 1st leg of the semi.
After being linked with several clubs, including Villa and Anderlecht Rodney Marsh finally left City, moving to The North American League, joining Tampa Bay Rowdies for £40,000 and signing a four year contract reputedly worth £150,000, Marsh was famously introduced to the Tampa Bay fans as the white Pele, and as is Marsh, he contradicted this with "no! Pele is the Black Rodney Marsh".
The players could have been accused of having their minds on the second leg of the semi-final as they met West Ham at Maine Road  four days later. However the Hammers were 'put to the sword' as City  romped home 3-0. And so to the second leg and a very young City team including Youngsters Power, Keegan, Barnes and Clements, surprised all, as they beat Middlesbrough 4-0 sealing a place at Wembley against Newcastle in the League Cup Final.
There was further Cup football in the next game as City were beaten 1-0 in the F.A. Cup 4th Round at Stoke City . The Blues away form was still a major concern and with a visit to Filbert St in the league against Leicester , City fell to their fifth consecutive 1-0 away defeat.
Still with eyes on Wembley City entertained Aston Villa and came back from one down to win 2-1, however the away day blues returned a week later with a 2-1 defeat at Birmingham 
In the last home game before City were to visit the hallowed turf of Wembley Book's side confidently saw off Everton at Maine Road 3-0. A week later and the City faithful traveled down to London, and an amazing overhead kick winner from Dennis Tueart saw City win the League Cup as they beat Newcastle 2-1 with Peter Barnes getting the early opener.
And what a week it would turn out to be for Peter as he also collected the PFA Young Player of the year award the next day. The only bad news for City was the news that Assistant Manager, Ian MacFarlane, resigned shortly after the Wembley win, his family had been unable to settle in Manchester and he had returned to Wearside to coach Sunderland.  .It was to be a tumultuous welcome back to Maine Road for the successful City team as they romped home 4-0 against Sheffield United . And before the game Tony Book was presented with another gallon of Scotch Whisky as he was named Manager of The Month for the second time this season.
City still struggled to win away but they gained their first away point for 3 months as they drew 0-0 at Burnley . An exciting 3-2 victory at home to Wolves followed but City's woeful away form continued as they were beaten 1-0 by QPR and failed to score again at Stoke in a dour 0-0 affair as they entered April. Things didn't get any better as City were beaten at Ipswich 2-1. Back to Maine Road and an entertaining and violent match against Derby saw Mike Doyle sent off and City win 4-3, a game which saw the return of Colin Bell to the side albeit for a short time.
It was a disappointing end to the season as City lost the rest of their away games, 2-1 against Newcastle , 2-1 against Leeds and 2-0 against Manchester United in the last game of the season,. The Maine Road crowd were treated to a 3-1 victory over Arsenal in the last home game of the season, but not before Liverpool had breached the Maine Road battlements with a 3-0 win the week before.
And so the season had been a success with the League Cup Final win over Newcastle and 8th place secured in Division one. However there was concern over City's away form as they had won just two of their twenty one away games and with City traveling a bit further than London next season, as they had qualified for Europe through the League Cup, Tony Book was keen to bolster his squad for the next campaign and brought in Michael Docherty from Burnley on a free transfer. Joe Corrigan was named City's player of the year.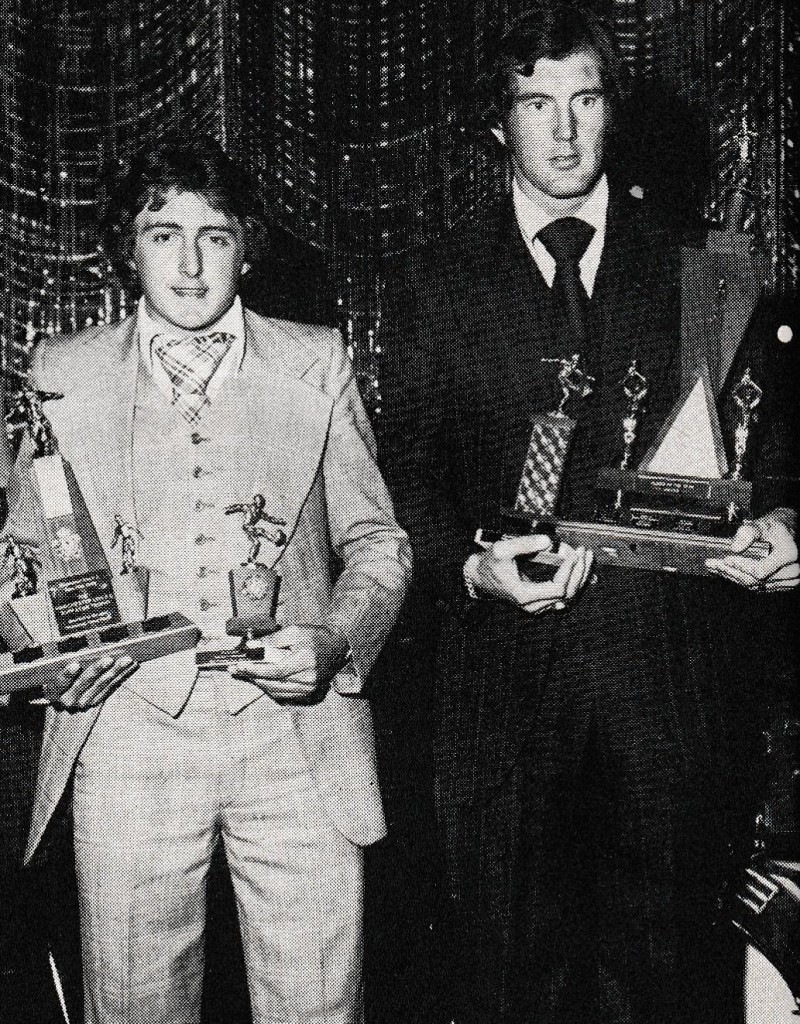 City went on an end of season tour to the Far East where they played a Japanese National XI four times winning 3-0, 1-0, 1-0 and 2-0. They then were defeated 4-2 by a South Korea B team and then faced a South Korea National XI twice winning both games 3-0.