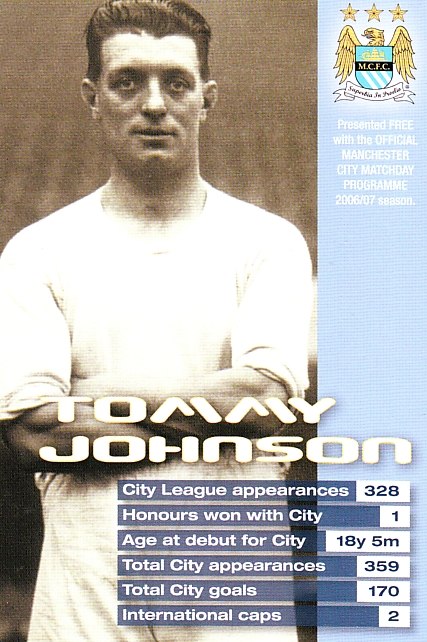 Born Dalton-in-Furness, 19th August 1901
Died Monsall Hospital, Manchester, 28th January 1973
City debut v Middlesbrough 18/2/1920
City Appearances
League 327 apps. 158 goals
FA Cup 28 apps. 8 goals
Total 353 apps. 188 goals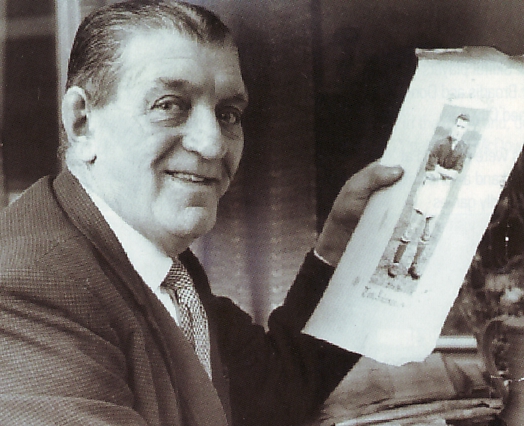 EXTRACT FROM AN ARTICLE BY GARY JAMES IN THE CITY PROGRAMME 31ST AUGUST 2002
Second only to Eric Brook in the list of overall City goalscorers, Tommy Johnson was one of the first Maine Road stars. He was idolised by the City faithful, so much so that in March 1930 when he joined Everton for £6,000 the majority of supporters voiced their feelings, while some carried out their threat of boycotting the club, the average attendance for the first season after his departure was some 3,000 less than his final season.
…Johnson joined City in February 1919 but it took the youngster a little while before he could be accepted into City's Football League side. Nevertheless by the mid 1920s he was a vital team member.
In 1926 he appeared in City's FA. Cup final defeat by Bolton, after scoring a hat-trick in the 6-1 demolition of Clapton Orient, then the following season he topped City's goalscoring charts for the first time, netting 25 goals.
He entered the record books by netting an incredible 33 in 39 League games during 1928-9 to make him City's top scorer in a season.
His impressive form deservedly brought him international honours vvhile in City's colours, and also savv him play for the Football League and the FA Xl. Later at Everton, vvhile in his thirties, he made a further three appearances for England. After great success at Goodison, he moved across Stanley Park and joined Liverpool vvhere he scored 8 goals in 37 League appearances. He ended his career with Darwen.