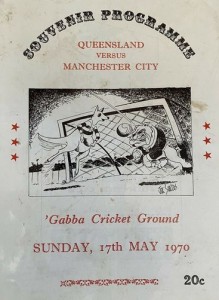 QUEENSLAND 0 CITY 3
Post season friendly
17th May 1970
Attendance 22,000
Scorers Owen(22), Oakes(44), Booth(60)
City Dowd, Book, Booth, Heslop, Pardoe, Donachie, Oakes, Carrodus, Bowyer, Young, Owen- sub Jeffries
Queensland Walker, Meagher, Whiticker, Catchpole, Nielson, Carrigan, Wilkins, Jones, Monaghan, McGuckin, Johnstone – used subs Millman, Fagan
FROM THE PRESS BOX

CITY KEEP UP THEIR RECORD
DAVID JACK WRITING IN THE MANCHESTER EVENING NEWS 18TH MAY 1970
Manchester City pulled in a near record crowd of 22,000 soccer fans to the Brisbane Cricket Ground yesterday as they comfortably beat the Queensland state side 3-0. Not since Manchester United played here three years ago has soccer attracted so many spectators to a match in Brisbane,
In fact, with the crowds rolling in just before the kick off it was decided to delay the start for fifteen minutes. The City players obviously upset after being given a caning by Sydney newspapers decided to set about Queensland in the style of one of Europe's top teams.
There is no doubt that City's performance against NSW in Sydney upset the local fans, most of whom thought the distinguished tourists were lucky to scrape home by the odd goal.
Yesterday City had to fight hard to get on top of one of Australia's lesser soccer states. But they took the lead through Bobby Owen in the 24th minute and just before half time Alan Oakes, who playing well on this tour, made it 2-0.
With the second half seventeen minutes old Tommy Booth added the third goal and that was the end of Queensland.
Afterwards City officially voted Queensland the best side they had met on the trip, an opinion which will upset soccer followers in Sydney and Melbourne because Queensland doesn't have even one player in the Australian national team.
Queensland made the same mistakes as other states against City. They tossed away scoring chances while the Englishmen accepted theirs. So with four of their Aussie tour games over, City have three wins and a draw to their credit.
They now face difficult assignments in Melbourne and Sydney. It is obvious now that the big game will be the return against NSW on Saturday week in Sydney.
The Sydney players, who according to some City officials are fifth rate, still believe they will be the first Australian team to beat an English tour side.
This is not idle optimism. I think there is sufficient talent in NSW to give this understrength Manchester City a torrid time in the return match.