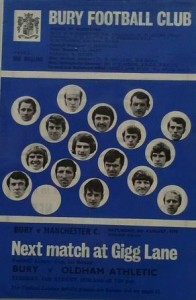 BURY 4 CITY 5
Friendly
8th August 1970
FROM THE PRESS BOX

PETER GARDNER WRITING IN THE MANCHESTER EVENING NEWS 10TH AUGUST 1970
Somewhere between the eight goals conceded at Oxford and Bury and the fine defensive strategy revealed in the goalless draw against Celtic lies the yardstick by which Manchester City's capabilities for the new season can be measured.
The 5-4 win at Gigg Lane provided nothing more than good entertainment marred only by the tragic injury which may force centre half Tommy Booth to miss the kick off on Saturday.
And errors by Harry Dowd, who played at the request of Bury directors interested in the City goalkeeper, contributed mainly to the Third Division's side's big total.
City at times, played at only half pace and always there was plenty in reserve. Mike Summerbee revealed once more that he is going to be a sensation when the season starts with his twists and turns constantly putting Bury on the rack. And Freddie Hill proved that he still possesses abundant skill and ability to provide a big contribution in top flight football.
Mike Doyle was full of good running in midfield and Tony Towers again displayed his ice cool temparement under pressure, an asset he can further display should Booth's injury be a long one.
From Bury's point of view I liked the way Tommy White held the line together and there could well be a net full of goals from him and George Jones, a formidable striking duo that could set the Third Division on fire.