SEASON REVIEW 1911/12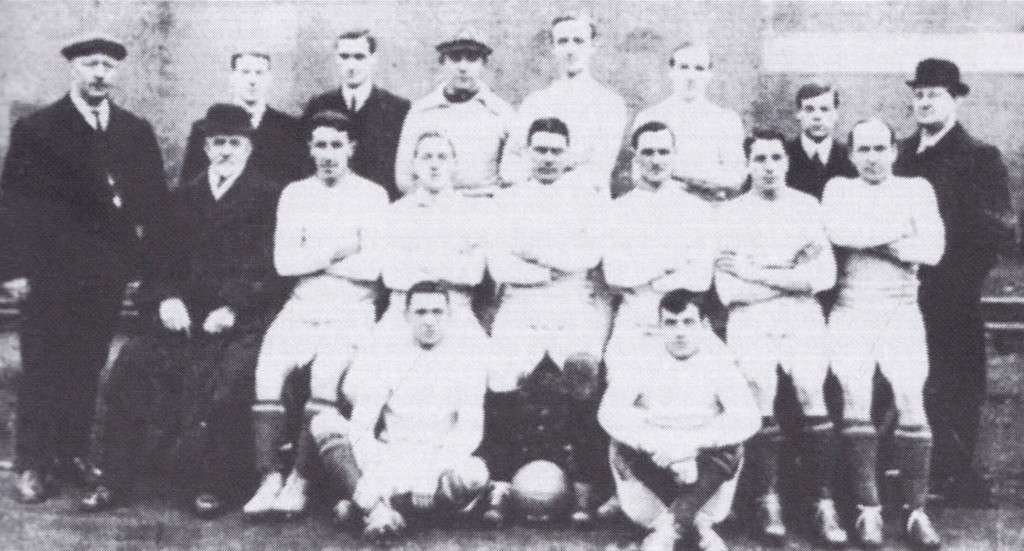 During the Summer City allowed Lyall, Stewart, Buchan, Jackson, Conlin, Bottomley, Codling, Burgess and Brown to leave Hyde Road. However they strengthened the squad by bringing in right winger Sid Hoad from Blackpool, half backs Valentine Lawrence from Forfar Athletic and Robert (Bob) Davies from Stafford Rangers. In addition full back Eli Fletcher joined from Crewe Alexandra and Augustus Beeby, Liverpool's reserve goalkeeper also signed for City. Winger Frank Booth who left City to join Clyde two years ago also rejoined Harry Newbould's squad. Another ex City player moved back to Hyde Road, left half William Banks who left the Blues in 1908 re-joined as he had returned back to England after playing for Alberta FC in Canada.
On the opening day of the season a crowd reported to be between 25,000 and 35,000 basked in the sunshine at Hyde Road to watch a fruitless 0-0 draw against Manchester United, this was followed by a further draw, 2-2 at Liverpool and then a disastrous 6-2 home defeat to Aston Villa where City were hampered for most of the second half after their custodian Walter Smith had to leave the field through injury, full back Tommy Kelso replaced him between the sticks and was easily beaten five times by the Villa forwards.
The Blues' injury bogie struck again in their next game at Newcastle when after ten minutes captain William 'Lot' Jones was withdrawn with a bad nose injury. A plucky ten man City lost the game 1-0 at Hyde Road.
The Blues then played a friendly at Altrincham and won 1-0.
September finished with a 0-0 draw at home to Sheffield United and October brought a sixth game without a win for City as they were beaten 4-1 at Oldham and in the early league table after six games Harry Newbould's side were rock bottom of Division 1.
A good 3-1 win at Hyde Road against Bolton temporarily lifted City into the heady hieghts of fourth from bottom of the league, however they then hit another slump as they lost 4-1 at Bradford, drew 3-3 at home to Woolwich Arsenal then lost 2-1 at Preston, 1-0 at Everton and 2-0 at home to West Brom. The Blues had won just one game since the start of the season and were now just one point above bottom club Bury.
The board needed to strengthen the team and so forked out £1,000 to buy right back Billy Henry from Leicester Fosse, and £500 to buy veteran forward Alex 'Sandy' Young from Tottenham, they both made their debut at Sunderland in a 1-1 draw. After failing to make any senior appearances in his second spell at Hyde Road William Banks moved to Kilmarnock on a one month trial.
City then showed some better form, beating Blackburn 3-0 at Hyde Road, the game was nominated as the benefit game for Walter Smith and the popular goalkeeper reaped over £1,000  from the large gate. The Blues then lost 3-0 at Sheffield Wednesday before beating bottom of the table Bury 2-0 in Manchester.
A 3-1 defeat at Middlesbrough preceded a busy Festive period.
Notts County were beaten 1-0 at Meadow Lane On Christmas Day, then on Boxing Day at Hyde Road The Blues beat Notts County again, 4-0. In the last game of 1911 City drew 0-0 at Old Trafford against Manchester United, City moved into 1912 three points above the relegation zone.
1912 started with a 3-2 defeat to Liverpool amidst a snow storm at Hyde Road. Then despite some respite in the FA Cup 1st Round where they beat Preston 1-0 at Deepdale, back in the league City were beaten 3-1 in a controversial game at Aston Villa. It was reported at half-time that City captain Irvine Thornly had words with referee Fred Kirkham to question his decisions over offsides, Mr Kirkham then threatened to give Thornley a one month suspension for his comments. Unhappy with the ref's intimidation Harry Newbould, Chairman Mr Wilkinson and Villa secretary Mr Ramsay protested with the ref during the break about his comments. In the second half after an innocuous trip by Thornley Mr Kirkham sent him off.
The last game in January saw City miss three penalties and draw 1-1 at Hyde Road against Newcastle.
The chances of relegation heightened as The Blues lost all their games in February, firstly in the FA Cup 2nd Round they were beaten 1-0 by Oldham.
Even though City had contended Thornley's sending off at Villa Park he received a 14 day suspension.
A further sending off in the league match at home to Oldham led towards a further defeat for Newbould's side, Sandy Young was ordered from the field in the first half after an altercation with Oldham's Moffatt and City ended up 3-1 losers. Young would receive a two week ban effective from the end of February. The Blues brought in Len Jobling a winger from Norwich to boost the squad.
City were struggling to finish games with eleven players on the pitch, in the next game at Bolton with the scores level in the second half Frank Booth had to leave the field with a bad knee injury and The Blues ended up losing 2-1.
City made it five defeats on the trot as they lost 6-2 at Sheffield United and 2-0 at Woolwich Arsenal. With just a third of the season left City were second from bottom of Division 1 but six points away from the safety of 18th place. The Blues then played the team in 18th place, Preston, but made no headway drawing 0-0 at Hyde Road.
To avoid relegation The Blues needed to up their game, which they did, they beat Everton 4-0 at Hyde Road, drew 1-1 at West Brom, and beat Bradford City 4-0 and Sunderland 2-0, both games at Hyde Road. As they entered April City had dragged themselves out of the bottom two, albeit on goal average from Liverpool with six games to play.
Confident that referee Fred Kirkham's conduct was behind Irvine Thornley's sending off in the match at Villa Park City's board made a complaint against the official, however The Football League Management Committee decided the complaint wasn't justified and ordered City to pay the expenses of the referee and the Villa officials who attended the inquiry.
Easter saw two wins and a defeat, Tottenham were beaten 2-1 at Hyde Road, top of the table Blackburn won 2-0 at Ewood Park then Tottenham were beaten again, 2-0 at White Hart Lane.
City's fight for survival in Division 1 continued with a 4-0 home win against Sheffield Wednesday. With two games to play Bury were already relegated, Liverpool had 30 points and The Blues had 31.
City won the penultimate game of the season beating relegated Bury 2-1. and only needed a draw from the last game to guarantee Division 1 safety.
At home to Middlesbrough on the last day of the season City won 2-0 and ended the season in 15th place with 35 points.