2017/18 Season Review
After a disappointing first season in charge Pep Guardiola wasted no time in preparing for the new season. Just days after the curtain had been drawn on the 2016/17 campaign City showed their intent by bringing in 22 year old Portugese playmaker Bernado Silva from Monaco for £43M.
The Blues' promising young goalkeeper Angus Gunn was sent on a season long loan to Norwich, leading the way for City to announce the signing of Brazilian keeper Ederson Moraes from Benfica for £35M.
Continuing the rebuild of his defence, Pep persuaded the club to lay out an initial £45M to bring England and Spurs' right back, Kyle Walker to the Etihad.
City recouped cash on fees and wages as more players left The Etihad. Without playing a league game for The Blues four players left for fees, Enes Unal moved to Villareal for a fee in the region of £12M, Aaron Mooy was signed by newly promoted Huddersfield for £8.5M, City received £1.8M for Ruben Sobrino as he moved to Deportivo Alves and Celtic paid £4.5M for Oliver Ntcham. Other more established players off the wage bill were Nolito who moved to Sevilla for £7.9M, Alexsander Kolarov was transferred to Roma for £4.5M, and West Ham took Joe Hart on a season long loan for a loan fee of around £5M.
Before Guardiola's squad flew out to America, 19 year old Brazilian starlet Douglas Luiz was brought to the Etihad from Vasco da Gama for £10M.
City's first pre-season game was the first Manchester Derby to be played outside England, as a full strength Manchester United beat a very inexperienced City team 2-0 in Houston in the International Champions Cup, the star of the game was City's 17 year old Academy star Phil Foden and after the game Pep commented 'I don't have words, I would like to have the right words to describe what I saw. You are the lucky guys who saw the first game, for the first team for Manchester City, of this guy. It's a long time since I saw something like this. His performance was another level. He's 17-years-old, he's a City player, he grew up in the academy, he loves the club, he's a City fan and for us he's a gift. He will stay with us training with us in the pre-season and maybe he'll stay with us in season because he's special.'
City then continued their rebuild of the defence as they brought in versatile Brazilian full back Danilo from Real Madrid for a fee of £26.5M.
this was followed by a record fee paid for a defender as City handed over £52M to Monaco for French left back Benjamin Mendy.
City continued their US tour in Los Angeles with a brilliant display against Real Madrid, beating the Spaniards 4-1. Then moving on to Nashville City beat Tottenham by a country mile in a 3-0 victory.
The Blues new signing Douglas Luiz was then loaned out for the season to City's new 'feeder' club Girona, another youngster leaving The Etihad, but on a permanent basis was Kelechi Iheanacho who joined Leicester for £25M, City though inserted a buy back fee of £50M into the contract.
In their final pre-season outing Pep's side put West Ham to the sword in Iceland with a comfortable 3-0 victory over The Hammers.
Another exit from the side was Fernando who joined Galatasaray for an initial fee of £5M.
The season's opener could have been a tricky start for Pep's side, facing newly promoted Brighton at the Amex Stadium, however against a blanket Seagull's defence City produced a good 2-0 victory.
City then flew to Spain to compete for The Costa Brava Trophy in a friendly against Girona, where Academy players Pablo Maffeo, Aleix Garcia, Douglas Luiz and Marlos Moreno had all been sent on loan. An inexperienced City team lost 1-0.
Another player not in Pep's future plans left the club, Samir Nasri joined Antalyaspor in a £3.2M transfer.
City's first home game was against Everton and, as happened too many times last season, The Blues were subjected to another atrocious refereeing display, Bobby Madley incorrectly sending off Kyle Walker for a second yellow card in the first half, nobody in the ground, or in the millions watching on Sky could see why Walker was sent from the field for an innocuous challenge, indeed ex referee Graham Poll commented 'Bobby Madley's decision to send off Manchester City's Kyle Walker is a mystery, this ref is not good enough and this game was too big for him'. As it was City's 10 men came back from 1-0 down to draw 1-1.
Despite another poor refereeing display, where Mike Dean failed to send off two Bournemouth players for obvious red card offences, City won 2-1 with a last gasp winner from Raheem Sterling, who was then inexplicably sent off as Dean showed him a second yellow card for what he saw as excess celebrations.
Moving into the international break the early table showed City fourth on seven points.
With just a few days before the transfer window closed Jason Denayer joined Galatasaray on a season long loan, and Patrick Roberts returned to Scottish champions Celtic for another season. Wilfried Bony moved back to Swansea for £12M and 17 year old Academy star Jadon Sancho moved to Borussia Dortmund for £9M.
There were no post international break headaches for City as they scored fifteen goals without reply within a period of eight days. In the league Liverpool were put to the sword at the Etihad, beaten 5-0, then in the first group game in The Champions League an amazing display at Feyenoord saw The Blues win 4-0. Then back in the league a near perfect performance by Pep's side ended in a 6-0 victory at Watford.
In the Carabao Cup third round at West Brom City put out a very experienced second string side and beat the Baggies 2-1 courtesy of a brace from Leroy Sane.
Back in the League and The Blues became the first side to score five goals or more in three consecutive top-flight games in the same season since Blackburn did so in 1958/59, as they beat bottom of the table Crystal Palace at The Etihad 5-0, the only downside saw Benjamin Mendy injured with what looked like a possible bad knee injury.
Pep's side then saw off a good Shakhtar Donetsk side 2-0 in the Champions League.
two days later there were two bad injury updates; it was confirmed that Benjamin Mendy had ruptured the anterior cruciate ligament in his right knee, which could see him miss the rest of the season, and in addition Sergio Aguero suffered a broken rib, when a taxi he was in crashed into a bollard in Amsterdam, and it was feared he would be unavailable for at least a month.
Without Aguero, Mendy and, the again injured Vincent Kompany, City travelled to Stamford Bridge and produced the performance of the season as they played Chelsea off the park and beat them 1-0 but it could have been by a lot more. And so moving into another international break City were top of the league and unbeaten.
Post international break The Blues continued their magnificent form as they produced a breath taking display to beat Stoke 7-2 at The Etihad.
City became the first team to score 29 goals in their first eight league games since Everton in 1894.
In the Champions League The Blues dug out a gritty 2-1 win to beat a very good Napoli side, before equalling their all time consecutive victory record beating Burnley 3-0 at the Etihad to register eleven wins on the trot in all tournaments. Pep's team, although very understrength, went on to beat the record as they beat Wolves on Penalties in the fourth Round of the Carabao Cup. A brave Wolves team kept City to 0-0 after extra time but Claudio Bravo was City's hero saving twice in the penalty shoot out.
Back in the Premier League and the victory's continued as they beat West Brom 3-2 at The Hawthorns. The record books were being rewritten game on game and City produced a great display in one of the best Champions League games ever seen as they won 4-2 at Napoli to make it 14 victories on the trot and more significantly Sergio Aguero became The Blues' greatest ever goal scorer as he netted for the 178th time to take Eric Brook's long standing record.
In the final game before the final international break Sergio Aguero scored again as Pep's side beat Wenger's Arsenal 3-1 to make it 5 victories on the trot plus 23 games unbeaten and were already eight points clear at the top of the Premier League.
After the break City made it 16 consecutive wins in all competitions as they beat Leicester 2-0 at The King Power Stadium, Garth Crooks writing for the BBC scribed "City played some of the best football ever played in the history of the Premier League".
The ever improving Raheem Sterling was the City saviour in the next three games as he scored a last gasp winner to beat Feyenoord 1-0 at The Etihad to guarantee top spot in the group stages of the Champions League, then City came from behind at a resolute Huddersfield to win 2-1 with Raheem again getting the late winner, and he left it even later at home to Southampton scoring in the 96th minute to beat The Saints 2-1, It was now nineteen wins on the trot in all competitions for Pep's team and they went on to make it twenty beating West Ham 2-1.
Inevitably that record came to an end, as already guaranteed top spot in their Champions League group, an understrength team lost 2-1 at Shakhtar Donetsk.
City then travelled to Old Trafford to meet their nearest rivals Manchester United and in a brilliant display The Blues swept Mourinho's side away in a 2-1 victory, and set a new top flight record of 14 league wins on the trot in a season, in addition they were now eleven points clear of second placed United in the league.
The media were proclaiming City as the best side ever to play in the Premier League and they didn't disappoint as they won 4-0 at Swansea and then beat a good Tottenham side 4-1 at The Etihad.
Off the pitch, City youngster Phil Foden received the prestigeous BBC Young Sports Personality of the Year award for his fantastic displays in helping the England team win the 2017 Under 17 World Cup.
City then kept up their assault on all four trophys as a much changed side won at Leicester on penalties in the Carabao Cup Quarter Final.
Back in the league, against two ultra defensive teams The Blues beat Bournemouth 4-0 at the Etihad and won 1-0 at Newcastle to make it 18 league wins on the trot and more importantly City were now an amazing 15 points clear at the top of the Premier League with half the season gone.
The winning record eventually came to an end at Crystal Palace in a 0-0 draw and in addition more bad news was that Jesus would be out for at least 2 months with a knee injury.
The Blues kept up their fifteen point lead in the league with a 3-1 victory over Watford, and in the FA Cup they saw off Burnley at The Etihad 4-1.
Despite a great display by Championship side Bristol City, the Blues edged their way nearer to Wembley with a close 2-1 victory in The Carabao Cup semi-final 1st leg at The Etihad.
Pep's team had already set many records so far this season and after an amazing thirty three domestic games unbeaten since April 2017 City finally lost to Liverpool in a seven goal thriller at Anfield 4-3. The Blues' lead over Manchester United was cut to a still healthy twelve points.
The Blues soon put the setback behind them, Sergio Aguero scoring a hat-trick to beat Newcastle 3-1 at The Etihad to keep their twelve point lead at the top of the table.
City's romance with the League Cup continued as they beat Bristol City 3-2 at Ashton Gate in the 2nd leg of the Carabao Cup semi-final to set up a Wembley final date against Arsenal.
In the FA Cup 4th round, against a very physical Cardiff City side, The Blues put up a great performance in Wales winning 2-0, however Leroy Sane was subject to an horrendous tackle which could see him miss two months with an ankle ligament injury.
With the transfer deadline approaching City announced the purchase of England under 21 international forward Jack Harrison from New York City, and he was immediately loaned to Middlesbrough for the rest of the season. The Blues then set a club record fee as they purchased central defender Aymeric Laporte from Athletic Bilbao for £57M
Laporte made his debut at home to West Brom on the last day in January, and despite some atrocious fouls from the Baggies, City were easy victors, winning 3-0 and increasing their lead at the top of the table back to 15 points.
As the final seconds of the transfer window ticked by Everton took Eliaqium Mangala on loan until the end of the season.
With an ever increasing injury list which now included Mendy, Delph, Jesus, Foden, Stones, Sane and David Silva, Pep was only able to name six substitutes on the bench, and his understrength team were held to a 1-1 draw at Burnley to stay thirteen points ahead at The Premier League summit.
A week later and things were a little better on the injury front as John Stones and Phil Foden were named on the bench for the home game against Leicester, and in another amazing team performance, Sergio Aguero struck a four goal salvo to take City sixteen points clear of United.
A great performance in the last 16 of The Champions League saw City win 4-0 in the first leg at FC Basel. And then the pressure of the media hype over whether Pep's side could achieve the allusive quadruple was lifted as Wigan beat The Blues 1-0 in the FA Cup 5th Round at The DW Stadium.
It was a freezing day at Wembley that saw Pep win his first trophy as City boss, in one of the most one sided finals ever The Blues beat Arsenal 3-0 to lift The Carabao Cup. It was City's 3rd League Cup Final win in just four years.
The Blues played Arsenal again in the league just four days later at a half full Emirates, and blew The Gunners away again with a fantastic 3-0 victory and then three days later a dominant City easily beat Chelsea at The Etihad albeit just 1-0.
Pep put out a mainly second string team to face FC Basel in the home leg of the last 16 tie, and in what was a dead rubber City lost their fourth match of the season 2-1 but were safely through to the Quarter Finals 5-2 on aggregate.
Back in the league and City kept their 16 point lead over second place United by winning 2-0 at Stoke. The Blues now only needed two wins from their last eight games to win the league, however they wouldn't play for another three weeks due to the exit from the FA Cup and an International break.
fresh from a three week break from domestic football and things were still going well as another brilliant performance as City beat Everton 3-1 at Goodison Park.
The next week brought the worst possible time of the season for Pep. Starting with City's Bus being attacked on its arrival at Anfield for the 1st leg of The Champions League Quarter Final and The Blues may have been affected as the were beaten 3-0 by Liverpool.
With the chance of winning the Premier League three days later at home to Manchester United, City let a half time 2-0 lead end up in a 3-2 defeat to their rivals, and so what was seen as an inevitable Premier League trophy for Pep would still need possibly another two victories.
The second leg of The Champions League Quarter Final against Liverpool ended in a 2-1 defeat with more controversial referee decisions incorrectly favouring the Scousers and knocking City out.
City put a 'bad week at the office' behind them with a fantastic performance at Wembley, beating Tottenham 3-1, and then in a shock result, a day later, Man United were beaten at home by bottom club West Brom to hand City the title as Pep played golf with his son and Vincent Kompany celebrated watching the game at his wife's gran's house.
With five games to go City were chasing numerous Premier League records and so they didn't take there foot off the pedal as they beat relegation threatened Swansea 5-0. Just a few hours later Leroy Sane was named the PFA Young Player of the Year.
Another great performance in London and West Ham were beaten 4-1. Then despite the damp squib of a 0-0 draw against Huddersfield there were fantastic scenes of celebration at The Etihad as City were presented with the Premier League Trophy.
Just a few days later and another emotional occasion as The Blues beat Brighton 3-1 and the fans get the chance to say goodbye to Yaya Toure.
On the last day of the season City needed a win to post the most points ever gained in top flight football and Jesus came up with a 93rd minute goal to win 1-0 at Southampton and rack up a record 100 points. It was an amazing record breaking season for Pep's side with:
The most wins in a season… 32,
The most goals in a season… 106
The most away wins… 16
Biggest winning points margin… 19 points
The biggest positive goal difference… 78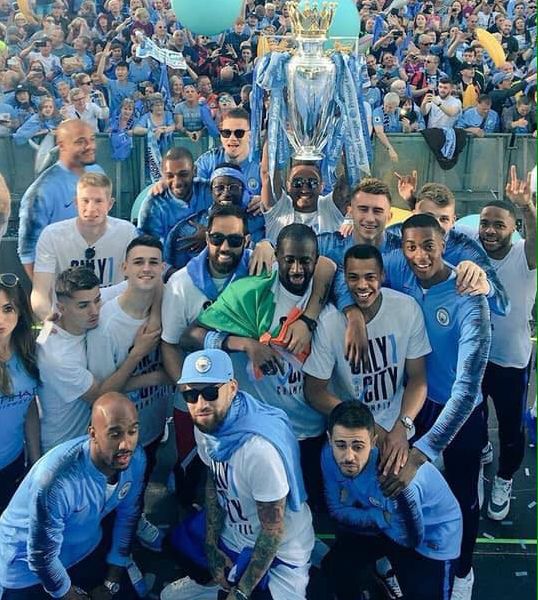 Thousands of fans lined the streets of Manchester the next day for an open top bus parade. And then Pep was named LMA Manager of the Year and celebrated by signing a new three contract.
City then announced youngster Pablo Maffeo would be joining Stuttgart on permanent deal for a fee of £8.8M.