1923/24 SEASON REVIEW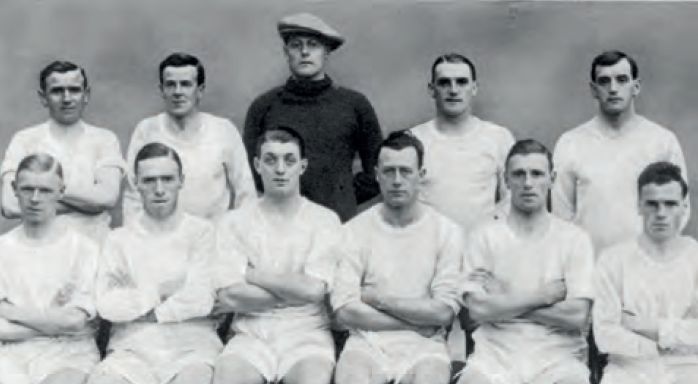 City celebrated the start of the season in a new home, Maine Road.
MAINE ROAD UNDER CONSTRUCTION (above)
 City had purchased the sixteen acre site in Moss Side for £5,500 and Charles Swain, a local architect, designed the ground. It would hold 90,000 fans and cost just £100,000.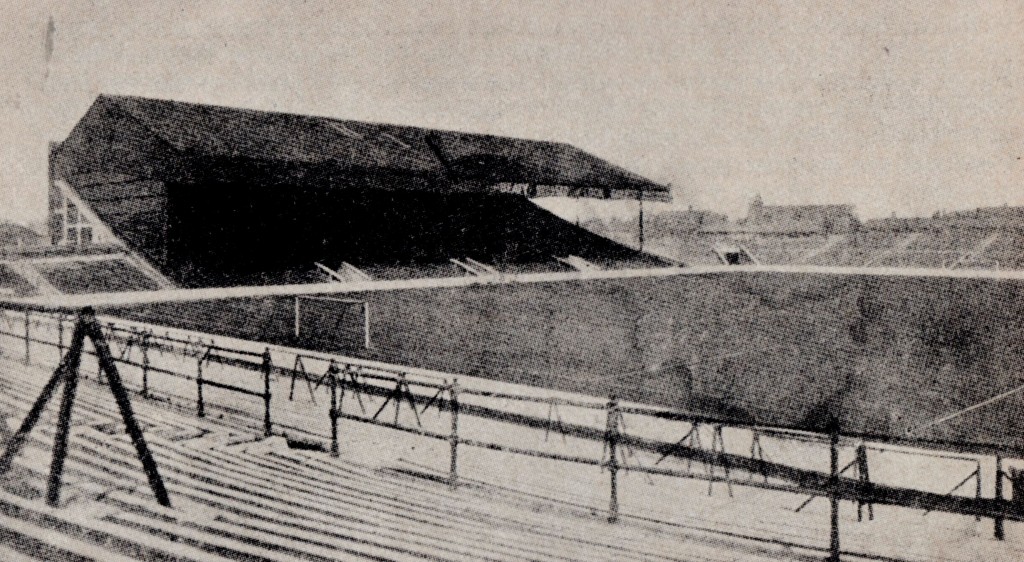 The inaugural match at the magnificent new ground saw the Blues take on Sheffield United. In the prescence of The Lord Mayor of Manchester, The Citizens beat The Blades 2-1.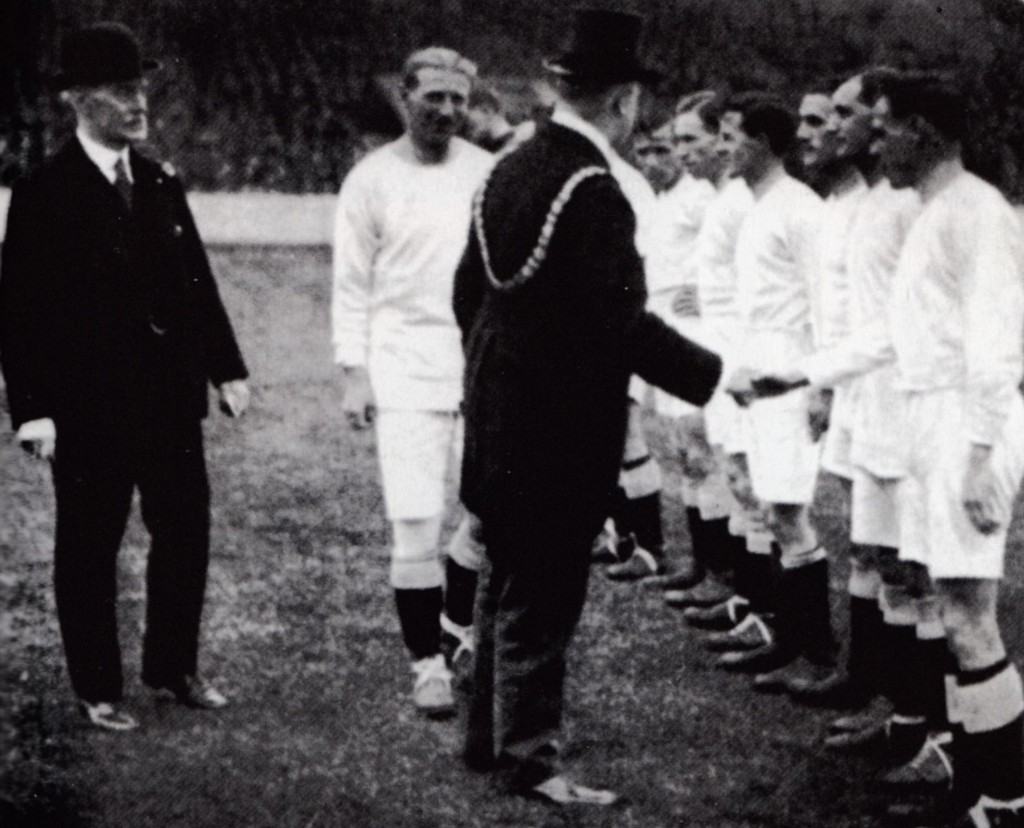 The match saw the return of Max Woosnam to the team after over a year out of the game due to his broken shin injury. However after the game Woosnam realised he could not carry on playing at the level he expected of himself anymore, the injury had taken it's toll and he advised manager Ernest Mangnall that he would have to retire. It was a massive setback to lose this great captain from the club, Mangnall wrote for a newspaper a few years later "He has left behind him a name that will remain fresh for many years".
Away from Maine Road City lost 2-0 at Aston Villa and 3-0 at Sheffield United and then back at the new ground in Moss Side City fans saw their first defeat there, 2-1 to Aston Villa, and their first draw 1-1 against Bolton. The early Division 1 table didn't look good for the Blues as they were in 19th place after five games.
A further draw, 0-0 against Bolton at Burnden Park followed, and although City then beat Sunderland 4-1 at Maine Road, in a return game at Roker Park saw Sunderland win 5-2 and The Blues slipped down to 20th in the league.
October brought a turnaroud in form as City had four straight wins, 1-0 against Arsenal at Maine Road, then at Highbury Arsenal were beaten again 2-1, Blackburn lost 1-0 at Ewood Park and then The Blues moved up to ninth in the league, just three points behind leaders Huddersfield, with a 3-1 win at home to Blackburn.
City fans were used to the unpredictability of the club and there was no surprise that November brought no wins. instead The Blues drew 1-1 with Newcastle at Maiine Road then at St James' Park Newcastle won 4-1, another 1-1 home draw against Cardiff followed and then on a frost bound Ninian Park pitch Cardiff drew again 1-1. City moved into December in mid-table, six points off the Division One summit.
It was a mixed December as City beat Notts County 1-0 at Maine Road, however at Meadow Lane Notts County were the victors winning 2-0. The Blues good home form continued with 2-1 win over Everton, but City lost on their travels again, a heavy 6-1 defeat at Goodison Park against Everton.
City played just one game over Christmas losing 3-0 at Birmingham on Boxing Day, then three days later they made it nine games unbeaten in Moss Side as they drew 3-3 against West Brom, to finish the year mid-table.
On New Years Day 1924 City beat Tottenham 1-0 at Maine Road however then lost 2-1 at West Brom.
With the chance of winning the league highly unlikely City were hopeful of a good run in the FA Cup and in the First Round they beat Nottingham Forest 2-0 at Maine Road, however back in the league they lost 1-0 to Liverpool at Maine Road and back at Anfield they drew 0-0 with Liverpool.
In a potential 'banana skin' City met Third Division Halifax at Maine Road and were happy to force a replay with a 2-2 draw. In the replay at The Shay the tie could still not be decided as Halifax held on to draw 0-0 after extra time.
Back in the league The Blues gained an excellent 2-1 win at Nottingham Forest, before finally disposing of Halifax 3-0 in a second round replay held at Old Trafford.
In the league City's unremarkable form continued with a 3-1 defeat against Nottingham Forest and a 2-2 draw against Burnley, both games at Maine Road.
City were drawn against 3rd Division South side Brighton at The Goldstone Ground in the FA Cup and sensationally City manager Mangnall announced that 49 year old Billy Meredith would play in the game, Billy had not played for the first team for over a year and must have thought his playing days were over. Mangnall's gamble worked, all the talk was about the great Billy Meredith and not about a possible giant killing from lowly Brighton. With the pressure off the players, City beat Brighton 5-1 and Meredith was also on the scoresheet.
A match back in the league saw City beat Nottingham Forest 3-1 at Maine Road and then in front of over 76,000 fans, a record breaking crowd at the new ground, The Blues drew 0-0 with Cardiff in the 4th round of the FA Cup. In the replay at Ninian Park Cardiff were beaten 1-0 after extra-time, and City were in the semi's.
Back in the league with mid table mediocrity setting in, City lost 4-1 at Preston, 3-2 at Burnley and then drew 2-2 at Maine Road against Preston.
The FA Cup semi-final was held at St Andrews and City 'didn't turn up' as they were beaten 2-0 by Newcastle.
The rest of the season petered out as City drew 1-1 at Middlesbrough, beat Chelsea 1-0 at Maine Road, drew 1-1 at Huddersfield, won 1-0 at home to Birmingham, drew 1-1 at home to Huddersfield and lost 4-1 at Tottenham.
With three games left, due to an accicent on the train line, City turned up two hours late at Upton Park but still beat West Ham 2-1, then lost 3-1 to Chelsea at Stamford Bridge, before the season ended City entertained Glentoran in a friendly at Maine Road and won 7-2.
In the last game of the season The Blues beat West Ham United 2-1 at Maine Road to finish in 11th place in eague Division One on 42 points.