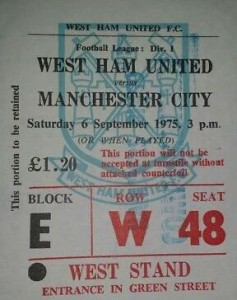 WEST HAM UNITED 1 CITY 0
League Division 1
6th September 1975
attendance 29,752
Scorer Lampard(77)
Ref D Nippard
City  Corrigan, Clements, Donachie, Doyle, Watson, Oakes, Hartford, Bell, Leman, Marsh, Tueart – sub Barnes(unused)
West Ham Day, McDowell, Lampard, Holland, T Taylor, Lock, A Taylor, Paddon, Jennings, Brooking, Robson – sub Bonds(73)
FROM THE PRESS BOX
Norman Fox writing in THE TIMES 8th September 1975
Manchester City are brought to us at great expense rather than popular demand. They have about a million pounds worth of forwards and midfield players and a £200,000 central defender, yet away from home rough up the opposition as vigorously as the referee will allow. In the case of their match at Upton Park on Saturday they got away with too much and only West Ham United's patience and sorely tested good nature dictated that City rightly lost 1-0.
Because West Ham were determined not to be disturbed, the match was excellent. Of course there was some physical retaliation, but generally City's aggressors were left looking at puffs of dust where West Ham players had accelerated out of trouble. By three-quarter time West Ham had given an engrossing exhibition of support play, every move having a back-up system that seemed so natural, so simple that numbers, positions and formations become meaningless and everything was instinctive and free, which surely must be the real meaning of the game itself.
For the crowd, always prepared to praise the insight of Bell and urgent drive of Leman, despite the need to jeer the crudity of City's defenders, the only disappointment was West Ham's slowness to score  and the several false alarms over the reappearance of that folk hero, Bonds, who quite obviously had no intention of testing his fitness too soon. Eventually he replaced Alan Taylor, who had been missing goals as profoundly as most, and within eight minutes West Ham scored their winner. Much as the crowd willed otherwise, the two occurences were unrelated, Bonds having touched the ball no more than three times before the goal.
As well as Taylor, who never seemed to be on the right leg or facing the right way when City's defenders made their most generous mistakes, most of West Ham's forwards and several others failed to produce the finishing blow. Jennings worked diligently and hit the bar, McDowell drove a 30 yard shot  that went like an arrow past a post, and Brooking created a whole series of opportunities.
It was beginning to look as if Tueart, or even Marsh, who listened for a round of applause for tying his bootlaces, might spoil justice. But with 13 minutes left Lampard, who played an inspired match as captain before the full return of Bonds, tapped out a one-two with Paddon then sent a powerful shot past the hitherto fortunate and sometimes remarkably agile Corrigan.