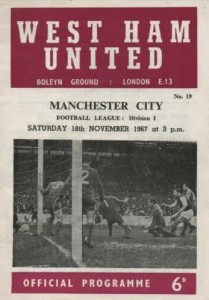 WEST HAM UNITED 2 CITY 3
League Division 1
18th November 1967
Attendance 25,595
scorers
City Lee(23 & 58), Summerbee(28)
West Ham Peters(29), Hurst(76)
Ref W Gow
City  Mulhearn, Book, Pardoe, Doyle, Heslop, Oakes, Summerbee, Bell, Lee, Young, Coleman – sub Horne(unused)
West Ham Ferguson, Lampard, Burkett, Peters, Cushley, Moore, Redknapp, Boyce, Brabrook, Hurst, Sissons
City treated The Iron's fans to one of the most entertaining attacking displays they are ever likely to see at The Boleyn Ground. Peter Gardner writing in The Manchester Evening News espoused "One of Soccer's oldest sayings preaches the principles of attack being the best form of defence. Manchester City, former slaves to defensive negativity, now back that adage to the hilt, and in doing so have earned themselves the title of the most attractive side in the country today".
It was City's new signing, and Man of the Match Francis Lee who led the way scoring two fantastic goals, making it five in his first six games. Hugh McIlvanney said of City's diminutive forward "… his right instep does much the same to a football as Palmer's one iron does to a golf ball, except that Palmer never has to deliver his shots on the volley around waist height."
The Hammers boss also praised the opposition; "Lee was very impressive, in fact this City attack is the best I have seen this season".
Lees first goal was a spectacular volley from a Tony Book cross, that Ferguson didn't even see before it hit the back of the net.
Just five minutes later and it was 2-0 courtesy of a Summerbee header, but against the run of play The Blues lead was pegged back as Peters scored with an athletic header.
City continued to flood forward throughout the game and just before the hour Lee, 40 yards from goal played a one, two with Colin Bell, waltzed round England captain Moore, then smashed the ball home.
Despite a good headed goal from Hurst, City were well worth their win and Bell, Lee and Summerbee must have enhanced their England prospects with Sir Alf Ramsey in the crowd.