VANCOUVER WHITECAPS 1 CITY 2
Herbalife World Football Challenge
19th July 2011
Attendance 24,074
Scorers City Guidetti(68), Wright-Phillips(84) Vancouver Sanvezzo(30)
City First Half Hart, Boyata, Kolarov, Savic, Kompany, De Jong, McGivern, Y Toure, Adam Johnson, Weiss, Dzeko – sub Milner(45)
City Second Half Taylor, Clichy, Boyata, Lescott, Savic, Barry, Milner, Guidetti, Balotelli, Weiss, Wright-Phillips – subs Mancini(61), Veseli(61)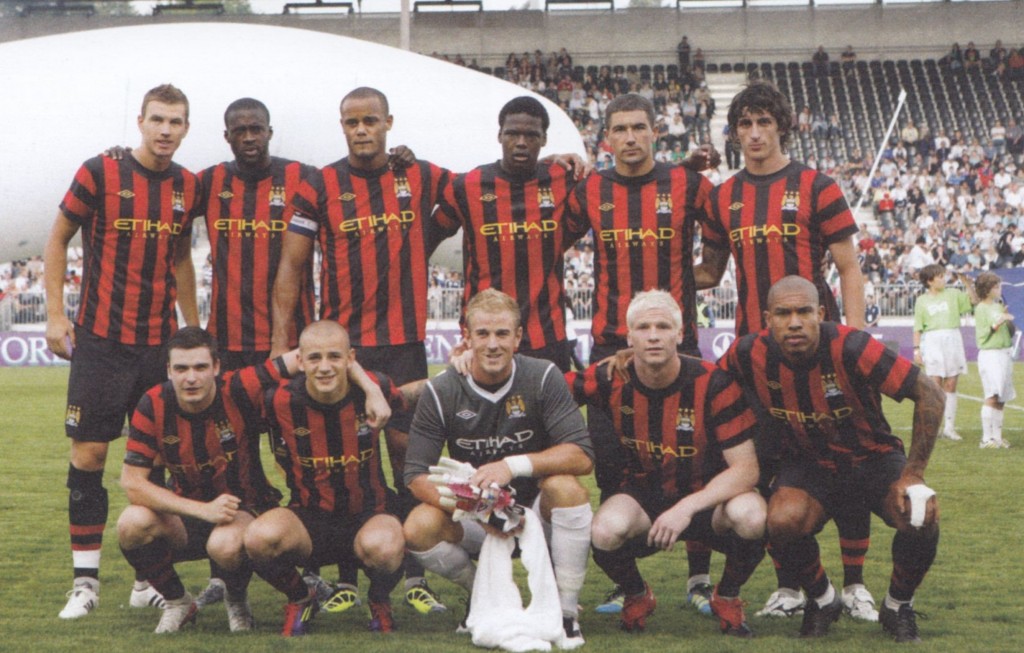 FROM THE PRESS BOX
Late Wright-Phillips goal leads Manchester City to 2-1 win over Whitecaps
It took a late goal from Shaun Wright-Phillips to give one of the top teams in the English Premier League a win over the last-place team in Major League Soccer.
With the temporary grass surface at Empire Field pock-marked with divots, Wright-Phillips unleashed a 30-yard rocket in the 84th minute to give Manchester City a 2-1 win over the struggling Vancouver Whitecaps in an exhibition match Monday.
"I just tried to make sure my first touch was good and get it on target," Wright-Phillips said.
"It was something I've been practising in training and it just paid off," said the England international, who has 35 caps and is nearing 200 starts in his second stint with Man City.
"The pitch was difficult to play on but we had to get on with it."
The goal salvaged a result for Champions League-bound Man City after the Whitecaps, who operate under an MLS salary cap of $2.6 million a year, held their own for much of the match against a team that has spent about $1 billion on players over the last three years.
Wright-Phillips' sudden strike against the expansion Whitecaps was the midfielder's second goal in as many games for the touring FA Cup champions.
He also scored in Saturday's 2-0 win over Club America in San Francisco.
Wright-Phillips almost had a second goal near full time but Vancouver 'keeper Jay Nolly made a diving save for the expansion Whitecaps who have only two wins and eight draws in 20 games.
Mario Balotelli's far-post header off a corner kick in the 68th minute gave City, which finished third in the EPL last season, a 1-1 tie.
Brazilian striker Camilo shocked the third-place finishers in the Premier League before 24,074 fans with a shot that deflected behind England keeper Joe Hart off defender Stefan Savic.
The match against Man City was played on a freshly laid pitch that had been deluged by rain on Saturday.
The field appeared relatively dry by Monday's kickoff, but the Whitecaps were forced to cancel a league fixture Saturday against Real Salt Lake because of field conditions.
Workers with blowers, vacuums and pumps began restoring the pitch on Sunday and continued through the night and Monday.
"It was quite tough," French defender Gael Clichy, recently acquired from EPL rival Arsenal, said of the match.
"The pitch wasn't too good but it was the same for (both teams) and they gave us a big challenge."
City manager Roberto Mancini said his club felt the effects of playing twice in 48 hours.
"In the first half I think the Whitecaps played better than us," Mancini said. "In the second half, we scored two goals, we played better."
While both teams substituted liberally in the second half, Man City lost Ivory Coast midfielder Yaya Toure to an ankle injury that Mancini said was not serious.

Camilo gave Vancouver the lead in the 30th minute.
"It was a very good goal and tonight we kept that ball well and had some very good chances to score but we have to do the same (Wednesday) against San Jose," Camilo said.
"Now our team is keeping possession and having a lot of chances."
Earlier, he narrowly missed on a free kick from about 28 yards and directly in front of the Blues' goal. The shot fully extended Hart who got a hand on the ball which deflected off the post.
Striker Eric Hassli, in his first game after missing two with a foot injury, forced Hart to tip his shot over the bar.
City did not dress midfielder David Silva who led Spain to the 2010 World Cup or defender Micah Richards who is a cousin of injured Vancouver striker Atiba Harris
FROM A REPORT IN THE WINNIPEG FREE PRESS 19TH JULY 2011