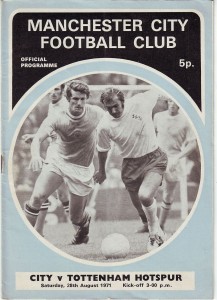 CITY 4 TOTTENHAM HOTSPUR 0
League Division 1
28th August 1971
Attendance 36,463
scorers Bell, Summerbee, Davies, Lee
Ref Jack Taylor
City Corrigan, Jeffries, Connor, Doyle, Booth, Bell, Summerbee, Heslop, Davies, Lee, Mellor – sub Donachie
Spurs Jennings, Kinnear, Want, Mullery, England, Naylor, Coates, Perryman, Chivers, Peters, Gilzean.
 KING COLIN SMASHES THE BALL HOME
WYN DAVIES HEADS IN CITY'S 3RD
Peter Gardner writing in THE MANCHESTER EVENING NEWS 30th August 1971
NOW THE CITY WIDE BOYS!
Manchester City's opponents must now feel the width as well as the superb quality of attacking endeavour when visiting Maine  
More evidence for this theory was provided in another four goal salvo when Tottenham were tortured on a widened pitch which has given the Blues' front four an extra dimension on which to quench their scoring thirst.
… City ran Tottenham ragged in the second half, following a sketchy first half when Spurs had monopolised home territory without finding a man to fire the bullets provided by Alan Mullery and Steve Perryman.
Wyn Davies was streets ahead of Martin Chivers when it came to considering out and out strikers, and his 58th minute header for City's third goal deserved every handclap that came from the standing ovation he received from the grandstand patrons.
Colin Bell's return sparked off by a devastating sixth minute volleyed goal brought fresh midfield endeavour, and although still clearly not 100% fit Bell provided a display that sounds a clear warning that City are going to be championship challengers once again.
Mike Summerbee, too, still needs time to find his feet, but there can be no complaints after the way he took City's second goal and laid on the third.