CITY 4 STOKE CITY 1
League Division 1
19th September 1970

attendance 35,473
scorers
City Book(14), Young(22), Banks(30 o.g.) Lee(67)
Stoke Bernard(80)
Ref J Hunting
City –Corrigan, Book, Pardoe, Doyle, Booth, Oakes, Summerbee, Bell Lee, Young, Towers – sub Heslop(45 mins)
Stoke – Banks, Skeels, Pejic, Bernard, Smith, Bloor, Conroy, Greenhoff, Ritchie, Dobing, Burrows – sub Marsh(46 mins)
Book opens the scoring 
Young pounces for the second
An O.G. from Gordon Banks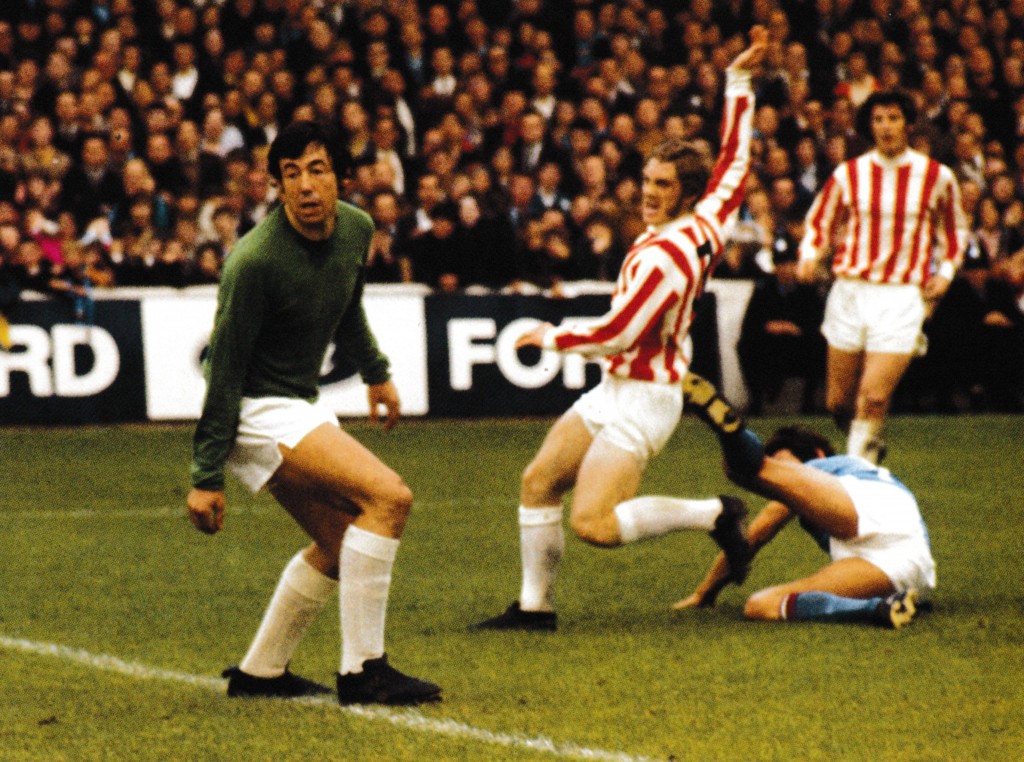 FROM THE PRESS BOX

INJURY MARS A MEMORABLE CLASH
PAUL WILCOX WRITING IN THE GUARDIAN 21ST SEPTEMBER 1970
"It has taken the gloss off the game," said Joe Mercer, manager of Manchester City, when he learned that Tommy Booth might need an operation for the cartilage injury the centre half sustained in the sixtieth minute on Saturday. Booth will be in hospital for several days, and will miss the match against Bologna on Wednesday. Nor is there any hope of him playing against Linfield in the European Cup Winners Cup second leg game with Linfield on September 30.
If an operation is necessary, Booth's absence for six to ten weeks could seriously hamper Manchester's championship hopes after their bright start to the season. However their other injury problems should resolve themselves quickly, with Summerbee (strained ligament), Bell (groin), and Book (leg) being fit to face the Italian League Cup winners.
Booth's misfortune was a blot on a memorable match. There were a multitude of mistakes, but they could not dull the spectacle of two teams giving attacking skills full rein at the expense of the choking constrictions of block defence. The difference was that Manchester capitalised on the errors, whereas for Stoke, Ritchie could not turn to advantage lapses by the Manchester back four.
The Stoke centre forward missed at least six chances of making the scoreline a truer reflection of capabilities. He did beat Corrigan after twenty seven minutes but was penalised for an infringement against the goalkeeper; and he did create the opportunity for Bernard to score ten minutes from the end, but then it was too late.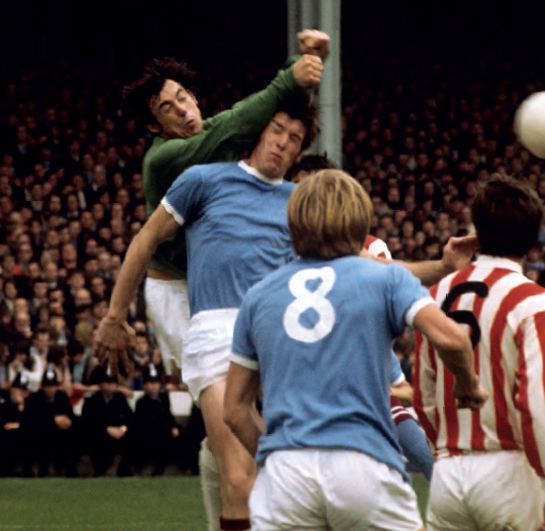 Manchester won the match in 16 minutes of tantalising brilliance. Summerbee was in a superbly aggressive mood, and paved the way for Book's second goal for the club in the fourteenth minute. Eight minutes later, Young magnificently began and ended the move which saw Banks move too late to prevent a goal, and on the half hour, an own goal by Banks from Lee's acutely-angled shot put Manchester in comfortable command.
Stoke refused to concede defeat to ten men, their attractive thrusts were spoiled by poor finishing and some good saves by Corrigan. Lee, who also hit a post with poor Banks in an agony of indecision, added the fourth after a display of defensive suicide by Bloor.