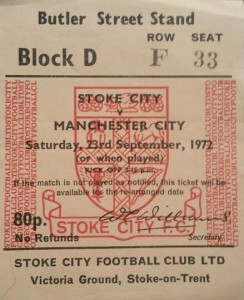 STOKE CITY 5 CITY 1
League Division 1
23rd September 1972
attendance 26,448
scorers
City Lee(74 pen)
Stoke Conroy, Greenhoff(14, ? & ?), Hurst
Ref B Danials
City  Corrigan, Jeffries, Donachie, Doyle, Booth, Oakes, Mellor, Bell, Marsh, Towers, Lee – sub Carrodus(49)
Stoke Farmer, Marsh, Pejic, Skeels, Smith, Bloor, Robertson, Greenhoff, Hurst, Mahoney, Conroy
TAKEN FROM THE CITY MAGAZINE OCTOBER 1996
Another Allison-bossed disaster came in our sixth away game of the 1972/73 season, by sheer persistence we had managed to lose the previous five.
Malcolm Allison had sat head in hands having watched the display at Birmingham a fortnight earlier, and must have felt positively suicidal after this Stoke game.
The defeat dumped the Blues to the bottom of the First Division but somehow they had to pick themselves up quickly because they were flying to Spain to face Valencia in the UEFA Cup.
Colin Bell's form had disappeared, Francis Lee's customary speed had deserted him, and Rodney's finishing had gone to pot.
The Blues were two goals down after 14 minutes. Showing all the steel of a newly made jelly, the Manchester defence firstly let in Terry Conroy to open the scoring and the allowed Jimmy Greenhoff to begin his hat-trick.
Geoff Hurst remembered early in the second half what he used to do for West Ham and scored the third Stoke goal with a splendid header. Greenhoff banged the final nails into the Blues' coffin lid with an utter lack of sympathy showing he'd later become a Red.
Franny scored with a penalty, a consolation goal totally irrelevant under the circumstances and one celebrated with somewhat less than whole-hearted euphoria by the travelling Blues.