CITY 2 SOUTHAMPTON 0
League Division 1
6th November 1982
Attendance 25,115
Scorers Reeves(10), McDonald(66)
Ref Mark Scott
City Corrigan, Ranson, McDonald; Bond, Power, Caton, Tueart, Reeves, Cross, Hartford, Baker –  Sub Reid(unused)
Southampton Shilton, Baker, Rofe, Williams, Nicholl, Wright, Holmes, Moran, Cassells, Armstrong, Wallace – sub Puckett(75)
BOBBY MCDONALD SCORES CITY'S SECOND GOAL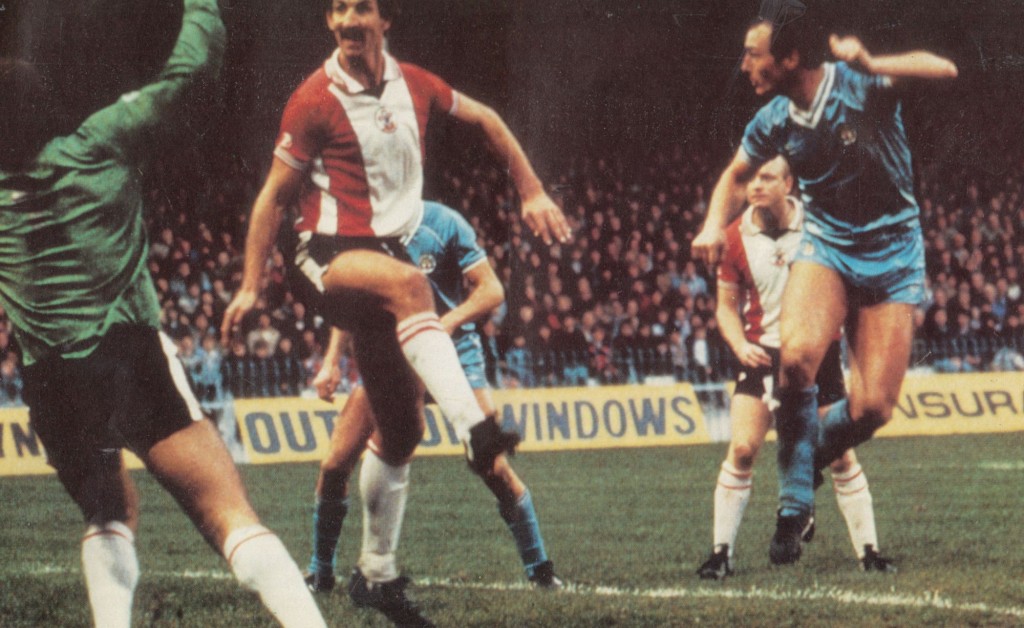 …lt was City"s fourth successive home game and a battling display assured the Blues of a boost from sixth to second place in the First Division table with a record at this point of only one defeat in eight matches.
The Saints were in difficulties virtually from the kick-off. Paul Power put over a raking centre in the very first attack and Dennis Tueart turned it back for David Cross to meet on the volley. But Chris Nicholl stuck out his right knee as a reflex action to deflect the stinging shot to safety.
The opening goal was not long delayed and it came via a very rare error from Peter Shilton in the 10th minute. Power again popped in the ball, a hopeful through pass, and it inspired a farcical mix-up between the visitors 'keeper and the youthful Mark Wright. Harried by Kevin Reeves the defender nodded the ball over his head as Shilton charged off his line and collided with Wright. The loose ball rolled sweetly towards the empty net and Reeves got the edge on Nicholl to stab it over the line.
But Shilton's brilliance in temperament as well as talent soon put that in the past and the Saints 'keeper made a magnificent save from a 38th minute penalty by Kevin Bond, awarded after Bobby McDonald had been tripped by Steve Baker.
Saints had been fortunate not to concede a spot kick a little before this when Nick Holmes scythed the legs from under his former team-mate Graham Baker. The game had quite a few red-blooded moments and one blot on City's day was a caution for Asa Harford for a foul, his third booking in 4 games since returning from suspension following a sending off against Everton. Bond's name was also noted.
Saints clearly missed the midfield influence of the veteran Alan Ball and their strikers, a nimble unit, were seldom provided with the service which might have brought profit. Danny Wallace and Steve Moran were lively and alert indeed, Moran taxed Tommy Caton's defensive capabilities to the full.
The points were made much more secure in the 66th minute when Bond headed on a corner from Hartford, a well established near-post ploy by City, and McDonald was unmarked to bullet a header high into the roof of the net.
It was a timely addition since the second half had provided an early chance for Wallace and with Joe Corrigan at full stretch the lively striker's header flew just inches wide of the post.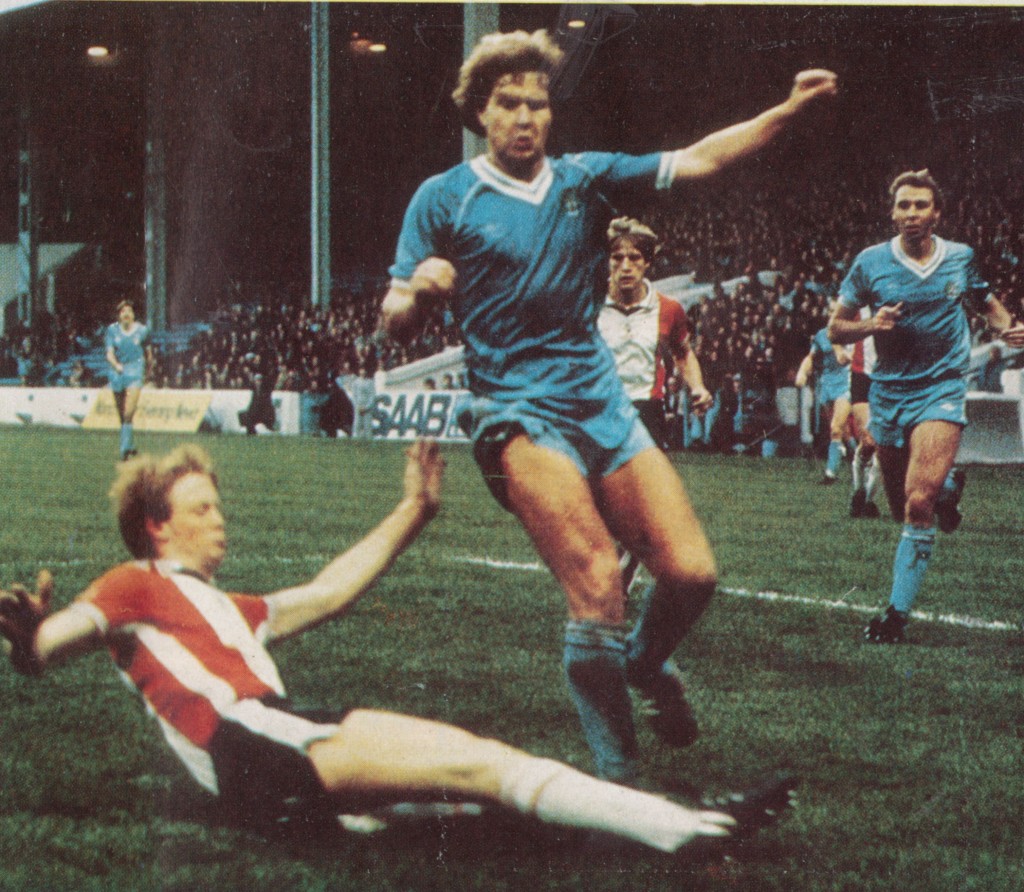 At 0-2 down Saints made a tenacious attempt to respond and Tueart headed off the line from Nicholl while in the 79th minute Bond denied substitute David Puckett with a goal-line clearance from which Wa|lace's·follow-up attempt scraped the bar.
Power's forceful running down the left flank posed problems for the visitors, often keeping their defence stretched, and Reeves put in prodigious effort in attack. McDonald, too, was in fine form.
The best action was after the interval but City lacked real urgency in front of goal. Typical of the failings was a last minute opportunity for Cross, who had the simplest of openings but fluffed. 
Pleased City boss John Bond said afterwards: "The players feel good and we all know that we are close to achieving something really fine." To which Tueart added: "We can keep it going if we can keep clear of major injuries and suspensions. We've been unchanged now for the last 4 or 5 games and you can see the understanding growing. You don't need to have a lot of players to be successful. Liverpool win the title often using only 14 players. The important thing is to keep players together for as long as possible."
FROM AN ARTICLE IN THE CITY PROGRAMME 11TH JANUARY 1986