CITY 1 QUEENS PARK RANGERS 1
FA Premier League
17th August 1992
attendance 24,471
scorers
City White(37)
QPR Sinton(47)
City Coton, Hill, I Brightwell, Curle, Vonk, White, Lake, Quinn, Holden, Simpson, McMahon – subs Sheron(76), Flitcroft(unused), Margetson(unused)
QPR Stejskal, Bardsley, Wilson, Wilkins, Peacock, McDonald, Impey, Holloway, Ferdinand, Bailey, Sinton – subs Thompson(90), Maddix(unused), Roberts(unused)
THE SKY SPORTS CHEERLEADERS GET THE NEW MONDAY NIGHT FOOTBALL PROGRAMME OFF TO A GREAT START
From PAUL LAKE, I'M NOT REALLY HERE, A LIFE OF TWO HALVES by Paul Lake
City's opening fixture of the 1992/93 campaign saw us lining up against QPR at Maine Road. It was an occasion thick with significance. As well as being our first game in the newly formed English Premier League. it was to be the first match ever to be broadcast live via satellite by BSkyB. And, with any luck, it was going to be the night that I jump-started my football career.
… Like a kid on the first day at secondary school, I was gripped with first day nerves, worried that I'd find it hard to fit into the new setup. There had, after all, been a seismic shift in personnel since my last league match in 1990; old muckers like Steve Redmond and Jason Beckford had left for pasures new, with players such as Rick Holden and Keith Curle arriving. This change in group dtnamics was something that I'd just have to get used to, at least the appointment of Curle, a 2.5M signing from Wimbledon, as team captain. He was a good lad and a useful defender, but this still didn't stop me feeling a pang of envy when I watched him slip on the black armband.
… The BSkyB bandwagon was in full swing when we ambled out of the tunnel for our warm up. Helping to usher in this new dawn of sports broadcasting, 'A Whole New Ball Game' proclaimed the adverts, was a circus of reporters, cameramen, musicians, skydivers and dancing girls. Hoisted in the corner of the Main and North Stands was a makeshift studio that housed two TV pundits and buzzed with technicians. On the touchline, blokes in headphones carried out soundchecks and the cheerleaders practised jiggling their pompoms. In the centre circle, a troup of roadies rigged up a podium in preparation for the on-pitch 'entertainment', which amounted to a fireworks display. the assassination of Gerry Rafferty's Baker Street by some tribute band and the delivery of the match ball by parachute.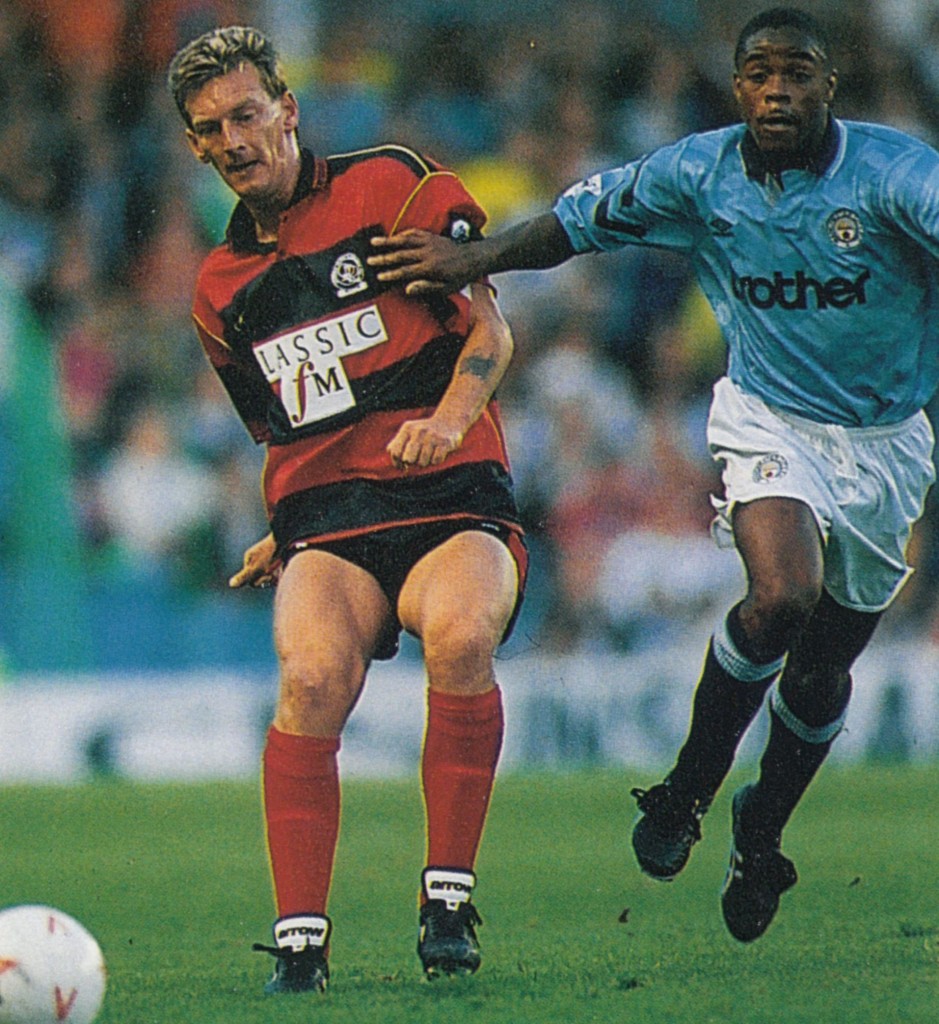 I felt like a stranger in my own backyard. It was as if the traditions of Maine Road, and football in general, were quite literally being trampled on. "It's like bloody Disneyland out here" I remember whispering to Whitey.
… Back in the dressing room, Reidy hollered out his instructions. I was going to be deployed up front behind Quinny.
"No pressure Lakey. Try and relax, play your natural game, and remember that the lads are there to help you. Just take it easy and things will come right, I'm sure of it."
Cheers pealed around the stadium as I ran onto the floodlit pitch with 'Alive and Kicking', the Simple Minds anthem booming out of the sound system.
… The game itself turned out to be something of a damp squib. Both sides cancelled each other out with their similarly cagey approaches, creating a party-pooping atmosphere that made all the pre-match hype look a bit daft. From a personal perspective though, I was delighted to feel my confidence soar with each touch of the ball. And better still, in the 37th minute I was involved in the game's first goal. The move had started with Niall Quinn, who'd neatly put Rick Holden into the channel. I'd met Rick's first time cross and, after my strike at goal was parried by Jan Stejskal, the rebound was finally smashed in by David White.
… So was I heading for a dream comeback? Was I fuck. This was Paul Lake, not Roy Race. Just before half-time, an incident near the half-way line put the mockers on everything. I'd thwarted an advancing Alan McDonald with a block tackle, something that had always been an intinsic part of my defensive play, and as I lunged towards him, my kneecap juddered violently, almost giving way beneath me. Yet again, the frailty and instability of the joint had been exposed, causing my head to drop immediately and the alarm bells to ring louder than ever. I managed to make it through to half-time but to my relief was substituted fifteen minutes after the restart.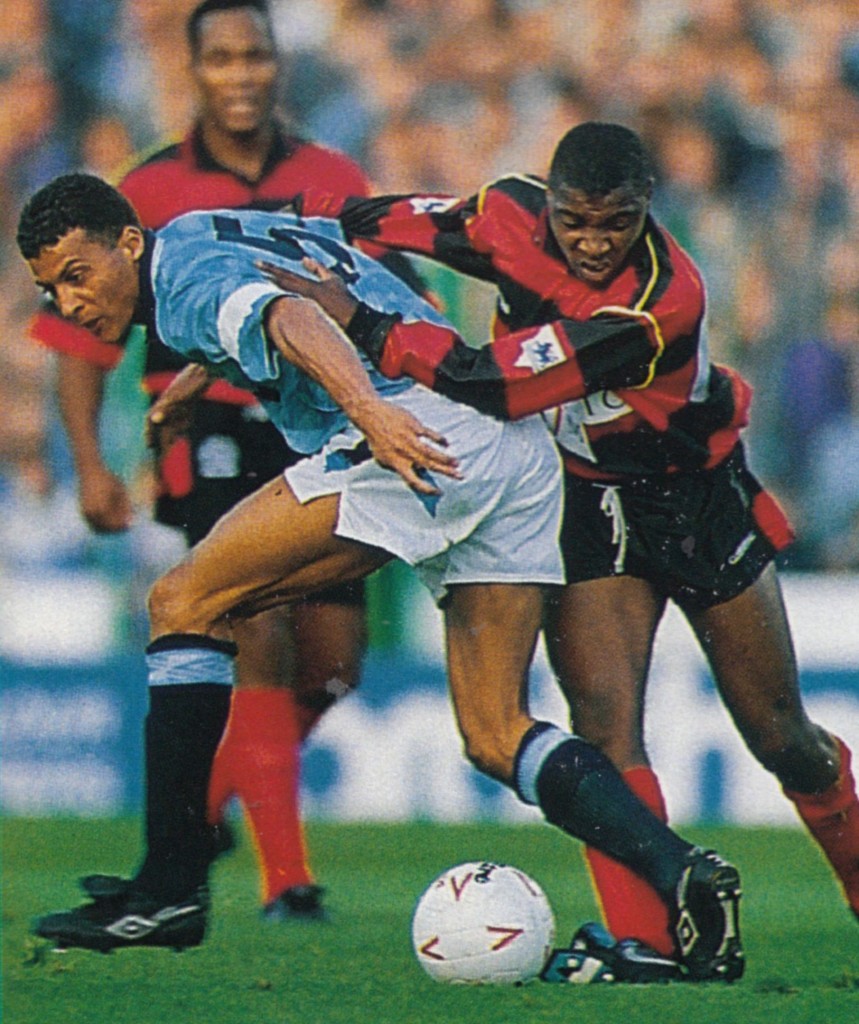 "Well done Lakey" said Peter Reid as I walked past the dugout, trying my utmost not to limp. "At least that's 60 minutes under your belt lad. Onwards and upwards".
Masking my grimace with a grin I gave him a half hearted thumbs up and headed straight to the dressing room where a pair of ice bags awaited me.
After the game, which finished 1-1, I took part in my first formal press conference for the national media. I fibbed my way through a five minute Q & A session. Yes, I was extremely happy with how my first game had gone. Yes, the plan had always been to bring me off after an hour. Yes, I could indeed confirm that I'd had little reaction to the injury. And yes, I was sure that I'd be able to cope with a gruelling schedule of three games in seven days including the match on Wednesday at Middlesbrough.
I hated spinning them a yarn but, since I couldn't face revealing the truth, the only other option was to lie through my teeth.