NOTTINGHAM FOREST 2 CITY 1
League Division 1
15th October 1977
Attendance 35,572
Scorers
City Kidd
Forest Woodcock, Withe
ref D Lloyd
City Corrigan, Power, Donachie, Owen, Doyle, Booth, Kidd, Barnes, Channon, Hartford, Tueart – used sub Clements
Forest Shilton, Anderson, Barrett, McGovern, Lloyd, Burns, O'Neill, Bowyer, Withe, Woodcock, Robertson – used sub Gemmill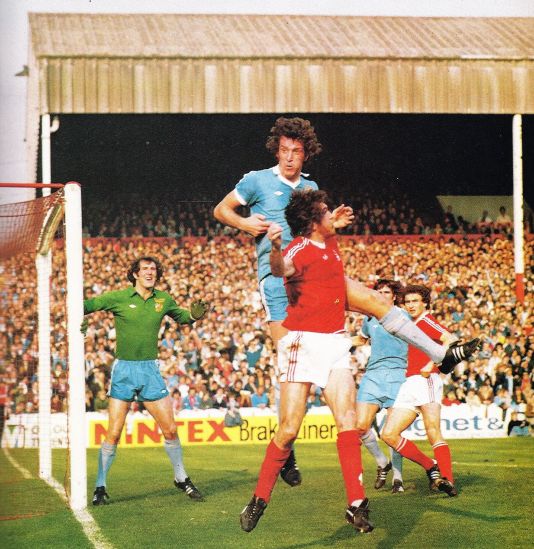 From Tony Books column in the city programme 22nd October 1977
…We deserved some of the spoils from that game, and Forest's manager, Brian Clough, was gracious enough to acknowledge the fact with some generous comments about our play. But words are not as valuable as the points and we lost a little ground at the top of the table with the 2-1 defeat.
The City lads played some greatr stuff in the first half but mistakes that are not normally made by our defence were punished by the Forest side.
We revised our tactical thinking for the game, believing that the best way to win was to play with two front men and two wingers. In midfield we had Asa Hartford and Gary Owen who adjusted their jobs to combing across the field instead of pushing forward, it was a 4-2-4 system that promised to pay off after Brian Kidd gave us the lead .
I gave Paul Power the full back job because I was impressed with his display in that role in Poland in the UEFA Cup. And also in the knowledge that we do at times need to re-think the manner we play at the back. When we meet opponents who only have two men up front we have a failing in not pushing up from the full back positions. In effect. we under-employ ourselves in defence when the benefit from break-outs at the back could be investigated. I believe in the sense of adventure if opponents permit you to have the initiative.
Paul once more did a grand job, giving extra weight in midfield when it was needed most. He's a left-sided player who can perform most of the tasks on that flank and he has now acquired that assuredness which is essential to display in the First Division.
Forest were fortunate, but they still impressed me. I cannot support any claims that they will be in the hunt for the League title at the end of the season; they are still a long way But they are well organised, a credit to Brian Clough, well-balanced and they work extremely hard as a team.