NEWCASTLE UNITED 0 CITY 1
FA Carling Premiership
24th February 2001
attendance 51,981
Scorer Goater(61)
Ref Rob Harris
City Weaver, Tiatto, Dunne, Wiekens, Howey, Grant, Granville, Kanchelskis, Haaland, Goater, Huckerby – subs Charvet(62), Jeff Whitley(77), Prior(unused), Ostenstad(unused), Nash(unused)
Newcastle Given, Griffin, Goma, Hughes, Quinn, Solano, Acuna, Dyer, Gallacher, Ameobi, Shearer – subs Barton(68), Glass(69), Lualua(69), Cordone(unused), Harper(unused)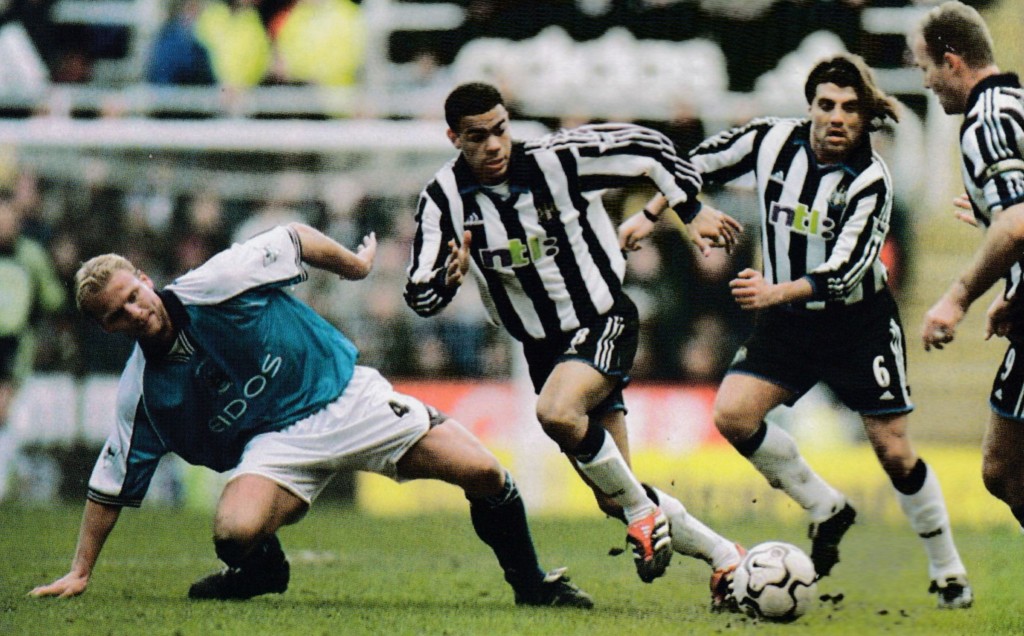 …I Remember seeing our fans way up in the clouds in the corner of St James Park as I warmed up.
This was Alan Shearer's stomping ground. What better place to leave another mark then at the home of one of the greatest strikers in English football?
If I scored I would treat the Newcastle fans to a Shearer type celebration, running off to the corner with one arm raised. When I did actually score my mind went totally blank and I ran towards our fans with no thought of Alan Shearer, what a chance missed.
I was proud to have scored the winner in the backyard of another of my mentors.
Steve Howey had a bruising encounter with Shearer that day, and when the game was over they walked up to each other, bloodied and bruised and shook hands. I thought that was brilliant. I walked over and asked Steve whether he would ask Shearer for his shirt and he gave it to me; that's something I will keep proudly in my collection.
EXTRACT FROM FEED THE GOAT BY SHAUN GOATER AND DAVID CLAYTON
FROM BLACK & WHITE NEWCASTLE'S PROGRAMME 24TH SEPTEMBER 2005 The Newcastle Old Boys' legion had the last laugh as Shaun Goater grabbed the game's only goal.
Steve Howey, Darren Huckerby and Laurent Charvet all came back to their former St. 1ames' Park baseand conjured up an improbable win.
The return of Alan Shearer after a two- month absence failed to spark United and chances were missed before Goater fired in an untidy winner for newly-promoted City.
Clarence Acuna headed a Shearer cross over from point-blank range and Shola Ameobi, Nobby Solano and Shearer were all denied by keeper Nicky Weaver. But against that, Huckerby had the finest chance of the game just two minutes after Goater's strike only to screw wide a great low cross from Andrei Kanchelskis.
City boss Joe Royle awarded Howey a verbal ten out of ten for his display against Shearer..