NEWCASTLE UNITED 3 CITY 4
League Division 1
11th May 1968
Attendance 46,300
Scorers
City Summerbee(13), Young(32, 49), Lee(63)
Newcastle B Robson(15), Sinclair(37), McNamee(86)
Ref J Thacker
City Mulhearn, Book, Pardoe, Doyle, Heslop,  Oakes, Lee, Bell, Summerbee, Coleman, Young – sub Kennedy(unused)
Newcastle McFaul, Craig, Clark, Moncur, McNamee. Iley, Sinclair, Scott, Davies, B Robson, T Robson – sub Elliot
MIKE SUMMERBEE SCORES CITY'S FIRST GOAL
adapted from the article MIKE DOYLE MY DREAM GAME BY PETER GARDNER PUBLISHED IN THE CITY PROGRAMME 20TH AUGUST 1975 – MIKE DOYLE has no hesitation in nominating the game that will live longest in his memory. "It's got to be that League Championship decider at Newcastle," Says Manchester City's Mr Consistency.
"For sheer drama, excitement and honest-to-goodness endeavour that match will take a lot of beating."What a way to win the title. We faced two successive away matches, won them both and scored seven goals in the process. "What team would have the courage to go out and play in that manner today?" asks Doyle.
While sympathetic of today's spoiling tactics "you've got to play method football if you want to achieve results." Doyle regards the City team of 1968 as the last of the great flair sides.
"We had just about everything. It is true to say that there were no real star players. Every man was regarded as virtually equal in the team. Colin Bell and Francis Lee were on the fringe of becoming established England players and Mike Summerbee only flirted with the international scene, too.
"There was tremendous balance, especially on the crucial left side where so many other teams can have weaknesses. Neil Young was a fabulous goal-scorer and Tony
Coleman, a great Grosser of the ball, was one of the most underd rated wingers in the game.
"We played in an almost orthodox set-up with two full-backs, four men in the middle and four up front. "Actually it was five forwards because every man was a scorer in in his own right. Look at the way the goals came. Neil Young 19, Francis Lee 16, Colin Bell and Mike Summerbee 14 each, Tony Coleman 8. How many forward lines will score that many goals this season?"
Doyle reflects on the Tyneside cliff-hanger to say: "It was like a Cup Final. We had to win to make sure of winning the championship. Manchester United were at home to Sunderland and if they had won and we had lost, the title would have gone to Old Trafford.
"As it turned out United lost so we could have lost and still been champions on goal average. But we didn't. We went one up, they equalised. Then it was 2-1 before Newcastle equalised again. "From that point we didn't look back. We raced into a 4-2 lead and athough Newcastle pulled another back, there was no holding us and we took the title in champion manner."
Even though Doyle has played at Wembly three times… that final match of the 1967-68 season is his greatest of all. He says "Winning the title beats everything else. You have got to prove your consistency over a testing 42-match programme and that is something no other club team in the world has to do.
"The English First Division is undoubtedly the greatest and most difficult prize to win in football. Wembley is a dream game, but remember you get there by winning just five matches-no real test for a team out to prove its all-round capabilities."And there is no doubt we did so that season. It was a pleasure to play away from home because we knew we were good for goals. It's still a pleasure to go out and play anywhere, but the pressures are so much greater today.
  FRANCIS LEE SCORES TO MAKE IT 4-2 TO THE BLUES
JOE MERCER FOOTBALL WITH A SMILE BY GARY JAMES
–
City appeared nervous in the opening minutes. The 20,000 City supporters there that day must have realised that, more than ever before, the team needed their backing. The City supporters roared on their side in an attempt to give the jittery Blues the confidence and belief they needed.
Newcastle's Jim scott hit the City crossbar in the third minute. Then City scored in the twelth. Mike Doyle took a quick free-kick, and Colin Bell raced towards the Newcastle goal, swerving around full-back Frank Clark before pulling the ball back. Doyle shot towards goal and Mike Summerbee flicked the ball into the net.
As City fans celebrated, Newcastle came back. A defensive slip up allowed Jackie Sinclair to gain possession. Sinclair fed a pass across the goal area where young Glyn Pardoe found himself facing three Newcastle players. Bryan 'Pop' Robson was the one who scored.
Newcastle had the control and composure that City needed. Tony Book played a true captain's role, in the leadership style of Arsenals Joe Mercer, and tried to calm his players. After 30 minutes, Book saved the Blues when he cleared a header from Wyn Davies that looked a certain goal. Then within two minutes the Blues took the lead again.
A quickly taken throw-in by Summerbee was pushed goalwards by Colin Bell. Alan Oakes tried a shot, but the ball spun towards Neil Young who, with a typical goalscorer's instinct, volleyed a glorious goal with his left foot.
It didn't last. Three minutes later Newcastle were level again. City's George Heslop cleared the ball, but only as far as Newcastle's Jim Iley, the ex-Sheffield United player. Iley fed Sinclair, who scored with a fine 15 yard shot.
Although Neil Young had the ball in the net again, Francis Lee was adjudged offside, the score was still 2-2 at half time.
When the interval came, Joe and Malcolm  wanted to give the players a bit of a roasting. Malcolm remembers that they saw when they entered the dressing room: "I was going to go in at half-time and gime them a right going over in the dressing room. When I got there, though, I could see that they were all tensed up. So I just told them that they had had 45 minutes to get used to it, and now they had to go out and play".
City were more composed in the second half. After only four minutes Colin Bell slipped the ball across the penalty area to Neil Young, who powered the ball in from 12 yards to give City a 3-2 lead. From then on City showed the class and style of football  that had thrilled not only their supporters, but the whole of football. They were a joy to watch. Francis Lee had one effort ruled out, but he scored with a 12 yard shot in the 63rd minute, after Doyle and Bell had worked well to get the ball to him. Lee went straight to the crowd with his arms in the air. The City fans were ecstatic.
City played such exciting football that many Newcastle fans were now hoping that the Blues would win the Championship. Four minutes from time, John McNamee scored Newcastle's third. City were still ahead, 4-3, but the pressure was on. Although the last few minutes were tense, the City players were determined to keep their lead. As referee John Thacker blew his whistle, the celebrations began. The supporters chanted "Champions, Champions", as many of them swarmed on to the pitch to celebrate with their blue shirted heroes
FROM NEIL YOUNG, CATCH A FALLING STAR by Neil Young with Dante Friend
We kicked off a little later than United so we had the advantage of knowing what they had done whilst we'd still be playing. The game flew by in all honesty but I can recall taking my goals really well. I made it 2-1 with a volley from the edge of the area, it sat up nicely for me and I powered it home. Half-time came with the score 2-2 but we were unconcerned. Then we heard United were losing at Old Trafford, which gave us a real boost. Joe and Malcolm reiterated just to keep playing the way we had been and we'd go on to win the game.
Soon after I scored my second and City's third from an acute angle, it was a great finish even if I do say so myself.
I suppose the hardest part of that game was the last few minutes. We were so close, we just wanted the referee to blow that whistle. We knew we were champions but we still had to play the game. Hats and scarves started flying through the air, there was an air of celebration.
The fans listening on their portable radios knew that United had lost and it had filtered through to all the players. Yet we had to keep working hard but I just wanted the game to end. It was a really strange sensation.
As if to prove the point that we'd lost concentration, we let in a late goal to amke it 4-3, all of which meant that we had to get stuck in for just a while longer. When the final whistle blew, it was sheer elation. The crowd swarmed onto the pitch and we escaped down the tunnel.
 THE FANS AND PLAYERS CELEBRATE AN HISTORIC VICTORY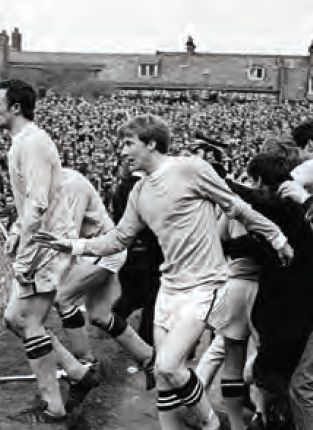 MIKE DOYLE ALSO WRITES IN HIS BIOGRAPHY When the game began it was a thrill a minute rollercoster ride and looking back now it still seems the most incredible game I ever played in.
Inside the first 10 minutes we were a goal ahead. I collected the ball from Colin Bell and out of the corner of my eye I saw Mike Summerbee at the near post … I aimed the ball for the post … straight to Buzzer, he made just a yard of ground then clipped the ball over the keeper's body and into the net.
It was the kind of start we had dreamed of, but Newcastle kicked off again and went straight down to our end of the pitch and equalised.
With half an hour of the game gone … we took the lead again. It was Neil Young who scored a fabulous goal. Alan Oakes played a ball up to Youngy and e controlled it at waist height. Still with his back to the goal and after cushioning the ball with his body, he turned and struck a shot on the half volley from more than 20 yards … the ball zipped through the air like a bullet, finishing in the net before the Newcastle keeper could even move.
But ten minutes before half-time we had lost the lead again … George Heslop had been robbed of the ball by Jackie Sinclair when Newcastle scored their first goal and this time it was Wyn Davies who took the ball at George, giving Sinclair  the chance to go straight through the middle and hit a tremendous goal from outside the box.
Suddenly, and for the first time, we began to think that we could even lose this game because we just couldn't create a bit of breathing space.
.. the adrenaline began to flow once more and the first ten minutes of the second half we were very composed, allowing Newcastle no rope at all. We wore them down … much as we had done at Tottenham the week before and cracked their defence  with another goal from Neil Young … his angled shot whizzed past the full back and the goalkeeper to make the score 3-2.
ten minutes later and we had one hand on the Championship trophy. Franny Lee collected a great pass through the middle, skipped pass two players and as the keeper advanced from the goal he clipped it past him to put us 4-2 ahead …
… five minutes to go and all hell was let loose again. As Newcastle's big centre half John McNamee nodded home.
After that we had our backs to the wall … somehow we held out … and when the referee blew his whistle for full time it was the sweetest sound I think I have ever heard. It was over and we knew we were at last champions of England. Adapted from Mike Doyle's Biography 'Blue Blood' by David Clayton.