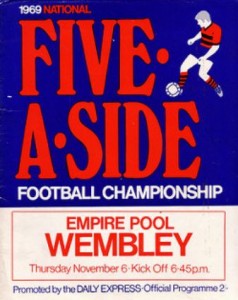 FINAL
CITY 2 SWINDON TOWN 1
Manchester City …. Champions …. a familiar and tasty cry. And last week millions saw City add another trophy to their collection when they won the national Five-a-Side competition, which was sponsored by the Daily Express, at the Empire Pool, Wembley. Here are some after thoughts from those involved:
Tony Book: "We all enjoyed it a great deal. I thought Malcolm was going to have a fit when Colin Bell was clobbered once in one of the
early games … but apart from that everything went very smoothly. There was a variety of footwear. Most of the other players wore PT shoes. All the City team wore the practice shoes which were just right. It was a bit hard on the feet though.
Alan Oakes: "After four matches on that surface your feet did feel it a bit. The atmosphere was dry, hot and quite dusty. But the pitch was quite a big one by five-a-side standards …. 70 by 30 … which gave us plenty of space. It was a change from the normal routine and the competition as a whole was well organised.
Glyn Pardoe: "The first two matches were against Coventry and Crystal Palace. Coventry were a group of young lads. But Palace were well fancied because they had done well in London tournaments. In fact, we beat them easily, 3-1 …. and their goal came in the last few seconds."
Joe Corrigan: "The crowd on the whole of course were very much on the side of the London teams …. and Swindon in the Final. But of course we had Malcolm shouting for us so things were about even."
Taken from City Home Programme 15th Nov 1969
From COLIN BELL RELUCTANT HERO By Colin Bell with Ian Cheeseman
… I always believed we could win every time we played at City. In fact I always expected to be on the winning side in training, too, so when we were invited to play in the Daily Express five a side Tournament at Wembley Arena, we went there to win.
Eight of us made the trip, including Oakey, Doyley, Glyn and Neil Young with Dave Ewing as our coach. After our first couple of games Dave came into the dressing room with a fistful of fivers "Here you are lads, here's your payment for that victory," he proclaimed  and handed us all a share. None of us realised we'd be rewarded financially for progressing further, so suddenly there was even more of a spring in our step; we couldn't wait for the next game.
We won the competition by beating Spurs 2-1 [Colin makes a slight error here as the final was against Swindon] in the final, receiving several more cash payments along the way. We shared the money we made from winning that first national five a side tournament with the rest of the City players when we returned to Manchester the following day. It was the right thing to do
.