CITY 2 MILLWALL 0
League Division 1
30th December 1989
Attendance 28,084
Scorers White 2
City Dibble, Harper, Hinchcliffe, Reid, Hendry, Redmond, White, Allen, Ward, Megson, Lake – Subs used Brightwell
Millwall Horne, Stevens, Dawes, Briley, Wood, McLeary, Carter, Hurlock, Torpey, Cascarino, Stephenson – used Subs Anthrobus
DAVID WHITE MAKES IT 1-0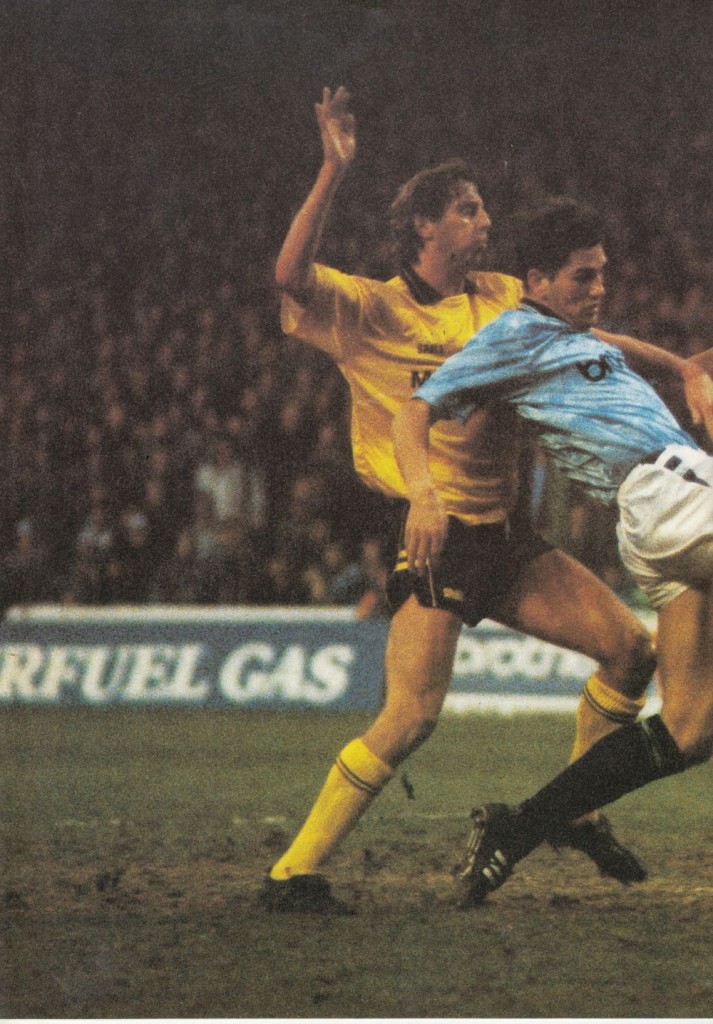 DAVID WHITE SCORES HIS SECOND GOAL OF THE GAME
From HAMMERED by Mark Ward
My debut for City was against Millwall at Maine Road on December 30, when I partnered Peter Reid in the centre of midfield. Howard told me to play to the right of centre and try to feed the flying machine, David White, with the ball as much as possible.
Walking out for the warm-up with Reidy, I heard shouts from some unhappy supporters. They weren't at all pleased about their favourite players Ian Bishop, who had scored in their sensational 5-1 home win over Manchester United at the start of the season, and Trevor Morley, whose goal clinched promotion at Bradford the previous May, being swapped for me. They were two very good and popular players in their own right and I knew I had to perform to win over the disgruntled City fans.
Howard immediately showed confidence in me by putting me in the thick of it alongside Reidy. Up against me in midfield that day was the notorious Millwall hard man Terry Hurlock. He had a ruthless reputation and always looked the part with his wild, straggly hair and stocky build. Hurlock tried to intimidate me in the first few minutes of the game but it didn't work. Reidy told me to switch from left to right, and vice-versa, whenever it suited me and he'd look after Hurlock.
Whenever those two warriors clashed it was a match to savour. But Peter had too much class for Hurlock and his quick feet and short passing game had the Millwall marauder in a daze. I'd played mainly on the right wing for West Ham in the previous four and a half years but I enjoyed the battle fought out in the centre of midfield
and it was an experience playing with Reid, a proper general.
More important than my satisfying debut was our 2-0 victory, with David White underlining his unbelievable
pace in scoring both goals.