MATT BUSBY
.
OBITUARY FROM CITY PROGRAMME 5TH FEBRUARY 1994
In their different fields, Matt Busby and Neville Cardus enhanced the quality of life in Manchester; One with a football at his feet, the other with a pen which danced to the prose of a gifted writer.
And, fittingly, as the football world mourned the passing of Sir Matt last week, aged 84, the words of Cardus were brought back From the columns at the pre-war Manchester Guardian…
"At best Busby has no superior as an attacking half-back. It is his bewildering footcraft which most delights the crowds. His crouching style may not be pretty but the control is perfect, the effect akin to conjuring.
His dribble is a thing of swerves, feints and deceptions. Few opponents are not hoodwinked by his phantom pass… Busby scorns the obvious. His passes not only look good, they sound good."
Cardus warmed to a man who "laughs equally at his blunders and his triumphs" and finally nominated his subject tor a place in "that select eleven ot Footballers Who Obviously Love Football."
That was Sir Matt in the Maine Road section of his career.
Give or take three years spent with Liverpool, it was neatly divided by the Second World War: an outstanding player with City, a brilliant manager with United. Well documented are the trophies and the honours; the utter despair at Munich, where his own life hung on a thread; and the most recent joy at seeing United installed as the inaugural Premiership champions.
Yet his greatest achievement, perhaps, was that he not only became a bridge in the natural rivalry ot Blues and Reds, but brought together supporters of all clubs at the altar of football. Born in the Lanarkshire mining village of Orbiston, he was visited by tragedy at an early age. His father and three uncles died in the Great War.
Hardship of another kind was to follow when, as a young man, he etched out a wage at the coal-face, and might easily have been lost to Manchester in particular and the game in general.
All was to hinge on an 'A' team fixture in the Northern Mid-week League during the 1930-31 season. A trialist failed to turn up and Busby was included at wing-half, the No 4 position in those more regimented days.
He did so well that, the following week, he was included in the Reserves in the same position. Then, it was on to the first team. In 1931-32 he was the regular right-half, missing only one game. In 1933 and 1934, he appeared in FA Cup Finals, losing to Everton on the first occasion but bringing home the Cup the next time, after a 2-1 win against Portsmouth.
The City passage in his life closed in March 1936 with a transfer to Liverpool tor £8,000.
With the Blues, his full record was as follows: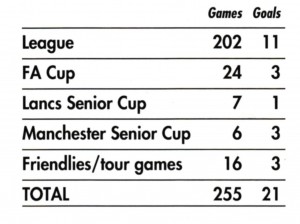 His solitary full international appearance For Scotland was against Wales in 1933-34, but after playing in 115 League games (3 goals) for Liverpool, he turned out in seven wartime internationals and also had one game tor a wartime Scottish League XI.
That latter honour was won with Hibernian, one of a number of clubs he guested tor during the hostilities. Others included Chelsea, Middiesbrough, Reading, Brentford and Bournemouth.
In December 1945 he was appointed manager of Manchester United, and came back to Maine Road. Until 1949, the Reds played their home games here while Old Trafford was repaired after bomb damage.
EXTRACT FROM AN ARTICLE BY GARY JAMES IN THE CITY PROGRAMME 28TH SEPTEMBER 2002 
Matt Busby was on the verge of emigrating to North America when City managed to talk him into signing for them in 1928. lt was a bold move for the 17 year old Scotsman and initially he found life difficult in Manchester. Former City captain Jimmy McMullan (who, incidentally made his debut against Liverpool in 1926) had first recommended Busby to the Blues after seeing him play for minor Scottish club Denny Hibs, while another City man, Phil McCloy, did much to help Busby settle once he'd arrived in Manchester. By the time of his debut in 1929 all thoughts of emigrating had been well and truly banished, especially as the Blues were paying him £5 a week during the season (£4 for the close season).
At Maine Road he established a reputation as a constructive player, particularly during the early thirties, and to many he was a tremendous asset as City developed into a major side. During this time the Blues rivalled Arsenal as the team of the decade to some extent and Scottish international Busby was one of many famous stars. In 1934, after appearing in successive cup finals, Busby was acclaimed by the Topical Times as football's only representative in their annual 'six leading sportsmen of the year' accolade. The Topical Times told its readers about Busby's strengths: "Reckoned to be the best right-halfback in Great Britain. When on form has no equal for ball control, accuracy of passing, or at selling the dummy to opponents. His ball control is something to wonder at. He traps it cleanly, deceives a challenger by the merest flick or by a swerve, and moves on to dispose of the ball to best advantage. He rarely wastes a baIl."
City fans knew these skills well and Busby was a very popular Blue, although one council official (probably a Red!) had no idea who the player was when he knocked on his door to collect a census. The official found it difficult understanding the Scotsman's accent and recorded his occupation as 'Fruit Boiler' instead of footballer!
Despite his popularity Liverpool managed to prise him away from Maine Road for a fee of £8,000 in 1936. lt was a great purchase for the Merseyside Reds and in 1938-9 he was an ever-present. Sadly, the war cut short his League career, but throughout the war he made many international appearances and was also a regular for various forces' teams. Interestingly, Busby's last ever official League game (he did play during 1939-40 but those games were later wiped from the records) was against Manchester United before an Old Trafford crowd of 12,073 on 6th May 1939.
After his playing career ended Matt was deservedly offered a post on Liverpool's staff but declined to take up the managerial role at Old Trafford. Of course his remarkably successful career as a manager has been well documented over the years and need not be covered here…
…Busby died in 1994 after a lifetime in football, but he will always remain a key 1930s player with both City and Liverpool.
.
.