CITY 3 MANCHESTER UNITED 3
League Division 1
27th October 1990
attendance 36,427
Scorers
City White(20 & 26), Hendry(79)
United Hughes(36), McClair(81 & 84)
Ref Roger Milford
City Coton, Harper, Hendry, Redmond, Pointon, White, Reid, Megson, Ward, Quinn, Heath – subs Brightwell(80), Allen(unused)
United Sealey, Irwin, Bruce, Pallister, Martin, McClair, Ince, Webb, Blackmore, Sharpe, Hughes – used sub Wallace(82)
DAVID WHITE SCORES A BRACE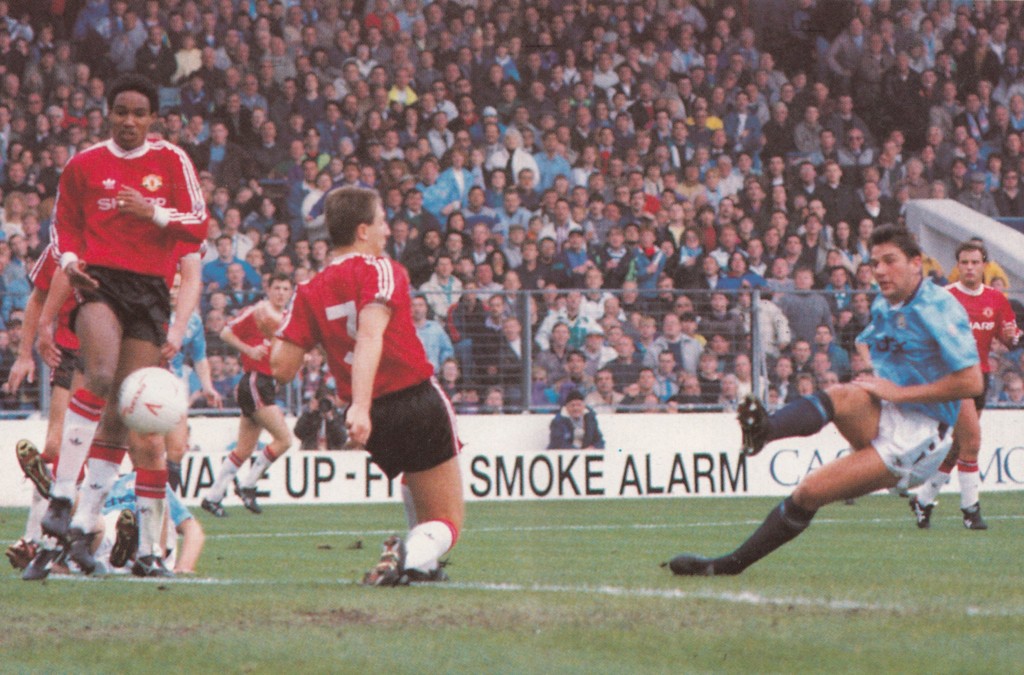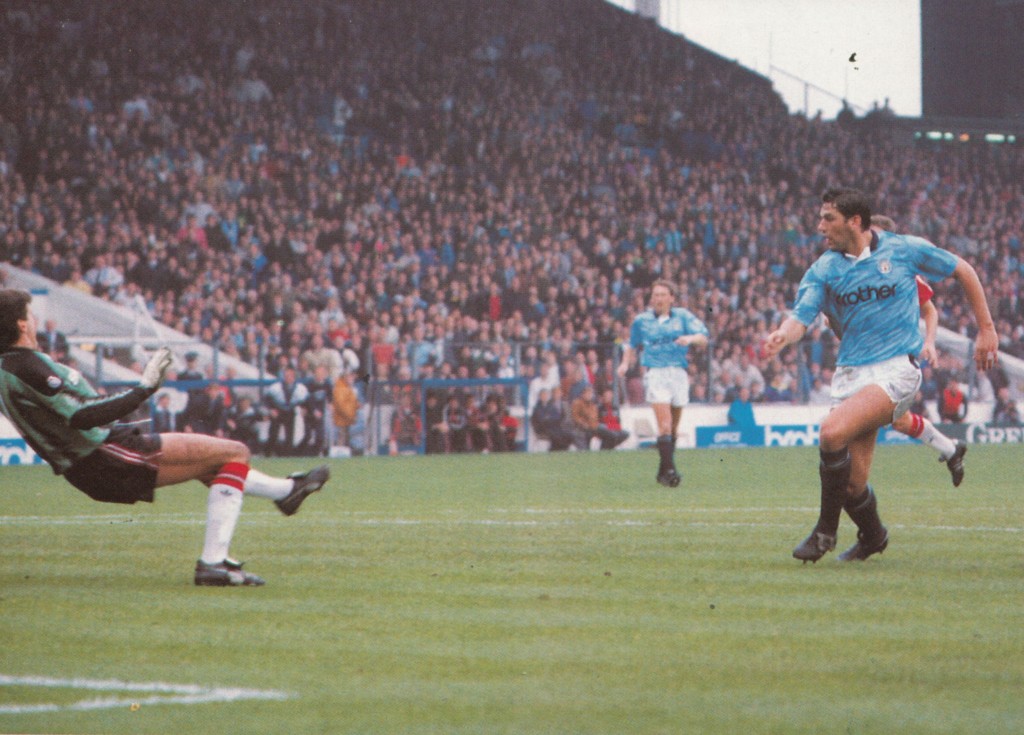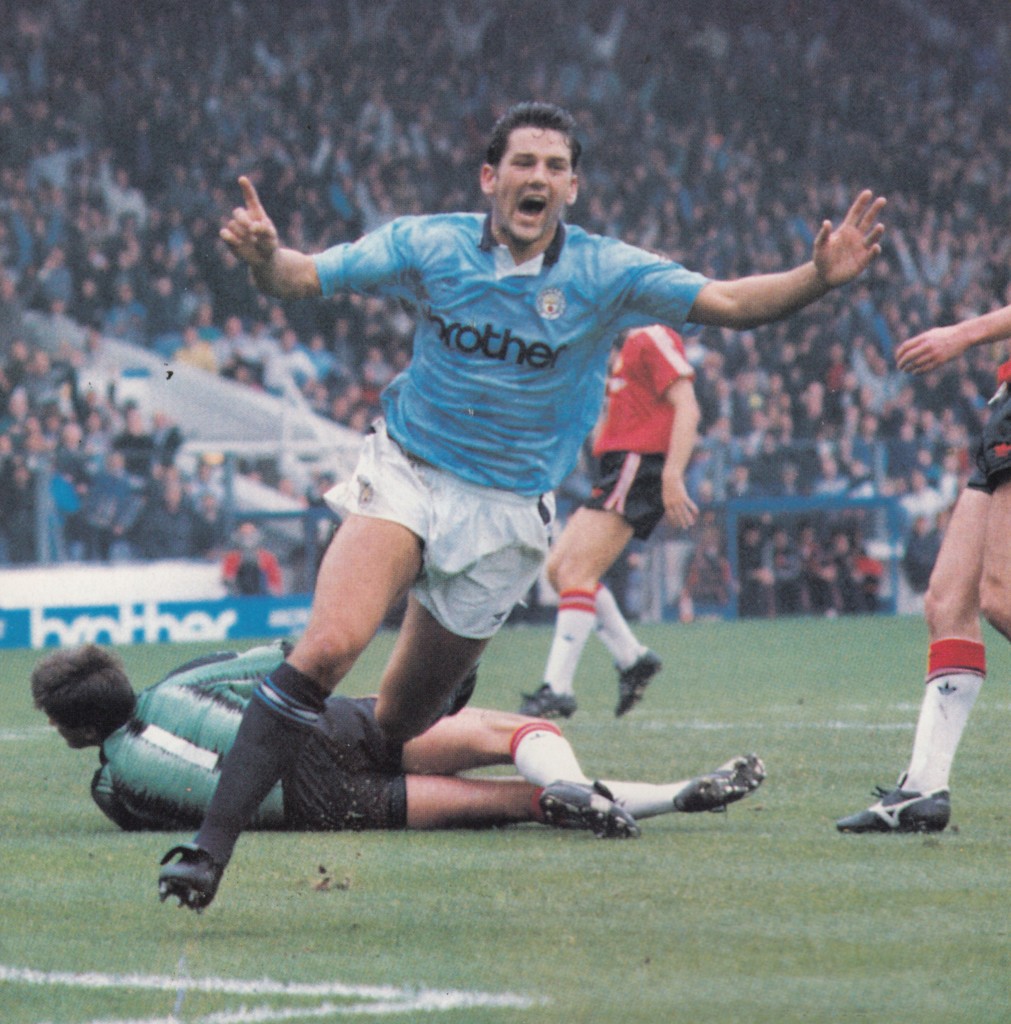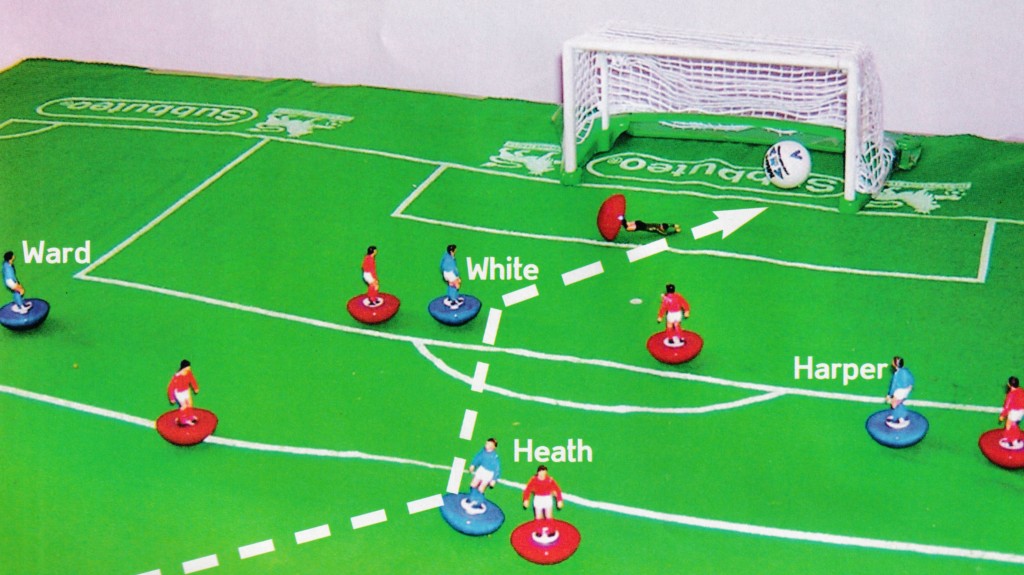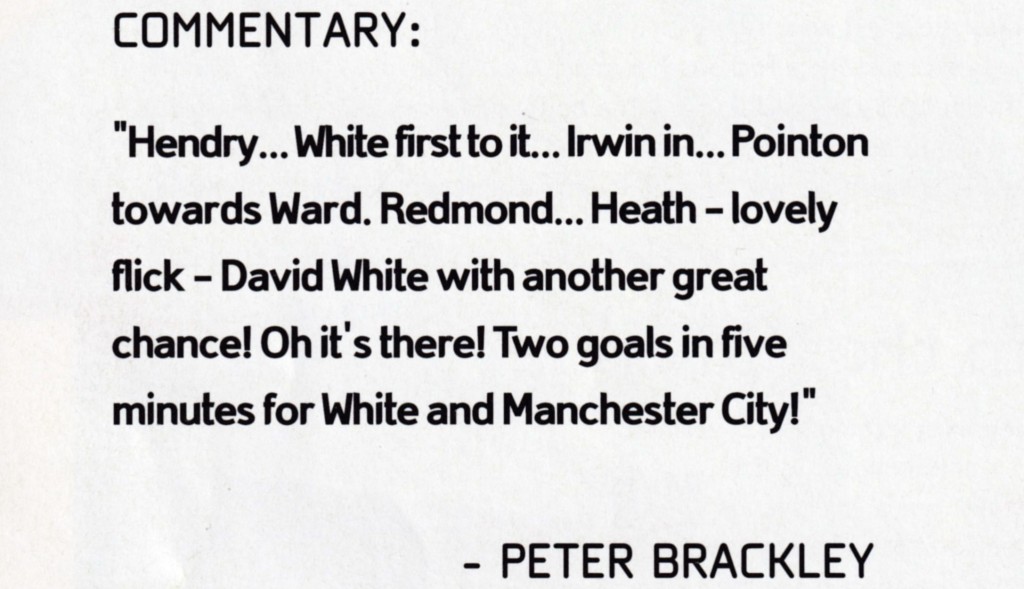 FROM THE PRESS BOX
 THE Manchester derby, while no longer a passionate romance that seeps into every pore of the city , still has the thrilling capacity to stand rationality on its head. United, twice two goals behind and deserving to be so, performed the grand escape with a comeback in the last nine minutes and indeed, but for a spectacular save by Coton from Pallister, might have rendered a complete injustice after this noon kick-off. And what a steal that would have been. For City , revamped in a year by Howard Kendall for a fraction of the Pounds 13m Alex Ferguson has spent at United, had more shape, more conviction, and more idea where they were going. They are built around Peter Reid, now 34, and alongside whom only the referee, a man of humour and pleasing common sense, has greyer hair. Forget the appearance: Reid was the wily director of City 's at times overwhelming domination.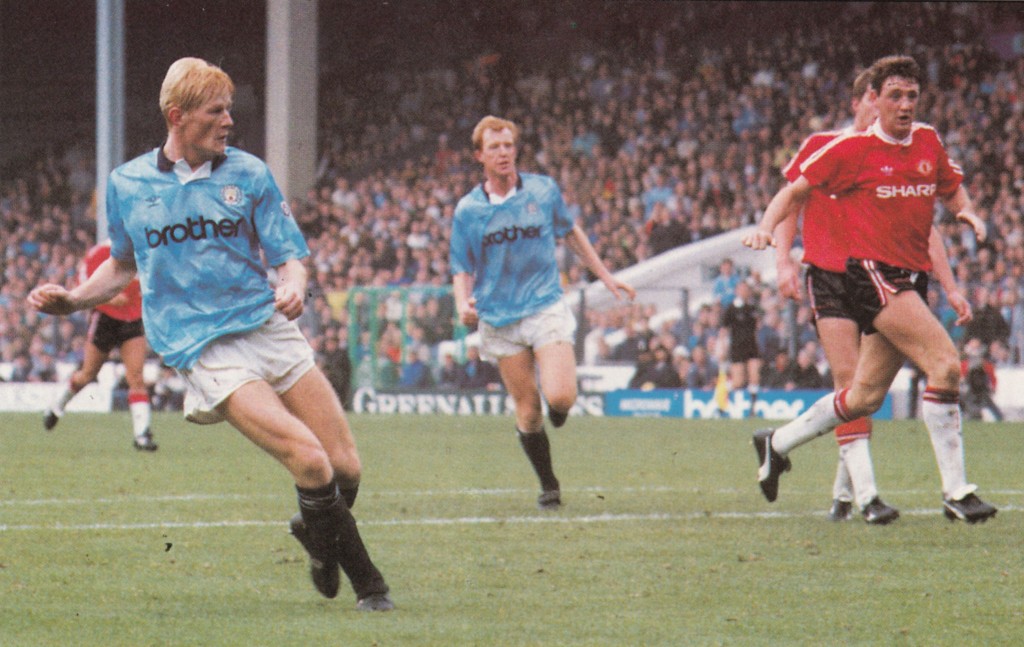 And when he left the pitch, with less than 10 minutes to go and the score at 3-1, he had every reason to believe he had guided his side somewhere towards the 5-1 victory they accomplished over United a year ago. Yet Reid scarcely had turned his back when his substitute, Brightwell, was caught cold by McClair, and the United man, belying a previously anonymous afternoon, had the nerve and composure to go on and beat Coton and put United improbably back into the game. This strange turnaround came on an afternoon when City were much the better side. They had Redmond commanding at the back, with Ward and White running eagerly for Reid in midfield, and with Quinn and Heath the little and large in attack. And the architect of it, Kendall, had woken in the morning to hear George Best of all people bestowing on him the accolade of being the best manager in League football. Well, it had looked that way from the 22nd minute when White lit up the 36,217 crowd with the opening goal. It was born out of a confused build-up and conceded by lax defensive concentration, but White gratefully snapped up the chance. Ward caused the confusion by whipping in a low cross from the right, Quinn miskicked, but from eight yards White's final touch directed the ball inside the post. And four minutes later White had doubled his score for the afternoon and for the season. He is a greyhound, at over six feet, tall for a winger, and until meeting Kendall he had a very profligate habit of muffing his final touch. Not yesterday. Heath, with his back to goal 25 yards out, created the score with a cunningly disguised flick, helping Redmond's pass into the goalmouth and there, running once more without either Pallister or Bruce closing down the space, was White.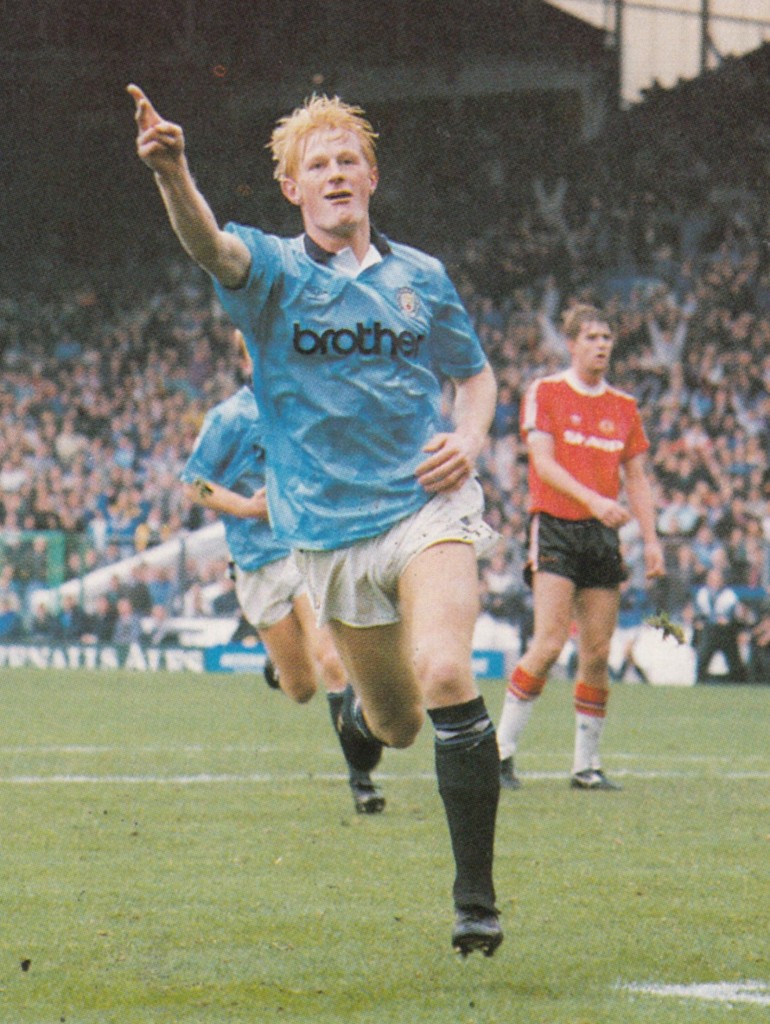 He bore down on Sealey and finished emphatically. Reid was still calling the tune as no United player seemed capable of doing. The former Evertonian may lack the pace and the cruel hunger of his youth, but he could keep the ball, could calm and determine the flow even at walking pace. Against him, Webb, though he has recovered the stamina, has visibly lost a yard of pace after his serious Achilles operation. Nevertheless, when Webb was needlessly fouled far out on the right in the 36th minute, City offered the Achilles' heel of their own. For all that Kendall's buying and selling has done, there is a naivete in defence, and when Bruce sent over the free-kick, Hughes had the simple job of rising unimpeded to score with a powerful header. From then until half-time United forsook the over-defensive formation with which they had begun. They suddenly discovered that Lee Sharpe is after all a winger with pace enough to burn Harper out of his wake. And yet from his service United had no attack with which to capitalise. Not, that is, until on the hour, Ferguson came off the bench to direct McClair from the right flank to centre-forward. For some time it made no difference. City had countered by withdrawing Heath a little deeper, and sending White through the middle in search of a hat-trick that should have come in the 75th minute.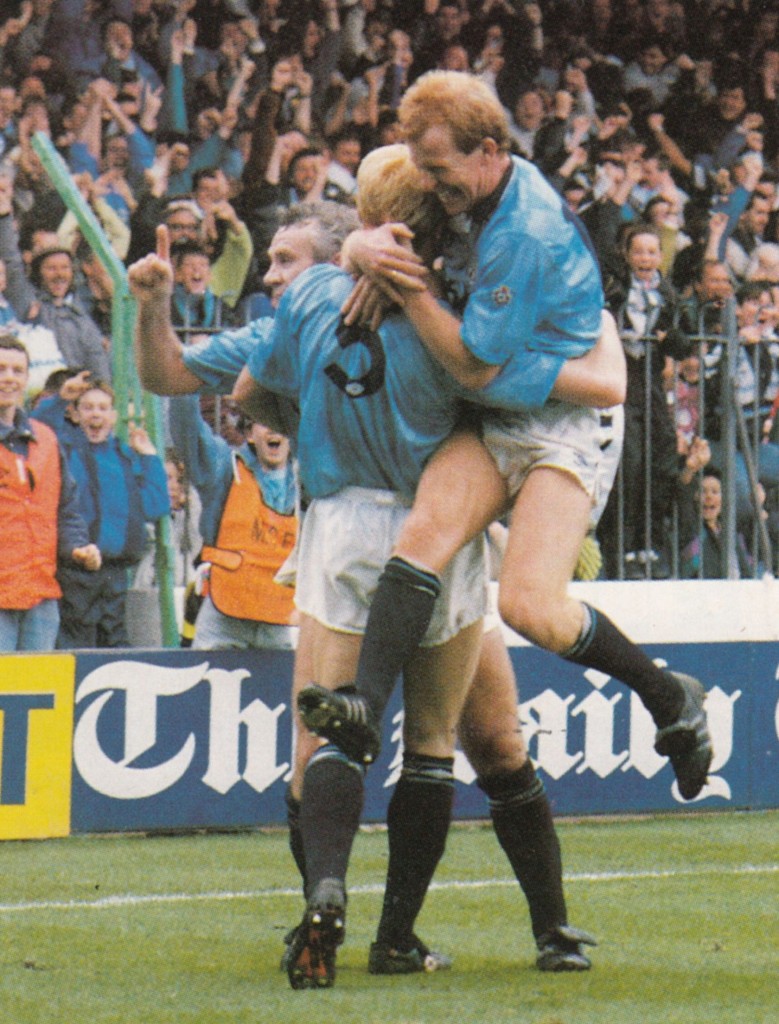 Then, after Reid and Pointon had created the opening, Megson won the ball at the far post and White, unmarked from eight yards, rattled the crossbar with his own header. The goal City deserved came in the 79th minute, and from the anchor of their defence. Hendry came out of the back, ran past Webb's ineffectual challenge, and exchanged passes with Quinn. The tall Irishman, often overlooked for his ability on the ground, simply demanded that Hendry score, with such an inviting return ball that the City defender had only to sidefoot past Sealey. And then Reid departed, and United ignited. After McClair had got goalside of Brightwell, they equalised on 84 minutes from a corner by Webb, turned goalwards with great power by the head of Bruce, and deflected over the line by McClair. So United had saved themselves from a third consecutive League defeat. But compulsive though the ending had been, the clear message from the 90 minutes was that City , in the space of a year and with little more than £1m deficit, have built a team, in the true sense of the word, that United are still trying to forge out of their expensive parts. ROB HUGHES WRITING FOR THE SUNDAY TIMES 28TH OCTOBER 1990