CITY 1 MANCHESTER UNITED 2
League Division 1
5th March 1983
Attendance 45,400
Scorers
City Reeves(31)
United Stapleton(50 & 75)
Ref Alan Seville
City Corrigan, Ranson, McDonald, Reid, Bond, Caton, Tueart, Reeves, Cross, Hartford, Baker – sub Bodak(81)
United Bailey, Duxbury, Albiston, Moses, McGrath, McQueen, Wilkins,, Muhrun, Stapleton, Whiteside, Coppell – Sub Marcari(unused)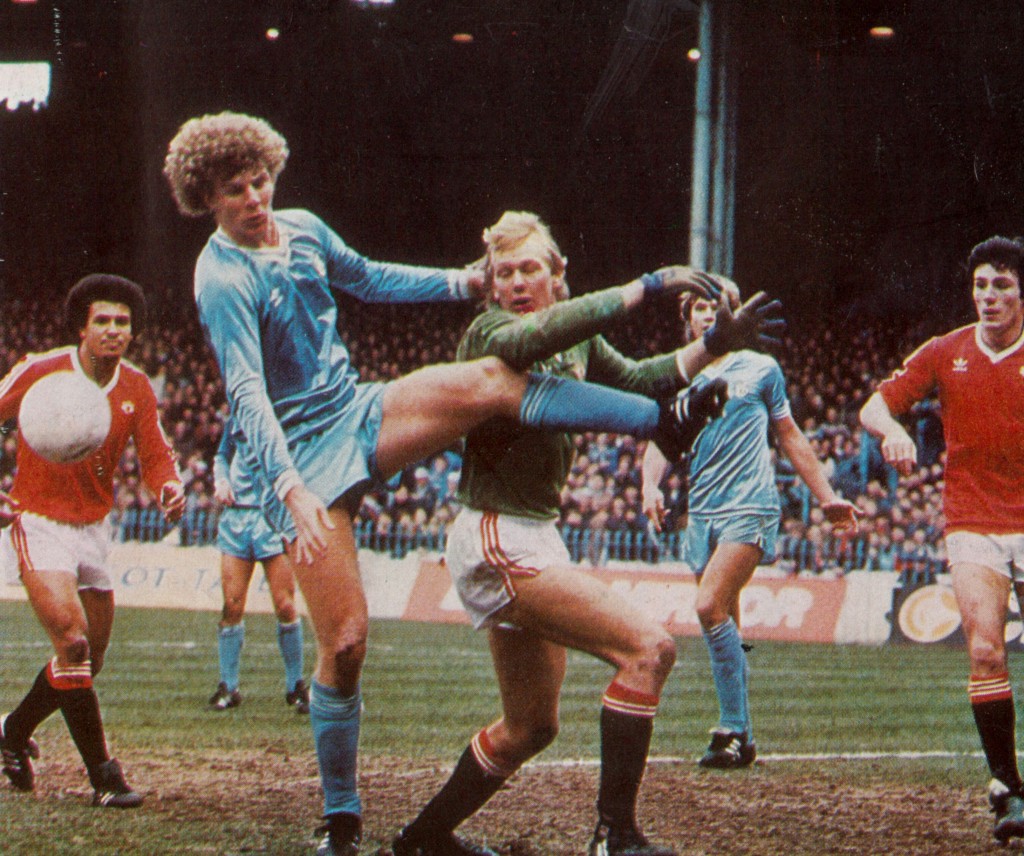 Without a win for 6 League games and nearing the edge of the relegation issue City were anxious to give manager John Benson his first victory, and they got off on the right foot in this 106th derby meeting.
Kevin Reeves opened the scoring with a brave header in the 31st minute, first flicking on from the near post a corner from Asa Hartford. Unmarked Bobby McDonald found it too awkward to shoot and returned the ball across the goalmouth where Reeves, almost bent double, planted a header under Gordon McQueen's diving body.
Yet United had opened briskly. In the 4th minute a meaty header from Frank Stapleton had brought a considerable stretch from 'keeper Joe Corrigan to turn it away. Paul McGrath had a crack at target only to see the ball diverted and later in the half Stapleton smashed a fierce volley which took a deflection to bypass Corrigan but still dropped only inches over the bar.
If nothing else, City were gritty and in the early frenetic exchanges were often quicker to the ball. But apart from the goal there was little threat to United and McQueen and McGrath were rarely ruffled. There was a solitary 30 yard shot from David Cross and one piece of atrocious luck, when Tommy Caton`drove against the United woodwork in the last minute.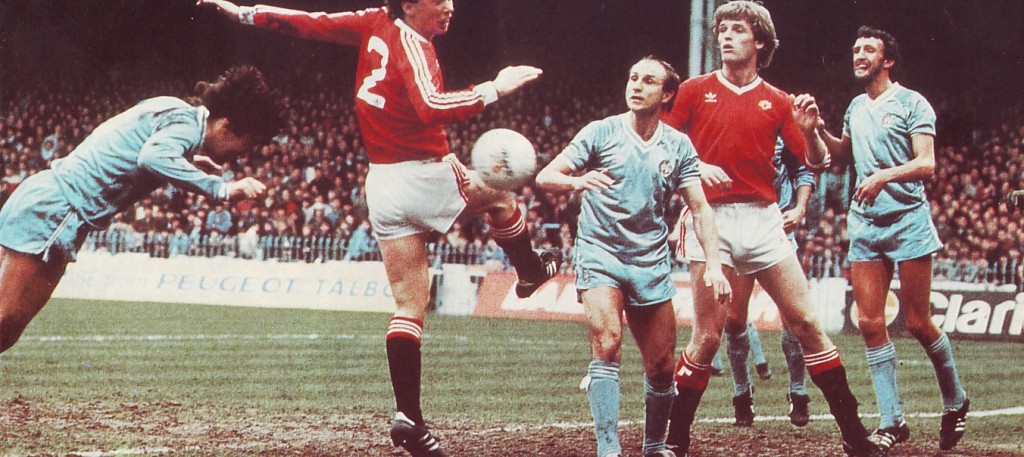 United were level in the 50th minute and it was Stapleton on the mark, a real old-fashioned goal fashioned from little Steve Coppell, closely marked by McDonald, burst down the right and found the necessary yard in which to deliver a fast arcing centre Stapleton rose to it, beat Caton's challenge, and headed in.
Fifteen minutes later Stapleton secured his second, a scoring double that matched his performance in the Manchester 'derby' earlier in the season at Old Trafford when he scored both in a 2-2 draw. The winner this time came from another header, flicked in from Arnold Muhren's corner.
By the end United were deserved winners, their 38th success in the 'derby' series. Claims for a penalty had been turned down when Norman Whiteside, having gone round Cross on the right-hand goal-line, was brought down by Nicky;Reid.
City's defence had a fierce resolution and Bond  distinguished himself several times. Ray Ranson and McDonald pushed forward to tame Coppell and Muhren but Remi Moses and Ray Wilkins grabbed the game in the midfield area and gradually changed the course of events. Moses came in for some heavy attention and United's decision at half-time to pull him out of the firing line into a central 'ho|ding position' succeeded, it released Wilkins to add weight to the Coppell challenge.
Moses was booked for one of the games many rash fouls a nasty looking challenge on Dennis Tueart. Also cautioned were Cross and Hartford, who suffered in the second half with a leg injury. Cross offended against Mike Duxbury while Hartford was crude on Moses.
The ball had been like a hot potato throughout the confrontation and play was more of the lunging variety than of considered skills, though watching England manager Bobby Robson would have been impressed with Wilkins and the tenacity of Moses.
FROM AN ARTICLE IN THE CITY PROGRAMME 14TH SEPTEMBER 1985