CITY 2 MANCHESTER UNITED 3
FA Cup 3rd Round
8th January 2012
attendance 46,808
Scorers City Kolarov(48), Aguero(65) United Rooney (10 & 40), Welbeck(30)
Ref Chris Foy
City Pantilimon, Richards, Kompany, Lescott, Kolarov, Johnson, Milner, DeJong, Silva, Aguero, Nasri – subs Savic(46), Zabaleta(46), Hargreaves(81), Hart(unused), Clichy(unused), Razak(unused), Suarez(unused)
United Lindegaard, Evra, Jones, Ferdinand, Smalling, Carrick, Nani, Giggs, Valencia, Welbeck, Rooney – subs Scholes(59), Anderson(74), deGea(unused), Evans(unused), Park(unused), Hernandez(unused), DaSilva(unused)
THE CONTROVERSIAL DISMISSAL OF VINCENT KOMPANY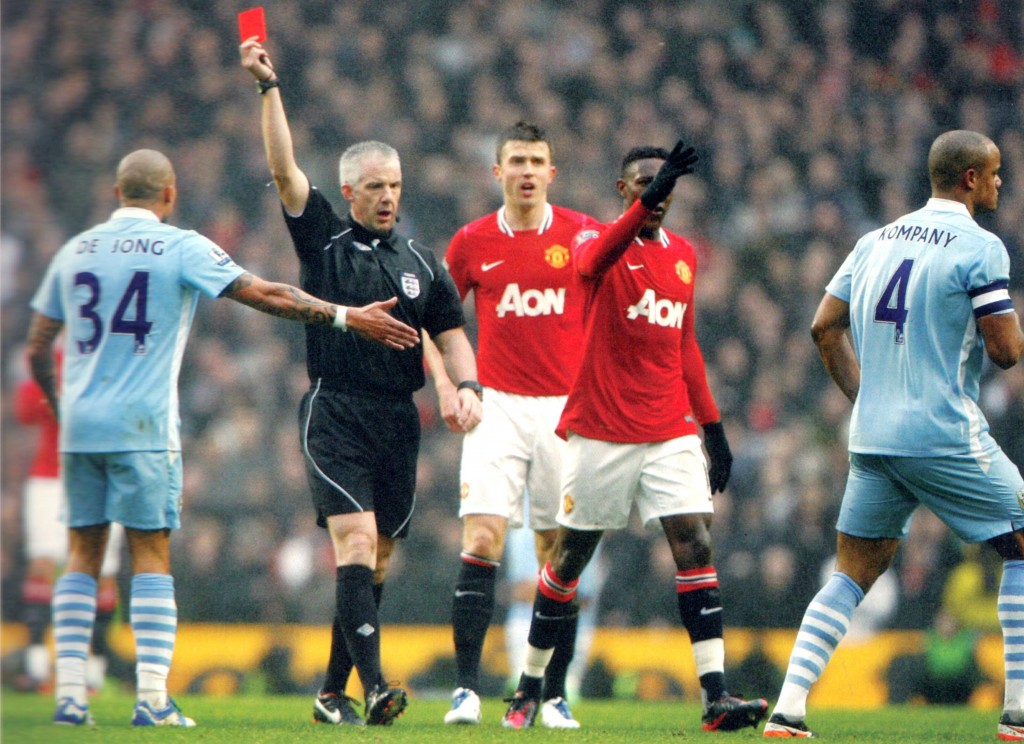 KOLAROV SCORES A GREAT GOAL TO GIVE THE CITY FANS HOPE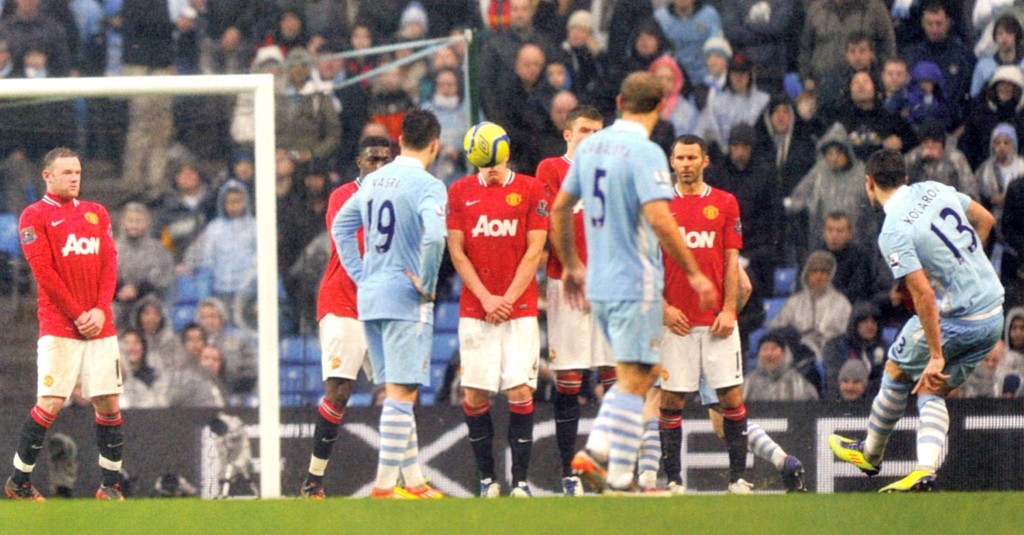 FROM THE PRESS BOX
This was the game that had everything. It had the spilling of blood, sweat and tears. It had great goals, terrible mistakes, unbelievable tempo, refereeing controversy, badge-kissing and endless noise. It had a shock comeback from Paul Scholes and almost an epic comeback from Manchester City. This was the FA Cup at its very finest and the Manchester derby at its very best. For Manchester United, there was the relief of returning to winning ways and the reassuring sight of Wayne Rooney putting in a prodigious shift, including two goals. There was also the eventual "reward" of a fourth-round trip to Liverpool for the Decibel Derby.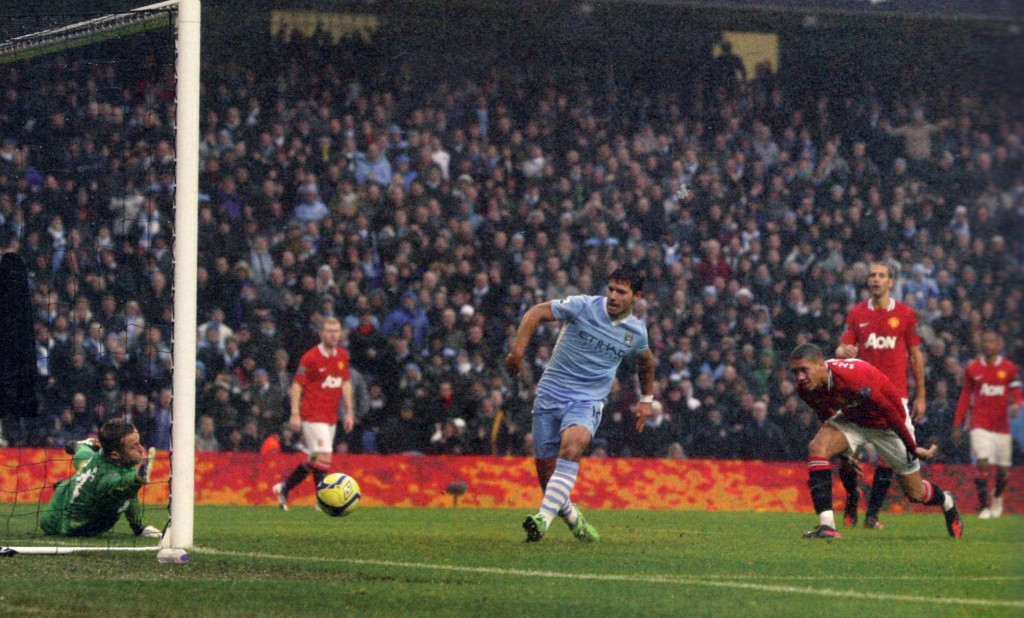 Cancel all leave in the FA disciplinary department. For City, there can be no joy in defeat, no medals for moral winners, but there can be honour. Trailing by three goals at the break, and down to 10 men, City refused to go out of the Cup with a whimper, showing pride in those famous blue shirts as the magnificent trio of Sergio Agüero, James Milner and Micah Richards set about United, running until they dropped, almost conjuring up a mission impossible. United held firm, just about, allowing their voluble fans to chorus their glee as the noisy neighbours finally fell silent. Talk of a shift of power was similarly stilled for now, although the title race was just freighted with even greater significance. Sunday's match provided a memo to all that writing United off is a foolish game, inviting an egg moisturiser. For all the flaws, United's DNA contains resilience.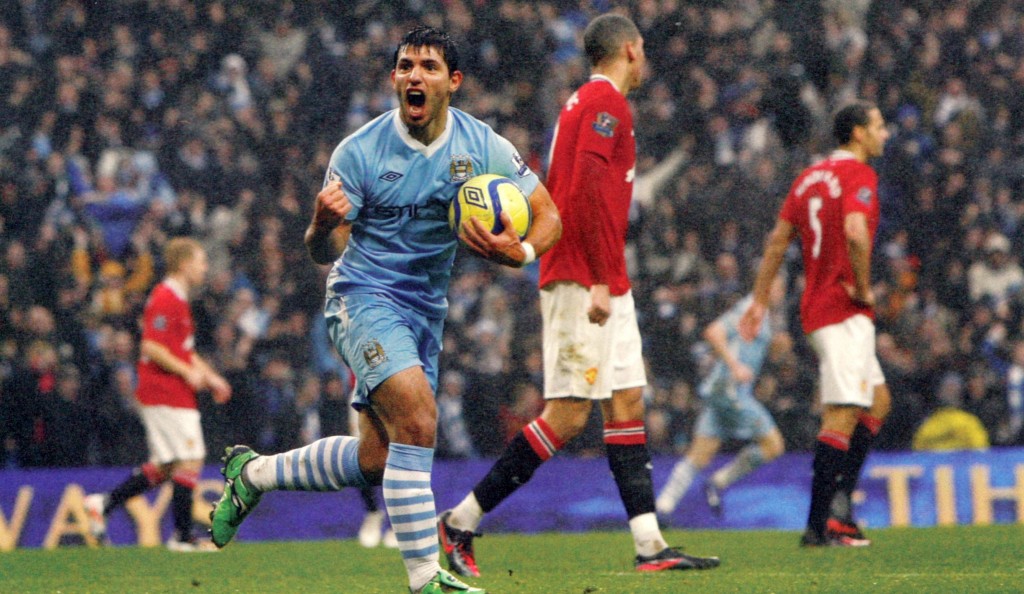 This was still a game that will be remembered for the fallibility of Rio Ferdinand in United's defence, a reminder that Phil Jones remains a work in progress and that Scholes' reappearance in a red shirt at 37 merely masks United's need for a playmaker. They need Tom Cleverley, Darren Fletcher and Ashley Young on the field, not in with the away fans. They are far too reliant on Rooney, who began a 90-minute advertisement of his importance to United's cause with an early goal, rising well to head Antonio Valencia's cross past Costel Pantilimon after nine minutes. As Rooney wheeled away he ran past the home fans and kissed his badge. City felt iniquity was then added to insult with Vincent Kompany's dismissal two minutes later. When Ryan Giggs slid the ball forward, City's captain dived in to dispossess Nani. Any malice or aggressive intent seemed minimal but Kompany was off the ground, his right foot reaching the ball first but the left then coming in a slight scissors motion and catching Nani. Nani made no complaint but Rooney was running towards Chris Foy, waving two fingers, not in his usual reverse Churchill but to indicate Kompany had gone in two-footed. Rooney should be embarrassed. For a player whose 2006 World Cup ended with Cristiano Ronaldo helping getting him sent off, the England striker should know better. Roberto Mancini insisted afterwards that City would appeal, knowing how important Kompany will be for the ensuing Carling Cup semi-final, yet it would be a surprise if the FA reversed the decision. Any player who leaves the ground in chasing the ball risks red nowadays. The real controversy with officials is the lack of consistency; Frank Lampard escaped punishment for a similar challenge against Wolves. Here, as City fans stewed, Giggs tackled Agüero from behind and then Jones caught the Argentine without censure. Then Danny Welbeck pushed over Aleksandar Kolarov and was cautioned. Laughable. Not a game passes without the need growing for officials to issue a short post-match statement about the reasons behind decisions.
Not a week passes without the sin-bin argument being strengthened. Amid the Mancunian maelstrom, it was impossible not to spare a thought for Chris Hoy, the Olympic cyclist who received stick recently from Spurs fans who thought he was Chris Foy. United certainly appeared on track for victory now, a goal up with the opposition a man down. Uncertainty about Foy appeared to contribute to City's poor defending for United's second. Nani played in Patrice Evra, whose cross hit Lescott, bounced out and fell between Welbeck and Nigel de Jong. The City midfielder, usually no shrinking violet when it comes to challenging, hesitated. Welbeck certainly didn't, sweeping a superb volley past Pantilimon. Welbeck again indicated his international class. The tie seemed over as a contest seven minutes before the break. Michael Carrick, Rooney and Giggs combined to release Welbeck who was clearly fouled by Kolarov. Penalty. No question. Pantilimon saved Rooney's effort but the striker was quickest to the loose ball, heading in before running away, cocking his ear to the abuse. United fans were loving it, responding with a mass 'Poznan'. They thought it was all over. A few City fans failed to reappear after the break. Mancini had not given up. He tweaked his team, going 3-4-2 with Richards, Stefan Savic and Lescott at the back and with Kolarov and Pablo Zabaleta as wing-backs. Within three minutes, City had hope. When Evra brought down Richards, Kolarov swerved the free-kick past Anders Lindegaard. City dared to dream yet United should have been awarded a penalty when Kolarov fouled Valencia. Foy turned away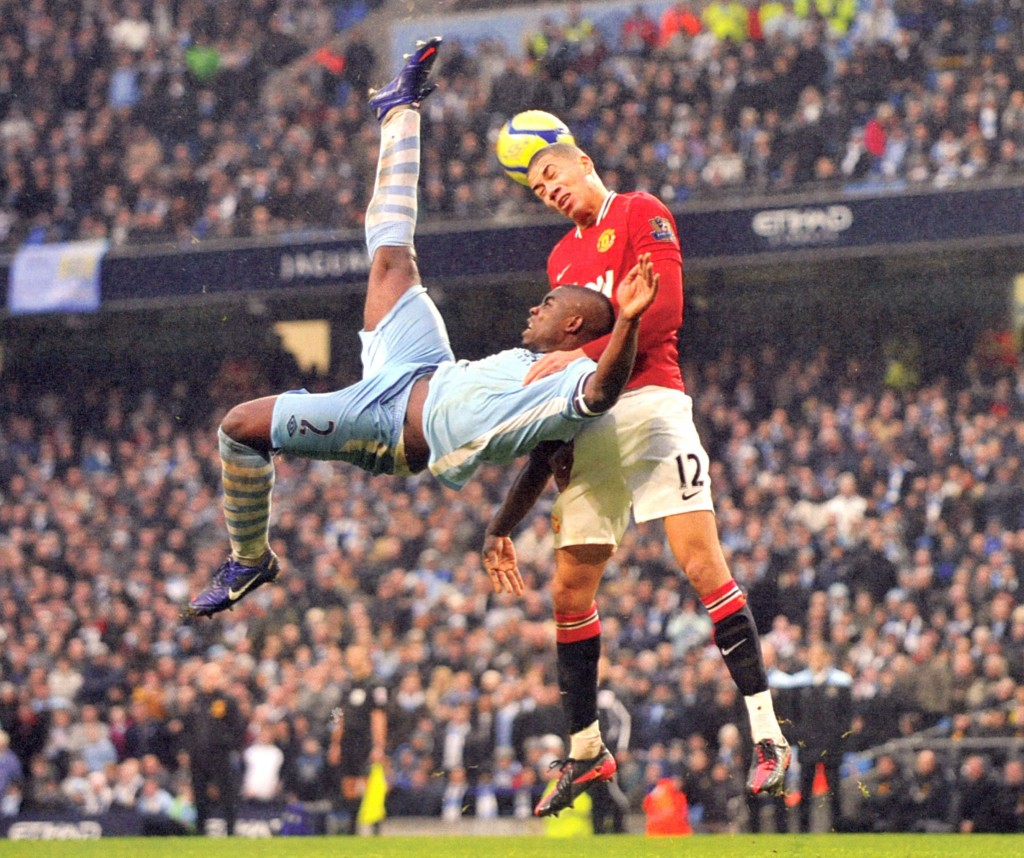 Scholes had resurfaced, now in John O'Shea's old No 22 shirt. The statisticians purred afterwards about Scholes' 97 per cent pass completion from 71 passes yet he still gifted the ball to City for their second after 63 minutes. Milner seized on Scholes' generosity, sweeping in a low cross that Agüero met first time, bringing a save from Lindegaard. With Chris Smalling slipping, Agüero had the split-second to ram the loose ball home. With Scholes and Giggs on the pitch, and then Owen Hargreaves arriving for City, viewers tuning in late could have been forgiven for thinking they were watching UK Gold, not ITV. It was certainly classic entertainment, particularly with Agüero darting around in attack and Milner and Richards getting forward. City screamed in anger when Foy denied them a penalty after Kolarov's cross had bounced up and struck Jones' arm. The finale was frantic. Mancini and David Platt kept popping in and out of the dug-out like figures in a Swiss town-hall clock until full-time ended a breathless, memorable encounter. HENRY WINTER WRITING FOR THE TELEGRAPH 8TH JANUARY 2012