MANCHESTER UNITED 1 CITY 3
League Division 1
27th March 1968
Attendance 63,004
Scorers
City Bell(18), Heslop(57), Lee(89 pen)
United Best(1)
Ref D Smith
City Mulhearn, Book, Pardoe, Doyle, Heslop,  Oakes, Lee, Bell, Summerbee, Coleman, Young – sub Connor(89)
United Stepney, Brennan, Burns, Crerand, Sadler, Stiles, Fitzpatrick, Best, Herd, Charlton, Law – sub Aston(64)
COLIN BELL EQUALISES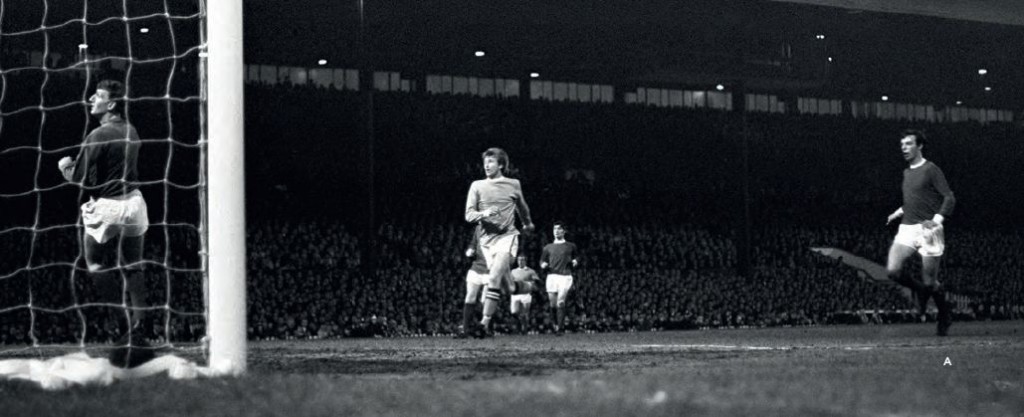 ADAPTED FROM AN ARTICLE 'MY DERBY DREAM' BY PETER GARDNER, CITY PROGRAMME 12TH NOV 1975 – The atmosphere was electric as United set the early pace and City skipper Tony Book made one of his rare mistakes that handed the initiative to the Reds. An intended back-pass to Ken Mulhearn was mishit and George Best, hardly a player to waste those sort of opportunities, was on the ball in a flash and the Reds were one-up.
It was enough to upset the best of teams. But Manchester City were in no mood to be put out of their stride at that delicate stage of the season. With dogged determination and displaying a brand of football they had rarely achieved before, they set about United in such grand manner that one could sense victory was on the cards, despite that early and devastating opening salvo by the powerful home team.
The equaliser had to come . and it did when Colin Bell raced in to beat Alex Stepney. For a moment there was apprehension in the City camp that an infringement would wipe out the score. Those fears were ended when the referee, after a moment's hesitation, awarded a goal.
Half time was a welcome relief. A chance to regain breath that had been taken away by the poise and speed of a City side that was running the opposition firmly into the ground.
City belted back into the battle immediately on the re-start and within minutes they had deservedly taken the lead. Centre half George Heslop moved up to support his attack for a free kick out on the right and he climbed to head a goal which had Old Trafford exploding in a mass of Blue and White as the City contingent greeted the score.
It was a score that was to eventually wipe away all those years of frustration that had come by living in the shadows of their more successful and illustrious neighbours.
But the drama did not end there. With but a few minutes remaining, Bell raced through again as only he can do, summoning up a vast surge of strength to slice open a battered United defence and bear down on Stepney for what would have been a certain goal.
Then, at the last vital second, Francis Burns, the United left back, snaked out a leg and sent Bell crashing down for an obvious penalty.
Francis Lee duly made the score 3-1 and City had not only beaten United that night . . . they had murdered them.

GEORGE HESLOP MAKES IT 2-1 TO CITY