SAVE OUR SITE
You can donate, as little as £2 or more here https://www.justgiving.com/crowdfunding/citytilidie?utm_term=Qeg6xJwX3
I started this Manchester City Football Club history website in 2007. It has grown and grown in size and popularity to the point where there are nearly 7,000 pages covering every match City have played since formation in 1894, and there have been over 10 million visits.
Over the last few years, because of the cost of the server plus subscriptions to news agencies, and library expense I have had to go into debt to keep the site up and running, as I want it to keep it clean of adverts to make it a better experience for Fans who visit the site.
Unfortunately I cannot keep the site online and updated without raising funds to payback the debt over the last few years and the ongoing costs for it
Anyone who visits the site is welcome to use the information in any way they like without charge, however if you can possibly spare a few pounds towards the site a donation on here would be greatly appreciated.
You can donate, as little as £2 or more here https://www.justgiving.com/crowdfunding/citytilidie?utm_term=Qeg6xJwX3
.
ALSO YOU CAN HELP BY BUYING CITY DVD'S FROM MY WIDE COLLECTION OF 100'S OF TITLES – just £2 per disc

All the dvds are ripped onto plain dvd-rs and are sent out in plastic or paper sleeves like this.
If you email me at trevorcitytilidie@hotmail.com I will send you a full list

BELOW ARE JUST A FEW EXAMPLES OF THE 100'S OF CITY DVD TITLES I HAVE AVAILABLE  …  All the dvds are ripped onto plain dvd-rs and are sent out in plastic or paper sleeves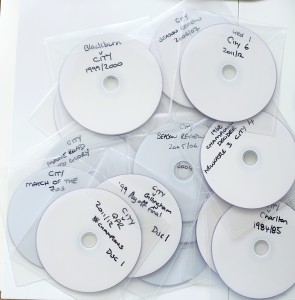 1988/89 Season Review
1989/90 Season Review

1990/91 Season Review
1991/92 Season Review
1992/93 Season Review
1993/94 Season Review
1994/95 Season Review
Soccer Legends Lee Bell Summerbee
1998/99 Season Review

Manchester City v QPR 2011/12 #Champions (2 disc set)