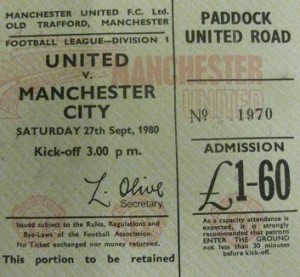 MANCHESTER UNITED 2 CITY 2
League Division 1
27th September 1980
Attendance 55,926
Scorers
City Reeves(42), Palmer(88)
United Coppell(31), Albiston(72)
ref Kevin McNally
City Corrigan, Ranson, Reid, Booth, Caton, Henry, Power, Daley, Palmer, Bennett, Reeves – sub Sugrue(32)
United Bailey, Nicholl, Albiston, McQueen, Buchan, Grimes, Greenhoff, Coppell, Duxbury, Thomas, McIllroy – sub Sloan(77)
KEVIN REEVES SCORES TO MAKE IT 1-1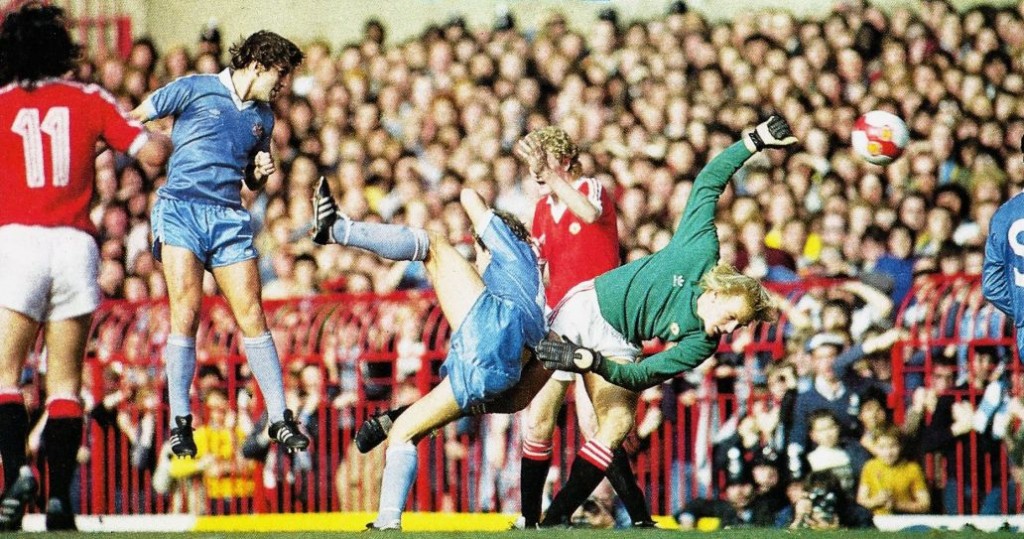 ROGER PALMER SCORES CITY'S LATE EQUALISER
FROM THE PRESS BOX
Take a full house, add four goals evenly divided, stir in a touch of controversy and sprinkle with a dash of drama at the end. There you have about as much as can be expected from a " derby " match. Not something over which a gourmet. would lick his lips but a mixture to sustain interest.
Manchester City have still to win a League match and though Malcolm Allison apparently loses no sleep over it, his precarious position, must fluctuate from match to match. A point from Old Trafford did his prospects no harm, although his team showed a little of the ability he insists they possess and which they have demonstrated from time to time.
City were without Mackenzie to give variety to their approach work. nor were their hopes enhanced by Bennett's departure after another hard tackle. They were in retreat for much of the second half and owed a lot to Caton who welded the defence admirably in that period.
It was a match of much haste badly needing someone to adjust the pace and direction. United's understanding and finishing still falls short of that which enabled them to chase Liverpool last season. McQueen was back after injury and quickly let one or two opponents know it with his forthright tackling, but the absence of Jordan's dash and Wilkins' coaxing in midfield. emerge as missing elements.
The ascendancy United established after half-time should have won the match. Coppell gave the attack sparkle, young Duxbury, substituted, could be well content with his midfield contribution and, apart from one moment when Buchan was almost outpaced by Palmer, the defence remained un-ruffled until just before the end.
After half an hour first Corrigan, then a defender took a header from McIlroy and a shot from Coppell on the body before Coppell finally pierced the confusion of red and blue on the goal line. Near half-time Reeves headed an equalizer from Daley's corner kick with Bailey's path to the ball seemingly barred. Albiston drove low and hard through a thicket of legs to restore United's advantage. And that, it seemed, would be that until City Push forward with a touch of desperation and up popped Palmer wilh a minute to go to collect Caton's header and stroke the ball in. 
TOM GERMAN WRITING IN THE TIMES 29TH SEPTEMBER 1980