CITY 0 LIVERPOOL 1
League Cup Semi-Final 1st Leg
14th January 1981
attendance 48,045
Scorer Kennedy(81)
Ref Alf Grey
City Corrigan, Ranson, Henry, Reid, Power, Caton, Boyer, Bennett, MacKenzie, Tueart, Reeves – sub Buckley(unused)
Liverpool Clemence, Neal, A Kennedy, Thompson, R Kennedy, Irwin, Dalglish, Lee, Fairclough, McDermott, Souness – sub Case(unused)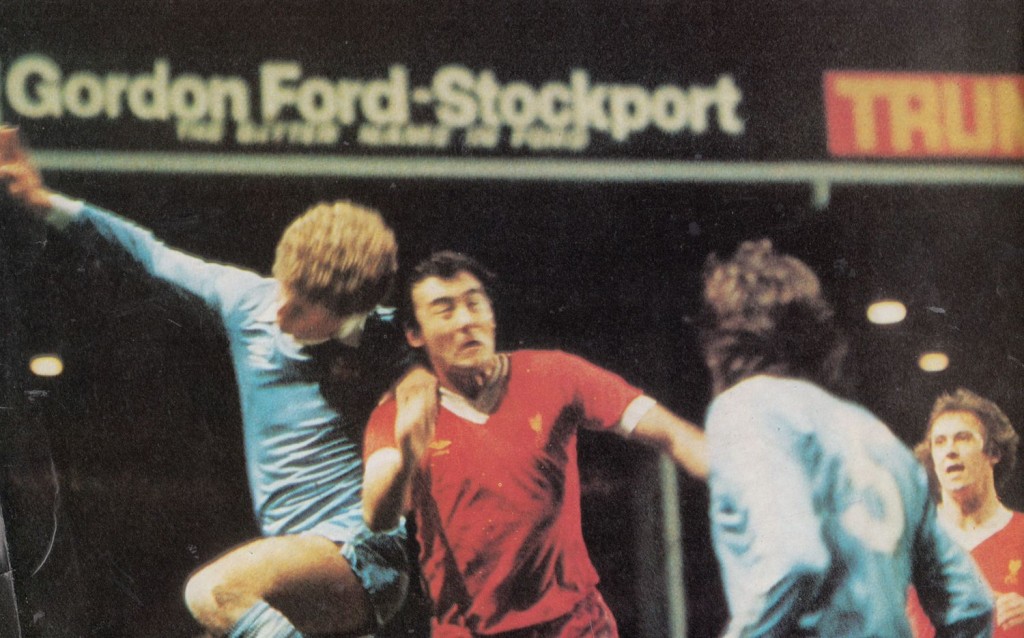 ln the opening minutes referee Alf Grey disallowed a Kevin Reeves goal for what was described by the official as 'illegal jumping'. City were furious. John Bond, in typical fashion, remembers the incident well; "lt was scandalous. lt was Alf Grey [referee] who punished us. Ray Clemence came out and never got anywhere near the ball, and Kevin Reeves got up and headed the ball into the net He never fouled him or anybody else. You bet your life there wasn't a foul in it. lt was as simple as that."
Kevin Reeves was equally bemused at the time: "lt was a legitimate jump for a cross from the left. l never climbed on anybody's shoulders. Alan Kennedy, the Liverpool left back, was in there with me and l suspect he thought Clemence  was coming to punch the cross clear and just dropped his shoulder to make the way clear for his 'keeper. I had felt Kennedy's shoulder as I went up but I never went to make contact with him, nor did I feel anything unusual. If I had thought there was any doubt about the header after it went in the net l would have been looking at the referee and certainly hesitating with my actions. It's just not the way I would behave to go dashing over to the Kippax to celebrate the goal with them. Like them, I was stunned to see it disalIowed."
Supporter Simon Clarke remembers: "l sat in the Platt Lane Stand for the League Cup match, so didn't have a clear view ofthe Reeves header that hit the net at the North Stand end after only a few minutes. The stadium erupted, and i was too busy celebrating a dream start to notice that the game had resumed with a free kick. The North Stand scoreboard went blank, so it was some while before the truth dawned that we were not, after all, one- nil up, Reeves strike having been disallowed. Eventually Liverpool scored from a free kick that should never have been given, and the feeling of hurt and injustice that followed is just beyond description, my worst night in over 35 years as a Blue."
Ray Kennedy scored in the 81st minute to give Liverpool victory and make City's task in the return an impossible one. A 1 -1 draw guaranteed Liverpool a final appearance against West Ham (and ultimately victory). Norman Kavanagh, a Platt Lane attendee at the first leg, remembers that City were more than a match for their Liverpool rivals: "Some of John Bond's experienced signings, the ones that saved us from relegation and took us to the FA Cup final, were cup tied for the League Cup. l thought we'd be drawn against the easily beatable Coventry or West Ham and l was mentally preparing for Wembley. Liverpool at that point were virtually unbeatable, so the draw did not do us any favours. 
"Maine Road was absolutely jam packed that night and City, minus Bond's stars, were not overawed. Big Joe was in his usual fine form. Tommy Caton and Nicky Reid superb in defence. Tony Henry pitting his wits against the likes of Souness and McDermott in midfield, while Dave Bennett was a handful for the Liverpool defence. "After the controversy of the disallowed goal, Liverpool as they so often did, in those days nicked one to win 1-0.
AN EXTRACT FROM AN ARTICLE BY GARY JAMES PUBLISHED IN THE CITY PROGRAMME 28TH SEPTEMBER 2002
,
.