CITY 4 LEICESTER CITY 2
League Division 2
11th March 1989
attendance 22,266
Scorers
City Spearing(og), Morley 3
Leicester McAllister, Newell
City Dibble, Lake, Hinchcliffe, Gayle, Megson, Redmond, Moulden, Morley, Gleghorn, McNab, Biggins – used subs Taggart, Beckford
Leicester Hodge, Mauchlen, Spearing, Ramsey, Walsh, Morgan, Reid, Cross, Newell, McAllister, Mills – used subs Quinn
THE excitement of seeing six goals scored in the second 45 minutes of last Saturday's fixture against Leicester City was overshadowed by the frightening injury to Paul Lake which held up play for 7 minutes early in the first half, an horrific event which will live in the memory of everyone at Maine Road who witnessed the unfolding drama. Following an accidental clash of heads with Leicester's Paul Ramsey, Lake crashed unconcious to the ground and began a series of convulsions which clearly demonstrated the gravity of the situation. At the time, medical trainer Roy Bailey had just finished giving treatment to Trevor Morley at the other side of the field and he therefore had a long sprint to reach the Young England star, who needed life-saving attention: "It was a very dangerous situation and I had one hell of a job to force open Paul's jaws and hook back his tongue with my finger" said a relieved Roy after the affair. "ln fact his jaw muscles were so tense that john Deehan, who was helping along with Glyn Pardoe, received a nasty bite in the process!" Roy could not stop for even a second to search his medical bag for the airway instrument specially designed for such occasions and his swift emergency action was later praised by club doctor, Norman Luft. "Speed was the vital thing and the coolness shown by Roy under such frightening conditions deserves the very highest praise" he commented. "You only have about four minutes in a situation like this before brain damage can occur due to lack of oxygen." Thankfully, Paul was soon sitting up in the medical room, still dazed but happily talking to his relieved parents, and although a short stay in hospital was needed as a precautionary measure, a brain scan taken on Monday revealed that no damage had occurred. The 20-year-old though, still remembers little of the incident. "I can recall the comer coming over and going out to attack the ball, but then the next thing was waking up in the medical room feeling pretty groggy!" he revealed. "From what I've heard about it afterwards, I've no doubt that Roy`s actions were vital and it is something for which I will owe him for the rest of my life" said a thankful Paul. Although only taking minutes, the whole affair seemed to everyone in the stadium to last a lifetime, particularly to the other players on the pitch. The more experienced professionals like Neil McNab, later agreed that it was the most frightening experience of their careers and it may be that at least some good will come as a result of what could have been a tragic event, with strong calls being made for doctors to be situated as close as possible to the pitch at all League games in the future.  PUBLISHED IN THE CITY PROGRAMME 18TH MARCH 1989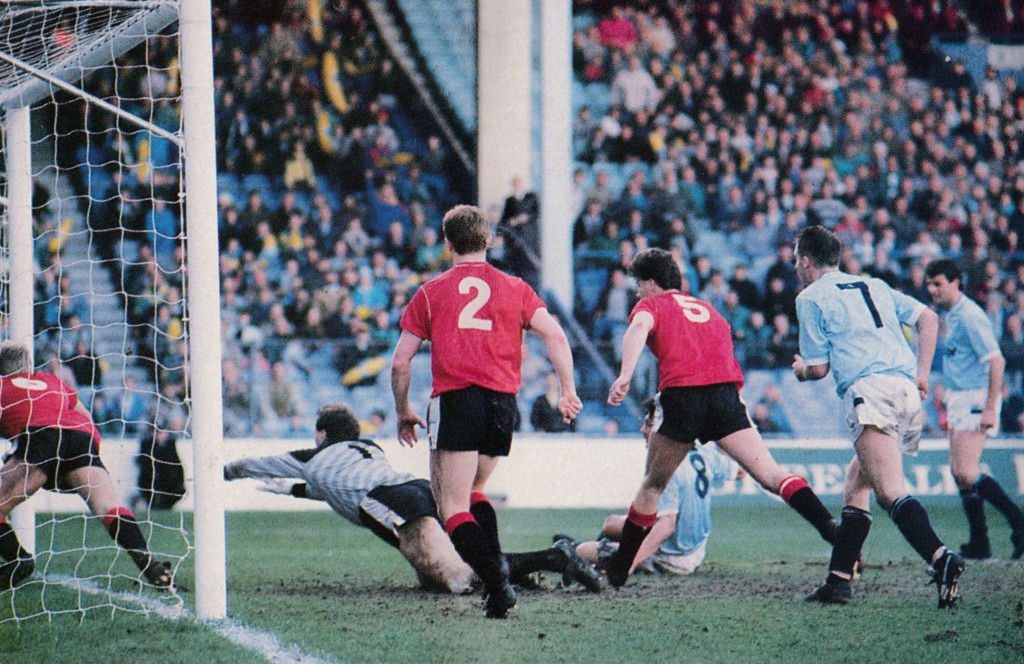 From PAUL LAKE, I'M NOT REALLY HERE, A LIFE OF TWO HALVES by Paul Lake
I woke up dazed, confused and spread-eagled on a bed in Maine Road's first aid room . As I opened my eyes, a trio of women gradually came into focus, Mum, Janine and City's receptionist Libby, all with tears streaming down their faces. The first thought that entered my head was who's died? And it was only when Mum wailed "Thank God, we thought we'd lost you love," that I realised that the person they were crying over was me. And then, like some corny line in Casualty, I murmered, "Where am I, Mum? What happened?
What had happened was that I'd nearly popped my clogs in front of 20,000 people. It was during the first half of our game against Leicester City that I'd gone up to head away a corner, clashed heads with Paul Ramsey and hit the deck like a sack of spuds. Not only did the sheer impact knock me unconscious, but it also caused me to swallow my tongue. What followed was five minutes of life or death drama, played out on the pitch in front of a hushed Maine Road crowd and captured in it's entirety by the TV cameras.
The TV footage showed me lying there lifelessly for a few seconds before suddenly going into a violent spasm, my body squirming , my legs twitching and my lips turning blue due to the lack of oxygen. A panicking Steve Redmond gestured madly to the physio Roy Bailey yelling "Oh fucking hell, Roy get here quick" as I continued to convulse on the ground. It was all too sickening to watch for the other players, most of whom turned away looking decidedly green at the gills.
Roy sprinted onto the pitch with his medical bag and, assisted by the Leicester City physio, tried to clear my airway. You could have heard a pin drop, apparently; even big Helen Turner stopped ringing her bell. Meanwhile, as crucial seconds ticked by, the club doctor, Norman Luft, frantically pushed his way to the pitch from his seat in the directors' box. Dr Luft arrived just in time to give Roy some vital guidance, helping him to hook out my lolling tongue with a pair of bandage scissors. I remained unconscious the whole time.
… Many supporters have since told me that the atmospherein the stadium was really eerie once I'd exited the match. No-one knew whether I was out for the count or in the clear, dead or alive, even, and as a result many fans were too distracted to give much attention to the outcome of the game.

.