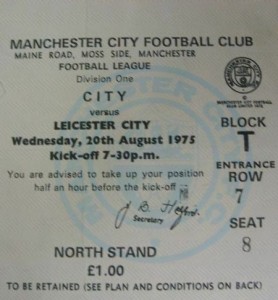 CITY 1 LEICESTER CITY 1
League Division 1
20th August 1975
attendance 28, 557
scorers
City Birchenhall(96 og)
Leicester Lee(8?)
Ref Kevin McNally
City  Corrigan, Hammond, Donachie, Doyle, Watson, Oakes, Hartford, Bell, Marsh, Royle, Tueart – sub Power(unused)
.
Leicester Wallington, Whitworth, Rofe, Kember, Sims, Birchenall, Alderson, Earle, Lee, Sammels, Tomlin
FROM THE PRESS BOX
Peter Gardner writing in The MANCHESTER EVENING NEWS 21st August 1975
Lucky Manchester City! The Blues will never be as fortunate again this season in salvaging a point with defeat staring them in the face.
Six minutes of injury time had elapsed when a Dennis Tueart cross beat Leicester goalkeeper Mark Wallington, who turned to see Alan Birchenall brush the ball in for a face saving home equaliser.
… Yet a Leicester victory would have been a complete injustice to City who monopolised the match with the fury of their attacks only to lose out in front of goal.
At the same time the Blues failed to heed the warning of complacency from manager Tony Book. They also lacked patience against a depleted Leicester side, who were without five recognised first teamers.
City too often played at a frantic pace in their efforts to snap stubborn Leicesterfor whom Wallington had a brilliant match, making a string of superb saves.
It left the Blues vulnerable to the break and with Leicester's front two often causing danger to Dave Watson and Mike Doyle, the inevitable happened when Bob Lee headed in a splendid David Tomlin cross.
Joe Royle again battled away without real support and Asa Hartford, busy throughout, did a tremendous amount of work. Willie Donachie also had a fine match and Joe Corrigan, again handled well with a save from Steve Earle particurlarly notable.