LEICESTER CITY 0 CITY 0
League Division 1
4th September 1971
attendance 25,238
Ref G Hartley
City Corrigan, Book, Jeffries, Doyle, Booth, Bell, Summerbee, Heslop, Davies, Lee, Mellor – unused sub Donachie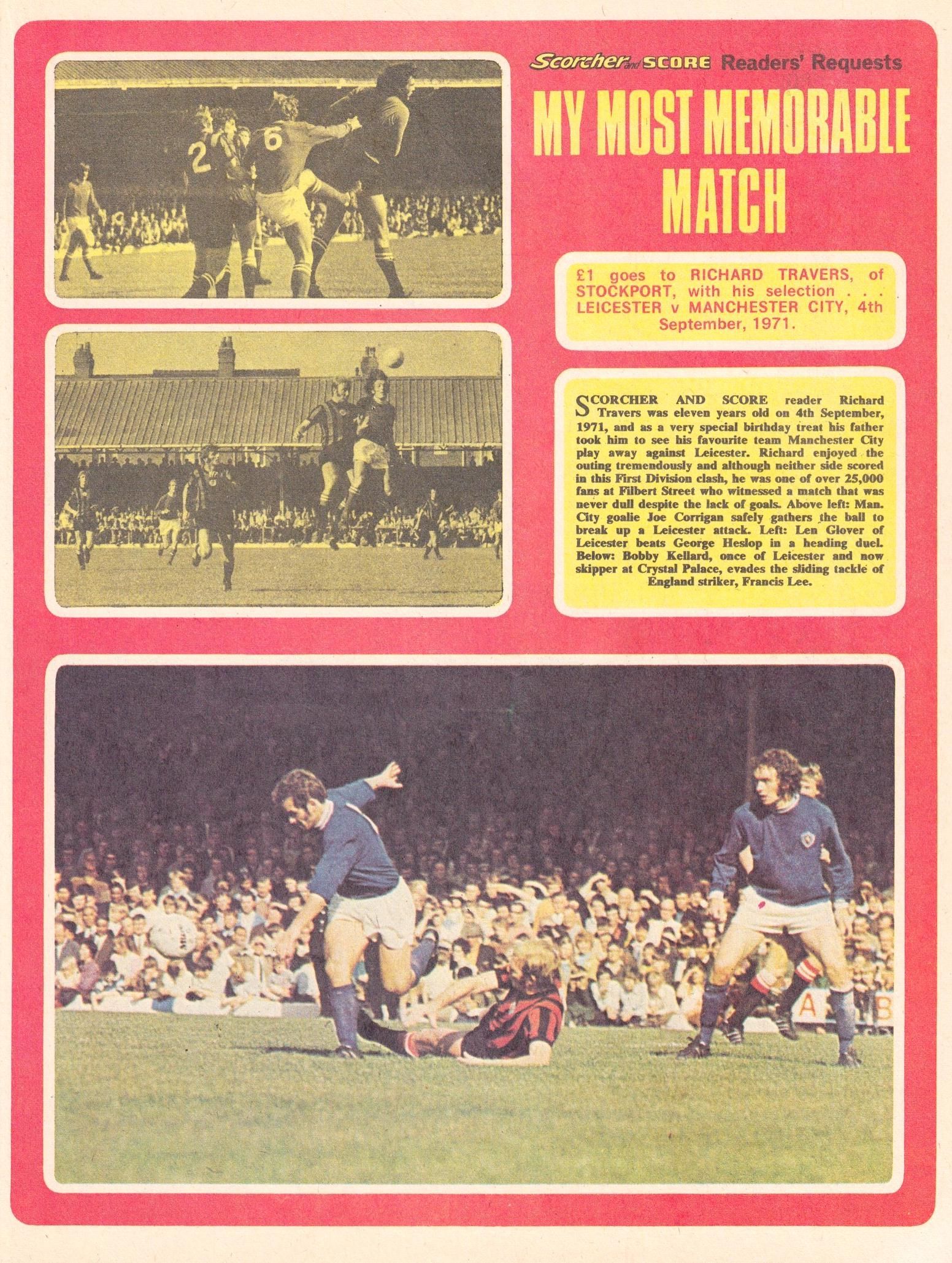 FROM THE PRESS BOX
Frank Keating writing in The Guardian 6th September 1971
LEE ADDS TOUCH OF GENIUS
A nice, old fashioned goalless draw. They still happen, even in this age of thr Instant Golden Goal of the Month.
The point at Filbert Street on Saturday was very much The Point. Leicester have had a none-too-happy start to mark their return to the First Division; with only one win in six previous attempts, they showed their hand from the start when Woollett, very much a middle-of-the-back player, replaced the injured front runner Fern. Mr Jimmy Bloomfield, for all his oratory about attack, knows that when it comes to totting up First Division points it is much wiser, as Hirst once said to Rhodes in cricketing context, "to get 'em in ones."
Manchester City are old hands enough to realise it and trotted off quite happily with their away draw. They had sat on their haunches for two thirds of the game, letting Leicester huff and puff for naught, then galloped forward first in twos, then in fours, till at the very last the singular Lee almost won the game for them.
By the time Brown of Leicester had squandered the ripe chances that the untiring Kellard had nurtured for him.
At the other end Leicester coped well enough after little Manley, deputising for the injured Sjoberg, had been switched from the task of trying to outjump Wyn Davies: by the time the other Manchester forwards realised his discomfort he had swapped with the lankier Cross and thereafter busied himself by neatly tidying the decks. Nish was his usual clean-limbed Corinthian self in defence, but Sammels is certainly taking his time to fit in. He does not seem quite sure of his duties yet; nor do his colleagues.
Once they had bottled up Kellard's spirit there was little to worry Manchester at the back, except for Book to confirm both his age and his wily nous at recovery after being passed and for Jeffries to confirm his great promise. Bell had a quiet game, Davies hinted at what a bargain he is going to prove when the line really starts ticking over consistently, but Mellor gangled along on the left without really suggesting the reasons he is so highly rated at home.
In the final five minutes Lee rolled down his socks and put on a show. Twice he had Shilton full length, first to his left then to his right and then he let go a wondrous drive from 35 yards that Shilton did not smell. It thudded away from the angle. After that nobody minded about the goalless draw any more, we had seen a glimmer of greatness.