CITY 0 LEEDS UNITED 1
League Division 1
14th August 1971
attendance 38,566
Scorer Lorimer
Ref Clive Thomas
City Corrigan, Book, Connor, Doyle, Booth, Oakes, Summerbee, Heslop, Davies, Lee, Mellor- sub Young
Leeds Sprake, Reaney, Cooper, Bremner, Charlton, Hunter, Lorimer, Clarke, Belfitt, Giles, Madeley – sub Bates(unused)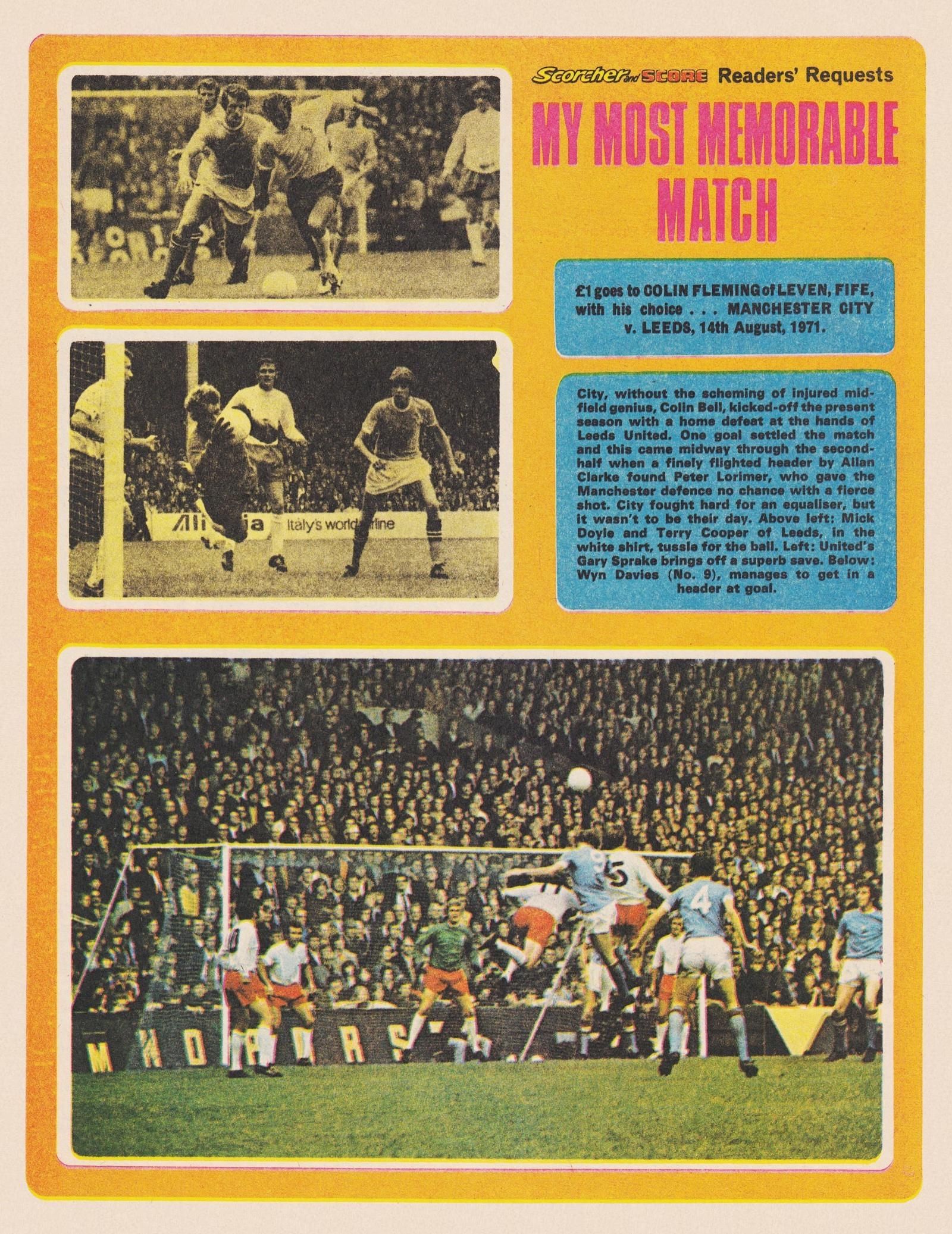 It was a poor game with staccatoed fouls and niggles, not one for the purists.
The constant tustles between Mike Doyle and Norman Hunter earned them both bookings from Clive Thomas.
Chances were few and far between, City's falling to Ian Mellor in the first half, put through in front of goal by Francis Lee, Mellor sky'd his shot over the bar.
In the first 45 minutes Leeds had shots from Bremner and Giles which both tested Joe Corrigan.
After the break Neil Young had a chance to score but Sprake saved awkwardly, with the help of Jack Charlton.
The Leeds' goal eventually came, Charlton's long ball, was headed into the path of Lorimer by Clarke and he got there before a hesitant Corrigan to drive the ball home.
The final few minutes summed up the game, as Leeds tried to play keep ball in the last few minutes, Francis Lee became frustrated and hacked Jack Charlton down and Charlton's retaliation meant both players went into Mr Thomas's book.