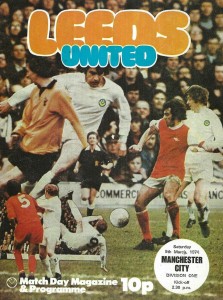 LEEDS UNITED 1 CITY 0
League Division 1
9th March 1974
attendance 36,578
scorer Lorimer(28 pen)
Ref John Hunting
City Corrigan, Pardoe, Donachie, Doyle, Booth, Towers, Summerbee, Bell, Lee, Law, Marsh – sub Carrodus(unused)
Leeds Stewart, Reaney, Cherry, Bremner, McQueen, Hunter, Lorimer, Clarke, Jordan, Yorath, Madeley – sub F Gray(unused)
FROM THE PRESS BOX

LEEDS EMERGE FROM GLOOM
JAMES HOLLAND WRITING IN THE GUARDIAN 11TH MARCH 1974
Leeds United, who had not won one of their previous five matches emerged from the doldrums on Saturday when they beat Manchester City 1-0 at Elland Road.
As a spectacle the game will not live long in the memory, but what will remain for quite a while, particularly in the minds of the aggrieved City players and their supporters, was the event leading to the only goal scored. In the 28th minute Doyle moved in to tackle Bremner as he forged into the penalty area. The City player forced the ball away and Bremner fell in melodramatic fashion.
Mr Hunting, the referee, gave a signal which many thought was for an indirect free kick, but to City's consternation he had awarded a penalty.
Then followed an unseemly scene with the official lost to view in an angry swarm of City players which culminated in Summerbee having his name taken. Mr Hunting, whose handling of the game was far too lax, stood by his decision and Lorimer dutifully dealt with the penalty, sending Corrigan to the left and dispatching the ball into the net well away to the right.
… During the first half against City a series of good moves failed to bring tangible reward because of wayward finishing. Lorimer twice drove the ball wide, Corrigan tipped over the crossbar a drive from Bremner, and Yorath squandered what proved to be the best chance when, standing unmarked outside the penalty area and with a clear view of the target, he sent the bill high over.
… City's exhibition was lustreless and uninspiring, Bell toiled manfully to infuse some sense of urgency, but struck no responsive chord. Undoubtedly they were peeved about that penalty award, but the character of a team is reflected by the way it reacts to outrageous fortune. On this occasion City were found wanting.