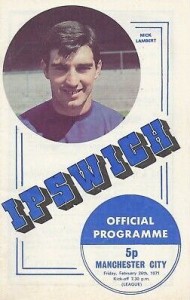 IPSWICH TOWN 2 CITY 0
League Division 1
26th February 1971
attendance 20,685
Scorers Vljoen(27), Clarke(62)
Ref D Turner
City Healey, Book, Towers, Doyle, Booth, Oakes, Jeffries, Bowyer, Lee, Young, Hill – sub Mann(unused)
Ipswich Sivell, Hammond, Mills, Morris, Bell, Jefferson, Robertson, Viljoen, Clarke, Woods, Hill
City were without Colin Bell and Mike Summerbee, and the performance from those who replaced them was poor, as was the majority of the majority of the Blues' side.
Also, after several costly blunders this season, Joe Corrigan was dropped and a League debut between the sticks was given to 18 year old Ron Healey. His nerves were put to rest in just the first minute when he made a fantastic save, he went on to make a decent debut despite some issues with his positioning, however he had no chance with the Ipswich goals. Joe Mercer was happy with Healey saying: "I'm highly delighted with the boy, Ronnie did exceptionally well. His handling was both safe and sound and he couldn't be blamed for either of the goals,"
Both Ipswich goals came courtesy of crosses from the hard working Mick Mills, the first just before the half hour saw Mick Hill heading the cross into Viljoen's path who shot past Healey.
Just after the hour Hill again knocked on Mills' cross and Clarke scored Town's second goal.
A Francis Lee free-kick screamer, that Sivell did well to tip over, was the nearest City came to a goal.