CITY 2 GILLINGHAM 2 (After extra time)
City won 3-1 on penalties
Division 2 Play-off Final at Wembley
30th May 1999
attendance 76,935
scorers
City Horlock(89), Dickov(94)
Gillingham Asaba(81), Taylor(86)
penalty scorers
City Horlock, Cooke, Edghill
Gillingham Hodge
Ref Mark Halsey
City Weaver, Crooks, Edghill, Morrison, Horlock, Wiekens, Brown, Jeff Whitley, Dickov, Goater, Cooke – subs Vaughan(63), Taylor(85), Bishop(63)
Gillingham Bartram, Southall, Ashby, Smith, Butters, Pennock, Patterson, Hessenthaler, Asaba, Galloway, Taylor – subs Hodge(105), Carr(86), Saunders(56)
FROM THE PRESS BOX
CITY NICK IT FOR FANTASTIC FANS
Nicky Weaver turned Wembley sky-blue with two penalty saves to Send Manchester City back into the First Division. Weaver capped an amazing City fightback with his penalty shoot-out heroics to clinch a memorable triumph.
And the 20 year old goalkeeper dedicated the victory to City's long suffering fans, who have become sick of bitter rivals United's treble triurnph. Weaver said: "So much has been made about United winning the treble that we had to give our fans something to celebrate. They are phenomenal. They never gave up and made so much noise in the shoot-out that it gave us a huge advantage. They deserved this. It's such a great feeling for me. It's incredible when you remember that I was third choice as keeper a year ago. It's unbelievable. Winning at Wembley is very different from reserve team football but I just tried to treat it as another game," City were trailing 2-0 until the 89th minute thanks to goals from Gillingham strikers Carl Asaba and Robert Taylor. But Kevin Horlock's last minute goal and Paul Dickov's equaliser in the fourth minute of injury time set up the shoot-out.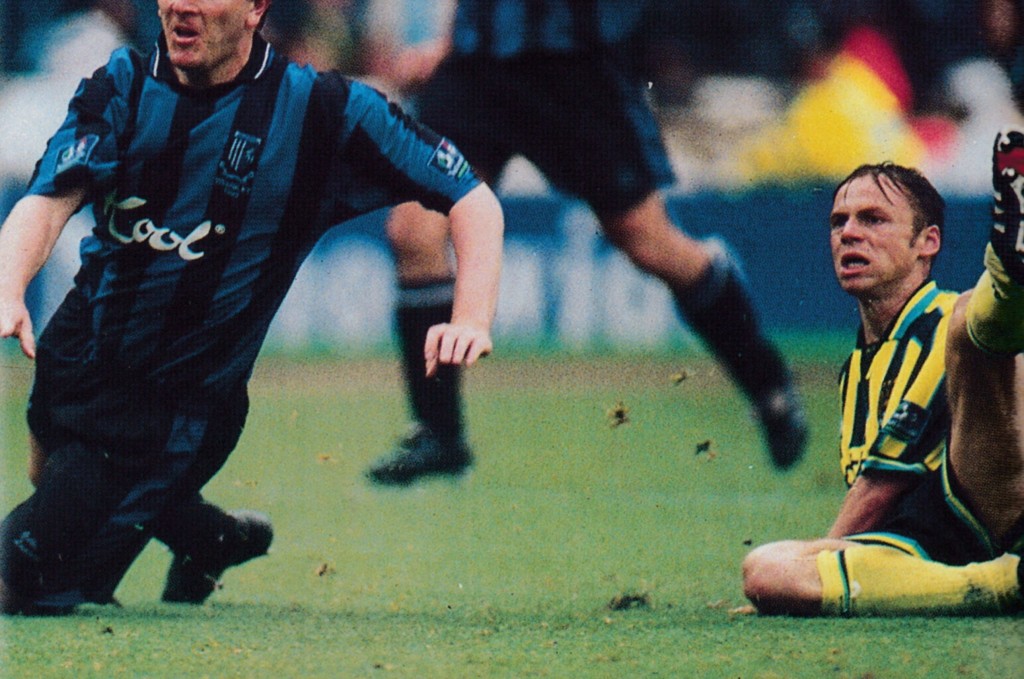 Then England Under-21 keeper Weaver kept his cool to pull off great stops from Paul Smith and Guy Butters to lift City into the First Division. But Weaver revealed that he struggled all week in training with penalty practice. And City boss Joe Royle joked: "I don't think he"s ever saved a penalty before. The lads were hitting them in this week and asking 'is there anyone there?' "Our fans made such a difference. It was vital that Gillingham were taking their penalties into the goal in front of our supporters. Nicky is a big lad, and with our fans making such a noise, Gillingham's players must have felt like they were shooting into five-a-side goals."
City's play-off victory sparked wild celebrations among their delirious 35,000 fans, but Royle was refusing to get too carried away, and he still hates the play-offs. Royle said: "It's a step back to where we should be. A club of this size should not be too euphoric about getting promotion from the old Third Division, but we've taken a big step to curing Man Cityitis. We didn't lose a big game this time. …"I can honestly say we never  gave up and nor did the fans. Even when we Went 2-0 down there was a small pocket of City fans sitting behind me and they just started singing again. They really deserved this, but I still hate the play-offs. They are a lottery and a joke. We played 46 games and finished third and that should have been enough to take us up without three extra cup finals" Royle then revealed that he believes the nucleus of his current! squad will be good enough to help City get back towards the Premiership.
He added: "We are making plans for the future, but we already have a strong nucleus of players. "Whenever Manchester City played a game in the Second Division it was like a cup final for the other team, and going to places like Wycombe and having fans hanging off the rafters certainly doesn't help." Despondent Gillingham boss Tony Pulis slammed referee Mark Halsey for adding on five minutes of injury time which allowed City to complete their remarkable comeback. Pulis said: "We should have defended for the five extra minutes but I really dont know where he got the extra time from. I'm so disappointed for my players they gave it everything. It was a magnificent effort for 95 minutes. But I can't take it away from City. They are a big club with a lovely manager. If we were going to lose then I'm pleased it's Joe Royle that did it to us." Okay, so it wasn't exactly the treble, but for each and every City fan, it felt every bit as good. A year after the lowest point in this proud club's history, City are back in the First Division, and a long overdue resurrection appears to be under way. This game of breathtaking drama ended with the most sensational victory Wembley has seen since, well, probably last season"s First Division play-off final between Charlton and Sunderland. There were 45 seconds of normal time left with City 2-0 down and apparently without a prayer. But football being the strange and unpredictable beast that it is, 40 minutes later they were in the First Division and their fans were ready to drink London dry.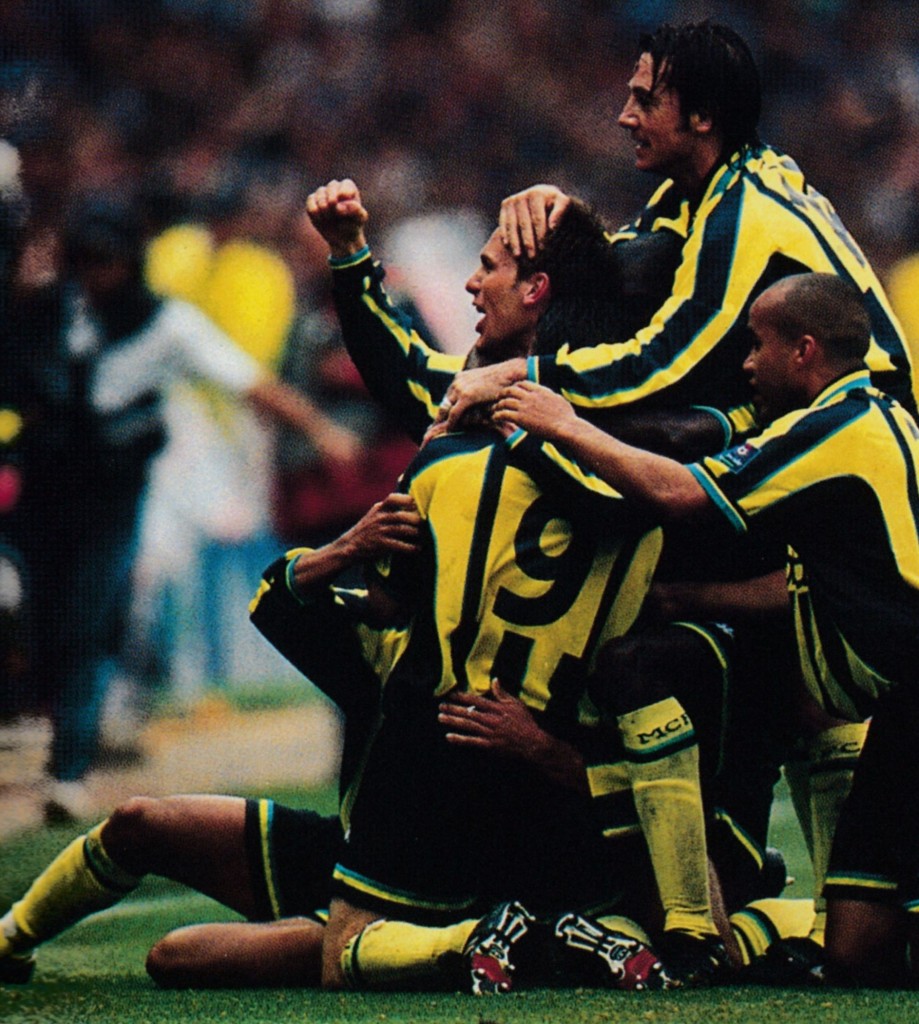 Oasis songwriter Noel Gallagher was asked before the kick-off what he was most looking forward to about the game. He said: "Knowing we can't get relegated is a wonderful way to be for a City fan at the end of the season? That just about sums the club up. Let us now hope that almost a decade of slow decline can finally be  ccnsigned to history, and this monumental victory can prove to be the catalyst for a new dawn. With a minute of normal time to go, Shaun Goater was tackled as he was about to shoot, but the ball  rebounded to Horlock, who slammed it home through a sea of legs. Instantly, the Football League official on the sideline informed us  through his electronic board that there was to be five minutes of injury time, a luxury most of us thought was reserved only for United. Three minutes later, Horlock headed down a long ball on the edge of the area to Goater, who l found Dickov, and the Scot blasted into the top corner from 15 yards.  With no further scoring in extra time, the stage were set for Weaver, and he revelled in the limelight to become the star of the show.   MARK MCGUINNESS WRITING IN THE MIRROR 31ST MAY 1999
THE PENALTIES
KEVIN HORLOCK AND RICHARD EDGHILL CONVERT THEIR PENALTIES AND THE NICKY WEAVER SAVES BUTTERS' PENALTY TO WIN THE PLAY-OFF FOR CITY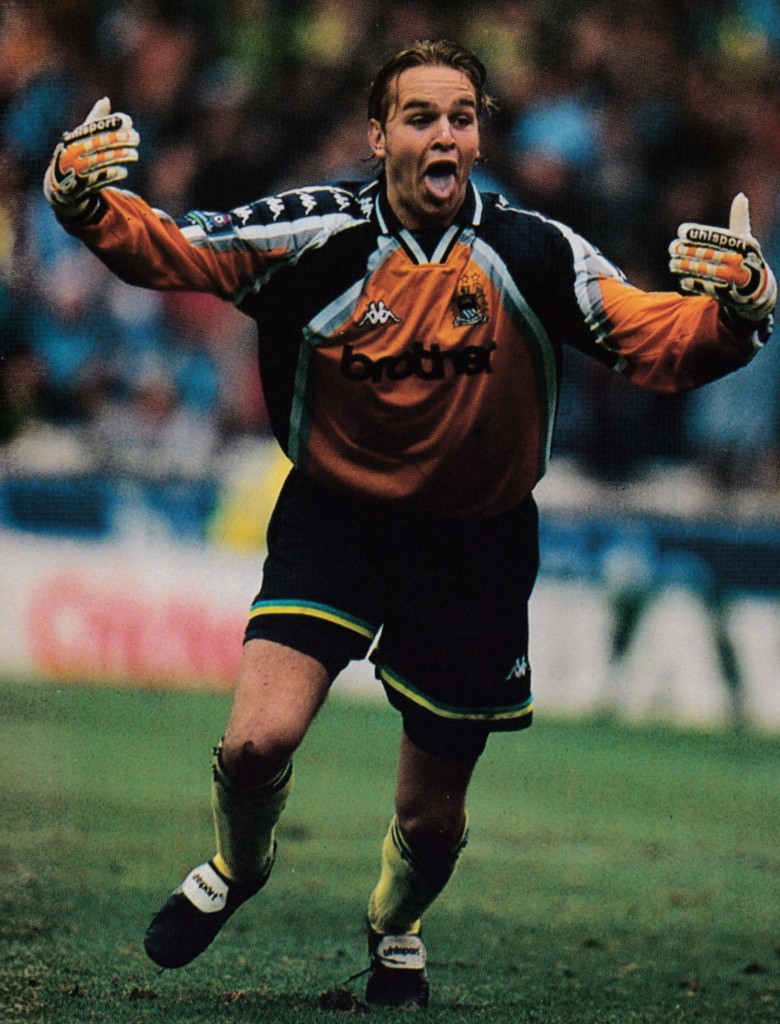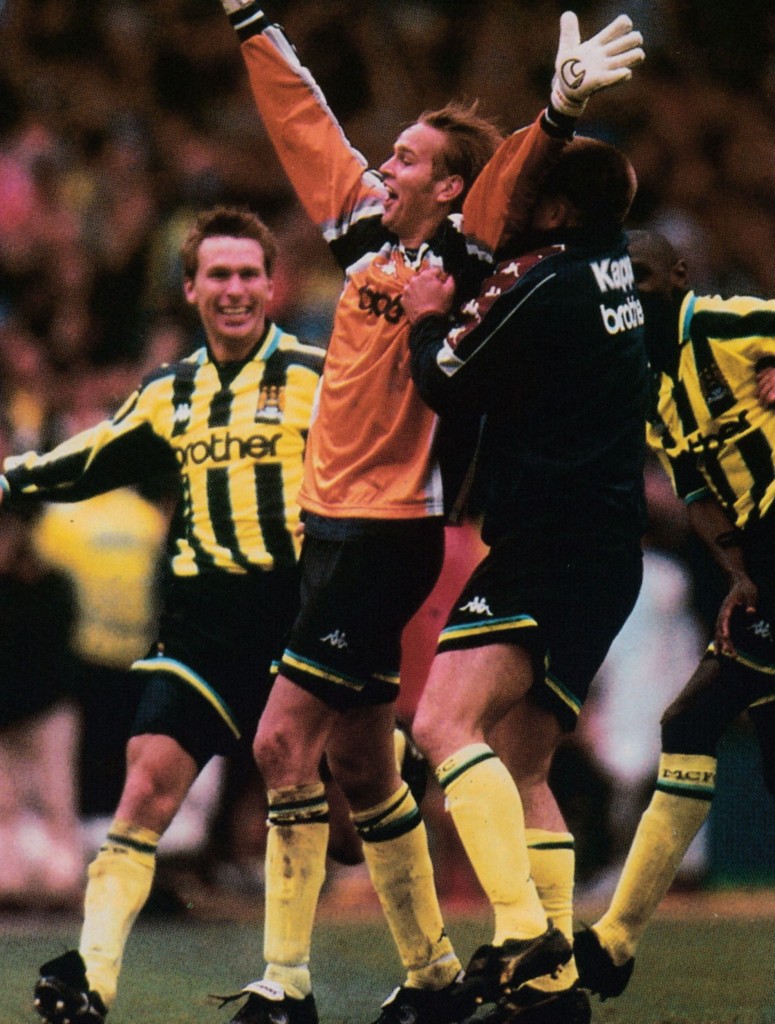 From 'THE GOOD, THE MAD AND THE UGLY, THE ANDY MORRISON STORY' By Andy Morrison with David Clayton
"The city was buzzing but Joe and Willie kept things really calm before the final and, while they were upbeat, they warned us of the perils of getting beaten by Gillingham. Another season in such a lowly league would have been disastrous, not only in financial terms for the club but also for our careers as players. Training was the same as it always was and we knew the way Gillingham operated and where their main threat came from in the shape of Carl Asaba and 'Fat' Bob Taylor. Tony Pulis's teams were invariably big, strong and well organised, think Stoke today, but two tiers lower, so we knew they would give us a hell of a game.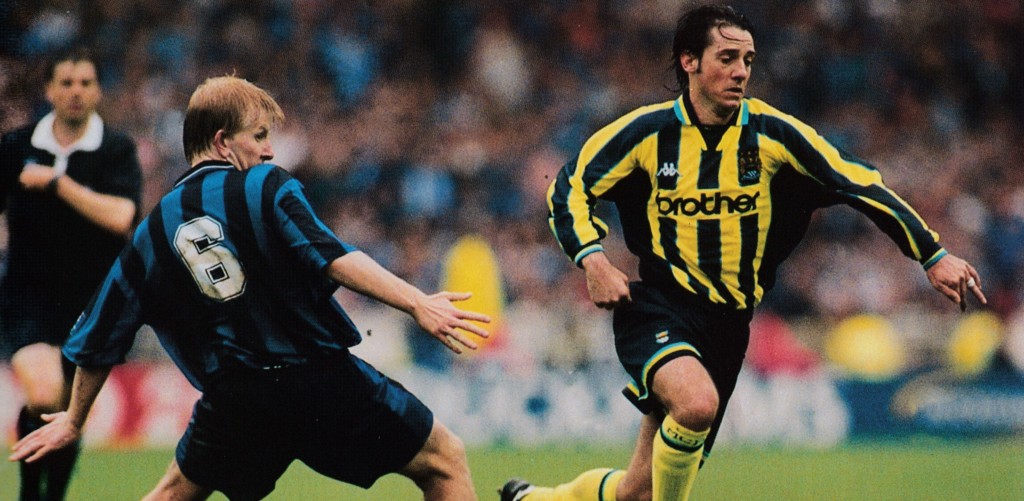 I needed an arthroscopy sooner rather than later as my knee wasn't right but there was no way I was going to miss the final by undergoing keyhole surgery. We would have 40,000 fans or more at Wembley and I was going to lead the team out, no matter how bad the pain was. I had fluid drained off my knee on the day of the game and was given a pain killer to alleviate the aching and continual throbbing.
I wasn't overly worried about Gillingham because I knew I'd be able to compete and hold my own against two big strikers. The first half was a bit of a let down as a spectacle, with neither side willing to commit too much too soon. At half time I had another pain killing injection in the side of my knee to ease the discomfort and ran out ready for the second half. It was still goalless with an hour gone and anyone's game. I felt okay, but Joe must have seen something in my movement that looked a bit laboured because in the 61st minute he took me off and brought on Tony Vaughan. Joe gave me a pat on the back and said"well done". I sat down and just kept my fingers crossed that the lads could finish the job off, but when Asaba scored on 81 minutes and Taylor scored a second in the 86th minute, we had just four minutes to turned things around. Game over I believe.
I was gutted because both goals came down the middle of our defence and I like to think that I would have prevented them, but there was nothing I or anyone else could do We were 2-0 down and just about at full-time. Half the stadium was like a graveyard and the other looked as though it had won the lottery and as time ticked towards whatever referee Mark Halsey wanted to add on, only Willie Donachie was still on the touchline shouting instructions, believing it was still possible to come back. He was telling the guys to move the ball around and to keep playing our game and, as we ticked on to 90 minutes, Goat had a shot blocked and Kevin Horlock drilled a low shot from the edge of the box past Vince Bartram to make it 2-1. Pulis and the Gillingham bench had been screaming at the ref to blow when the score was 2-0 so you can imagine what they were like when KeV scored for us.
Then the board goes up for five minutes of added time. You could hear the collective gasp from our fans and the intake of breath from the Gillingham end, as the impossible suddenly became possible . as their bench screamed and pleaded for the final whistle, ours kept urging our lads forward, hoping for one last chance.
..I looked over to Kenny Brown, who I had played with at Plymouth. He was sitting opposite me on their bench and I made a gesture with my fingers to suggest their ass was going. Then, from nowhere, here was pandemonium.
They had taken off Asaba at 2-0 to shut up shop and brought on a big, ugly, left footed centre half called Darren Carr in his place In our last throw of the dice, the ball was lofted forward and flicked by Gareth Taylor, it fell to Goat, whose shot was blocked, but only into Dicky's path Carr lunged at Dicky's shot and the deflection took it over Bartram to make it 2-2 in the 95th and final minute.
Everyone knows where they were when they heard Elvis had died and every City fan knows where they were when Ricky equalised.
We all went mad and I looked over for Kenny, who had his head in his hands, as did their entire bench. I knew that now there was only going to be one winner. With Ian Bishop pulling the strings in midfield, I expected us to win the game in extra time, but it went to penalties, though once again iI never doubted we would come out on top.
The five lads who volunteered to take a penalty had my total admiration because I wouldn't have offered if I'd still been on. I would have taken one if I'd been asked, but there were others better qualified than me so I wouldn't have been in the first five, that's for sure. KeV Horlick went up for the first one and he later told me that he couldn't feel his legs because he was emotionally and physically spent. In fact, he said as he walked up to take it, he couldn't even see, apart from the goal in front of him. So the fact that he scored proved what it meant to him and how much he cared.
Dicky , the hero, missed his penalty, and had to watch as it hit one post, rolled along the line and then hit the other before rolling back out; Richard Edgehill scored and then Terry Cooke made it 3-1. With two spot kicks left for Gillingham the best they could do was draw level at 3-3, but the pressure was too much. Butterworth stepped up next for them and hit it straight down the middle, where Nicky Weaver managed to save it with his feet. That was it; forty thousand fans went wild and we were promoted. Weaves went off on a mad run and he was so euphoric that he kept on running and running. I made a beeline for him to calm him down. There were ten of the lads chasing him and then he came towards me so I grabbed his shirt and threw him to the turf, landing on top of him. He was exhausted and couldn't breathe and the next thing he was under twenty bodies gasping for air. All I can remember is Weaves looking at me and screaming "get off me you fat bastard" I could see the panic in his face so I made a sort of cradle to take the weight off him so he could breathe and eventually everyone got off.
When things had settled down I spoke to the lads and told them we had to go to every area of Wembley we had fans in and go down on our knees in appreciation of their support. We did exactly that and it was the moment in which team and fans bonded. We weren't multimillion pound superstars who had been crafted in to save a sinking ship. We were just ordinary lads, many of whom, like me, were on£1,200 per week. But we got promotion thanks to an incredible team.
THE CELEBRATIONS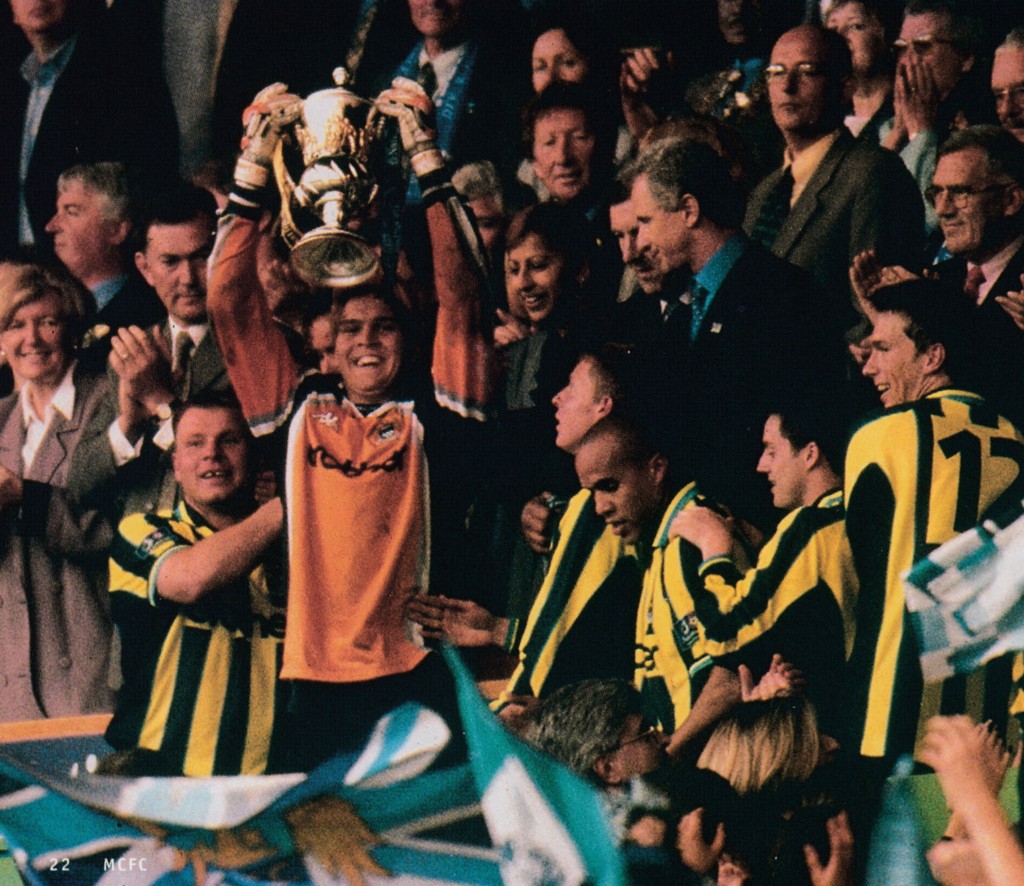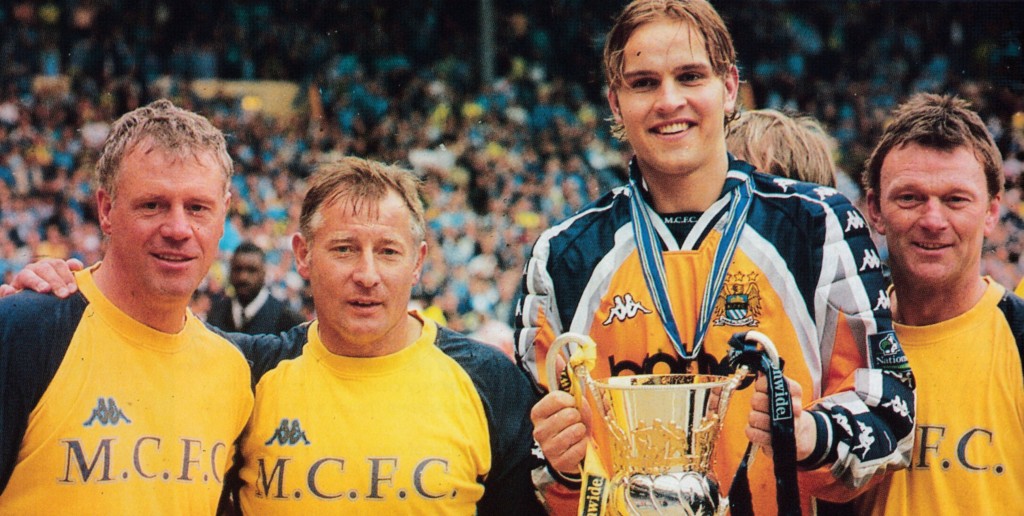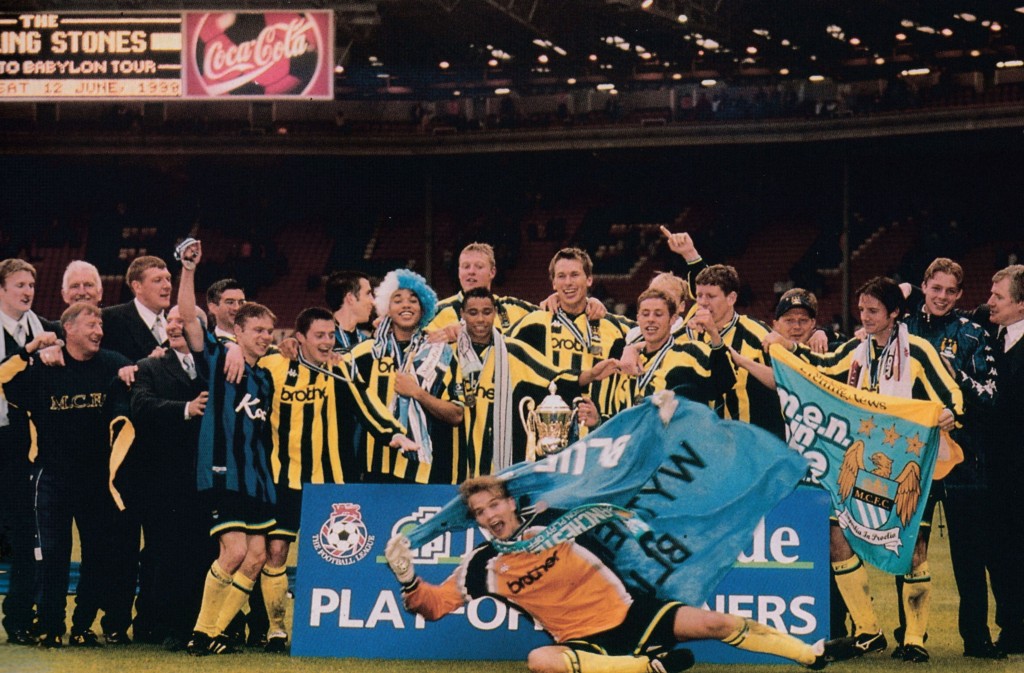 At 2-0 down our promotion dream was in bits and I was thinking 'Hell ref blow the whistle' I had had enough, and I learned later that thousands of City fans had too. Some of them had even got as far as the tube. We figured this just wasn't bhappening for us and wanted an end to the pain. You get days like that in football, where you try everything but it just doesn't come off, but Gillingham were playing above themselves and we could not really complain about being behind.
As I was thinking like this the ball fell to Kevin Horlock, who drilled it home to make it 2-1 and two or three of us then ran into the net to retrieve the ball. As we jogged back to the centre circle we heard our fans begin to roar and get behind us again. I glanced over to the bench to see what the cheers were for and could see the fourth official holding up a board displaying five minutes of injury time. At that point five minutes felt like half an hour and I thought 'we can pull this back'.
Our fans were going crazy shouting encouragement, and we could suddenly sense the Gillingham players' edginess and see it on their faces. We threw everything at them and were determined to make them pay for all the high fives they had given each other during the substitutions and the congratulory pats on the back that suggested, understandably that they had the game won.
We pressed constantly, the five minutes was just about up when the ball fell to me and I took a swing at it, but the defender made a fantastic block tackle and the ball deflected right into Dicky's path. He gave it all he had, taking the slightest of deflections, I think. It felt like slow motion as we watched the ball rocket past Vince Bartram in goal and into the back of the net. That's when the roar hit us and shook the stadium to it's foundations. I thought 'That's my little gem!'
… After he scored, I had nothing left in my legs, but I still chased him! The celebrations were ecstatic and the comeback was nothing short of a miracle.
…Kevin Horlock stepped up to take our first penalty, he later told me that as he walked up to the ball the goal looked huge, but when he actually got to the spot he couldn't even see it any more! He put the ball down, tried to remain calm and thought 'I know where I'm going to put it, to the keeper's right' Then as he looked up he thought 'No I'm going to put it to his left' but as he stepped back  he thought 'To hell with it, I'm going to blast it!' But as he ran up he was still unsure, so he just hammered the ball as hard as he could and as he saw it hit the back of the net, he thought 'Thank Fuck for that!' We all did!
…. Then Weaves saved one and it was Dicky's turn. He ran up, and we watched in horror as the ball hit one post, rolled along the line, hit the other post and then out again!
…. Then Terry Cooke scored!
…. Richard Edghill's penalty was unstoppable, hitting the post and stanchion and bouncing high into the net, it was the perfect penalty and made it 3-1.
…. Gillingham took their fourth penalty at 3-1 down and I thought 'save this bloody penalty Weaves'. He did just that, somehow saving it with his legs as he went the wrong way, he later said he had realised I was the fifth penalty taker and so had to save it or we had no chance.
From FEED THE GOAT by Shaun Goater with David Clayton.