CITY 1 CRYSTAL PALACE 1
League Division 2
1st May 1989
attendance 33,456
Scorers
City Gleghorn
Palace Wright
Ref M Bailey
City Dibble, Lake, Hinchcliffe, I Brightwell, Megson, Redmond, White, Morley, Moulden, McNab, Gleghorn – subs ???
NIGEL GLEGHORN SCORES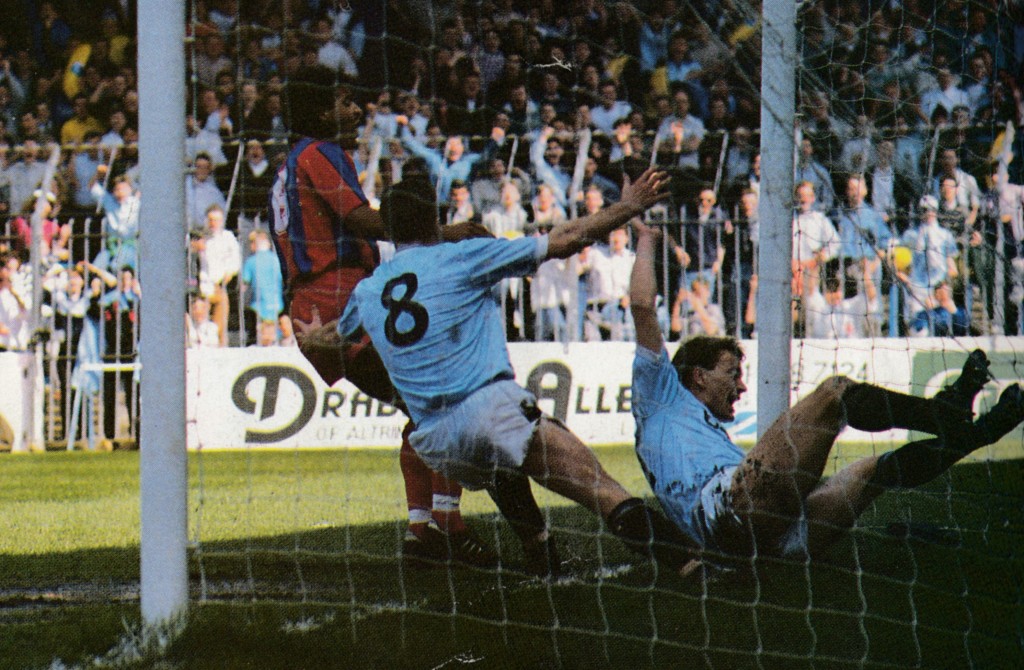 Monday, 1st May is a date that Nigel Gleghom won't forget in a hurry! The City midfield man scored his first home goal for the Blues (amazingly all his previous nine goals had been on away grounds) and then donned the 'keeper's jersey for the second half as emergency replacement for the injured Andy Dibble.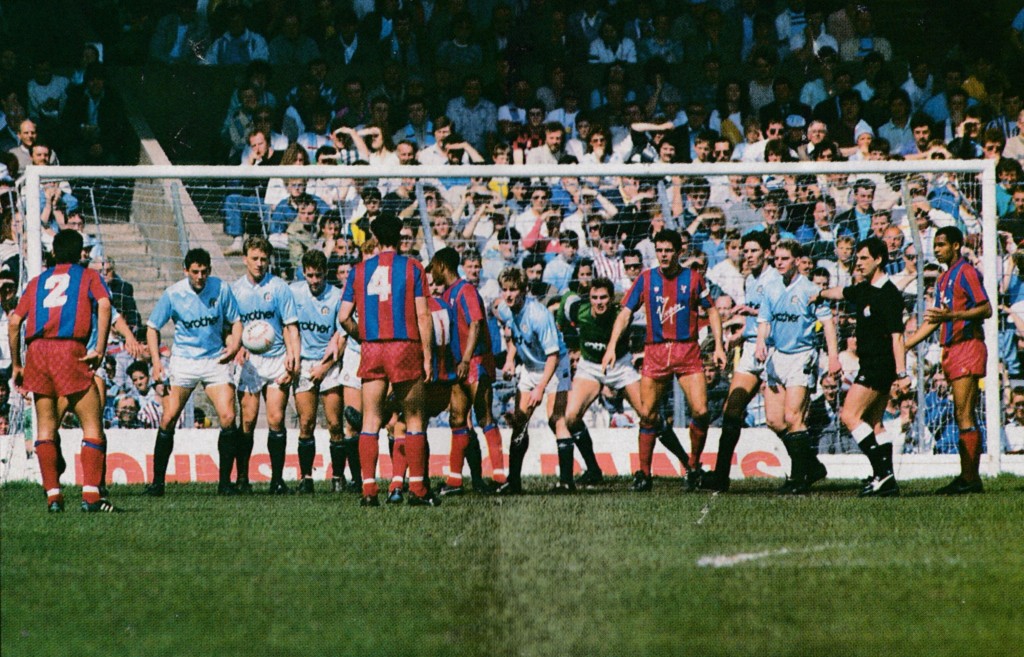 Despite being beaten by a spectacular 75th minute strike from Ian Wright, he won rapturous applause from the Maine Road crowd and showed not a little expertise in the unaccustomed role, making some excellent catches when under severe pressure from the Palace attack.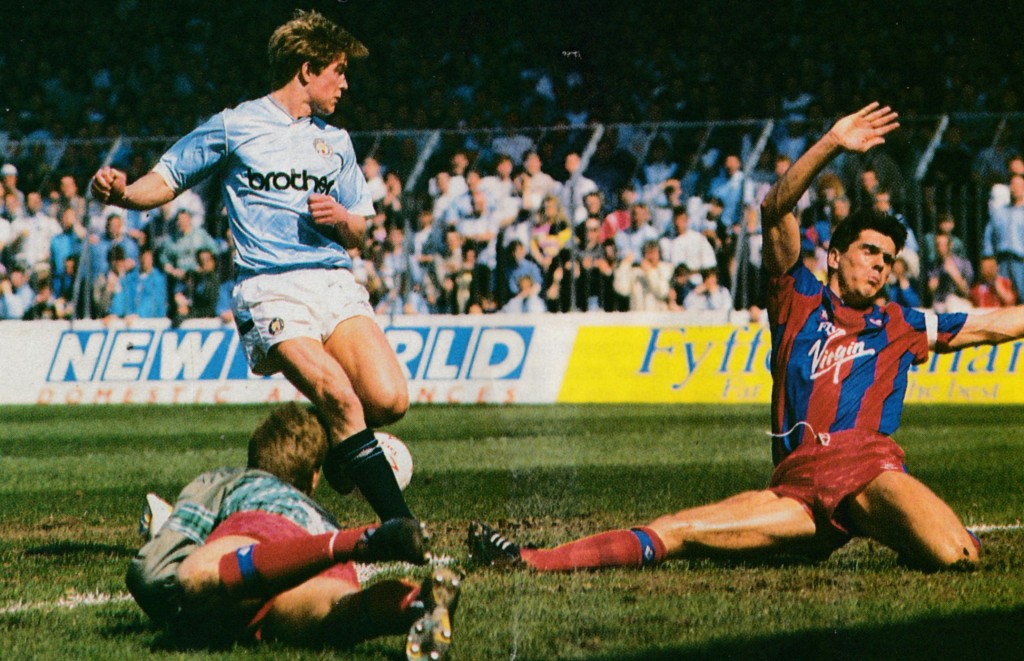 This was his second spell in goal, of course, having been the stand-in 'keeper for nearly an hour at Walsall when Dibble was originally injured, but he played down his heroics after the game. "l wasn't nervous, the lads are getting used to my positioning!" he joked. "As a kid, I played a lot of basketball and also turned out for Durham's under-19 cricket team as a wicketkeeper. I've got a good pair of hands and enjoy larking about in goal during training."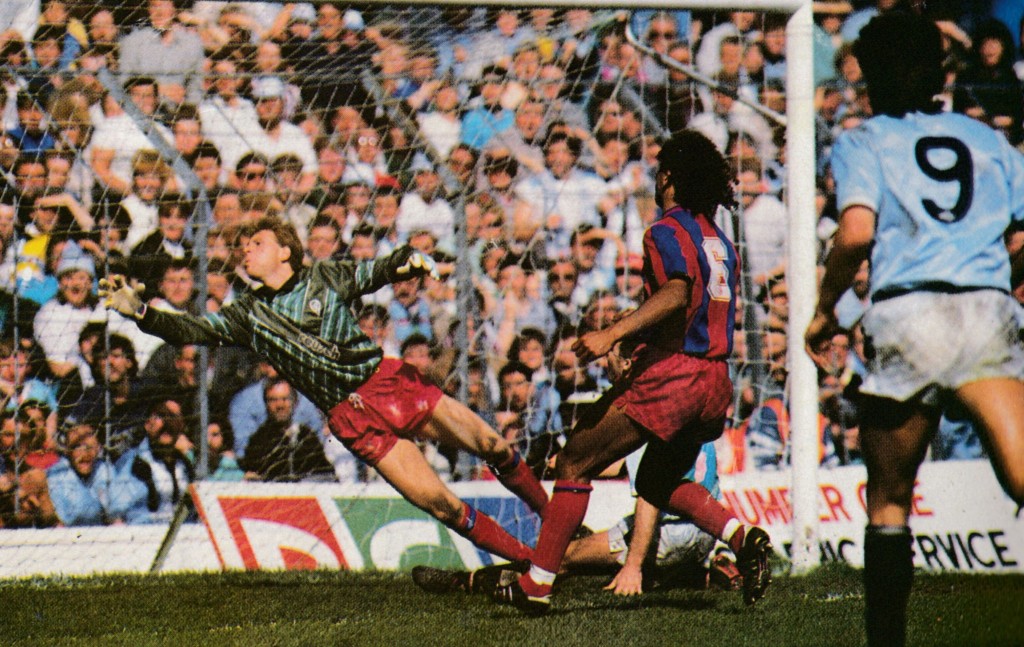 His eighth minute goal looked to have given City the edge in the vital promotion battle last Monday and it ended his bizarre record of eight months without a goal to his name at Maine Road. Ironically, he looked to have broken his scoring duck before the home fans when he claimed the opening goal against Leicester City in March, but it was adjudged to be an own goal by full back Tony Spearing, and manager Mel Machin refused all Nigel's pleas to add his name to the scoresheet.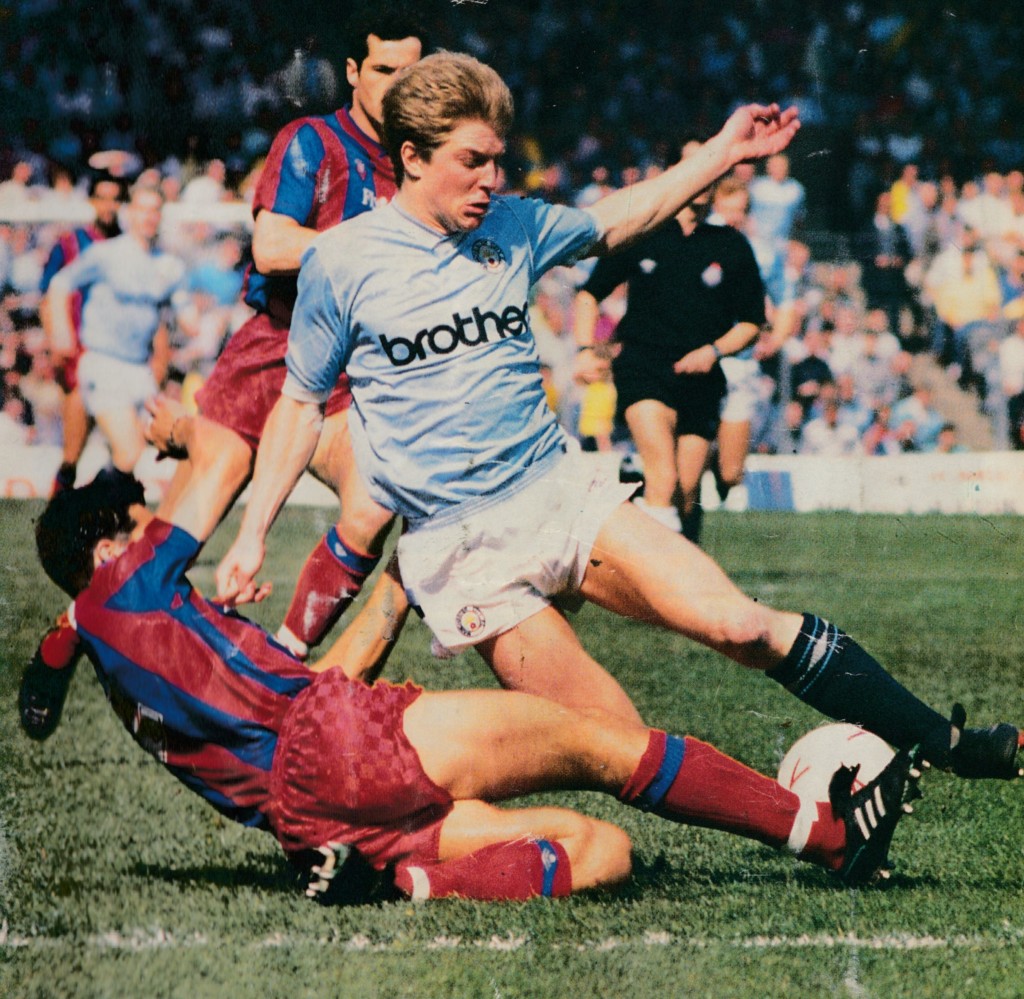 Following on from his 47th minute goal at Oxford United which sparked a superb City revival, it seemed as if he had set up another three points haul last Monday as he slid in at the far post to convert a sweeping cross from David White, but the loss of Dibble handed the initiative to Palace as City, not surprisingly, became intent on protecting their novice goalkeeper.
If this season ends in celebration, however, his contribution "between the sticks? may prove to be just as important as those goals and the Blues fans will be singing the praises of the former North East fireman who became an unlikely hero in the No, 1 jersey.
FROM AN ARTICLE PUBLISHED IN THE CITY PROGRAMME 6TH MAY 1989