BRADFORD CITY 1 CITY 1
League Division 2
13th May 1989
attendance 12,479
Scorers City Morley(86) Bradford Ellis(24)
Ref P Wright
City Cooper, Lake, Hinchcliffe, I Brightwell, Megson, Redmond, White, Morley, Moulden, McNab, Gleghorn – unused subs Oldfield, Taggart
By the time of the final match of the 1988-89 season, City were in second place in Division Two with a goal difference of 24, but Crystal Palace were only three points behind with a goal difference of 19. This meant the nervous Blues had to get a point from their last match at Bradford to be certain of promotion. The game commenced with City in typical 1980s big-match form, they conceded a goal from Mark Ellis after 24 minutes! Bradford pressed forward and the Blues simply panicked, although they did manage to get their act together a little before the interval.
At half time various scorelines filtered through from the delayed Palace-Birmingham match, with the most frequent rumour suggesting Palace were 4-0 up and in rampant form. City fans feared the worst, especially as, at times, it appeared likely Bradford would increase their lead despite considerable City pressure.
More whispers circulated that Palace had scored again. The tension was unbearable and for one fan, lvor McKenna, it was all too much. He ran on to the pitch to plead with the players for more effort, speaking with Paul Lake for a few moments before the police led him off the pitch. It later transpired he'd told the players Palace were leading 5-0.
With only four minutes remaining experienced goalkeeper Paul Cooper quickly threw to the unmarked Nigel Gleghorn, who passed to Paul Moulden. With David White racing down the wing it was inevitable Moulden would feed to the speedy attacker. Trevor Morley's view of what happened next: "All l can remember is Whitey getting it on his left foot and clippirg it in. I got goalside of the defender. The ball bobbled and I got very good contact. As soon as l did I knew it was going in."
City were level. The final minutes provided few further opportunities for either side to take the winner, and at full time Bradford officials wisely allowed the City fans onto the pitch to enjoy their celebrations. Following the awful Hillsborough disaster only four weeks earlier the sensible decision had been taken to keep the gates unlocked. On the pitch fans greeted their heroes and a few players lost their shirts to souvenir hunters. The Bradford supporters seemed equally delighted with the result and many celebrated with the men from Manchester.
AN EXTRACT FROM AN ARTICLE BY GARY JAMES PUBLISHED IN THE CITY PROGRAMME 14TH OCTOBER 2000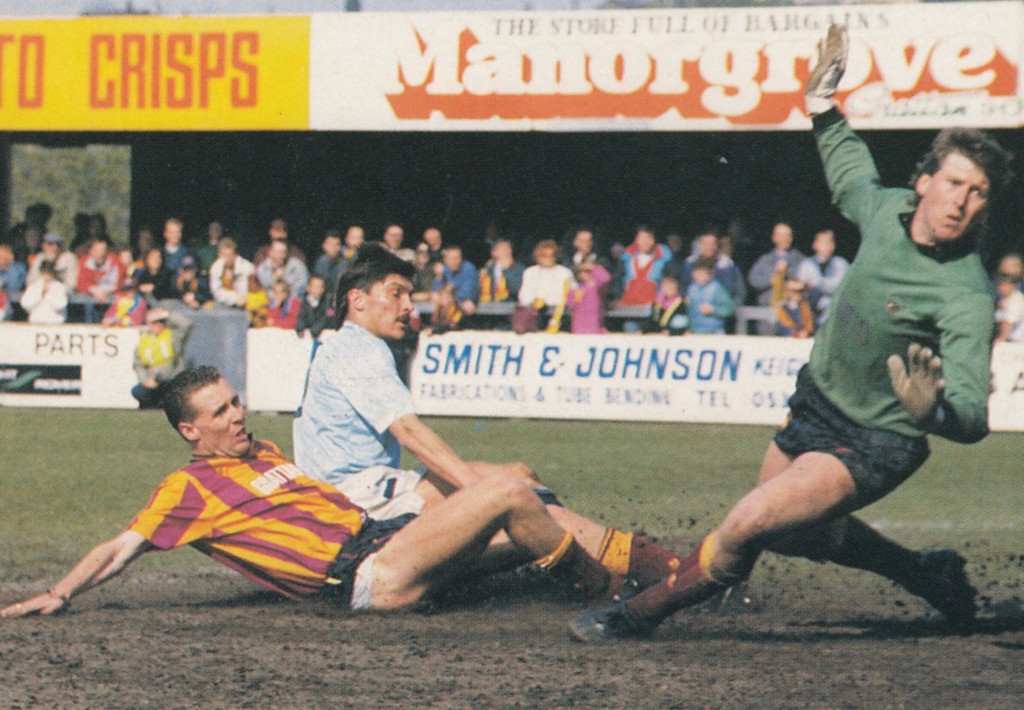 TREVOR MORLEY SHOOTS THE BLUES BACK INTO DIVISION ONE
From PAUL LAKE, I'M NOT REALLY HERE, A LIFE OF TWO HALVES by Paul Lake
On the morning of the big match I got out of bed at 8 O-clock and made myself my regulation breakfast of scrambled eggs on toast, swilled down with a mug of PG Tips.
… "One last big effort, Lakey" I declared out loud as I began the short journey to the Finglands coach depot in Rusholme. "C'mom, C'mom, C'mon!" I yelled, slamming my palms against the steering wheel.
I climbed onto the Bradford bound coach and took my seat near to Bob, Mouldy, Hinchy, Whitey and Gerry Taggart. Senior players including Nelly, Trevor Morley and Gary Megson had taken their usual places at the back and were already guarding their poker hands. Mel, Dixie and the rest of the coaching staff occupied the front rows, along with a select band of journalists who were permitted to travel with us to matches.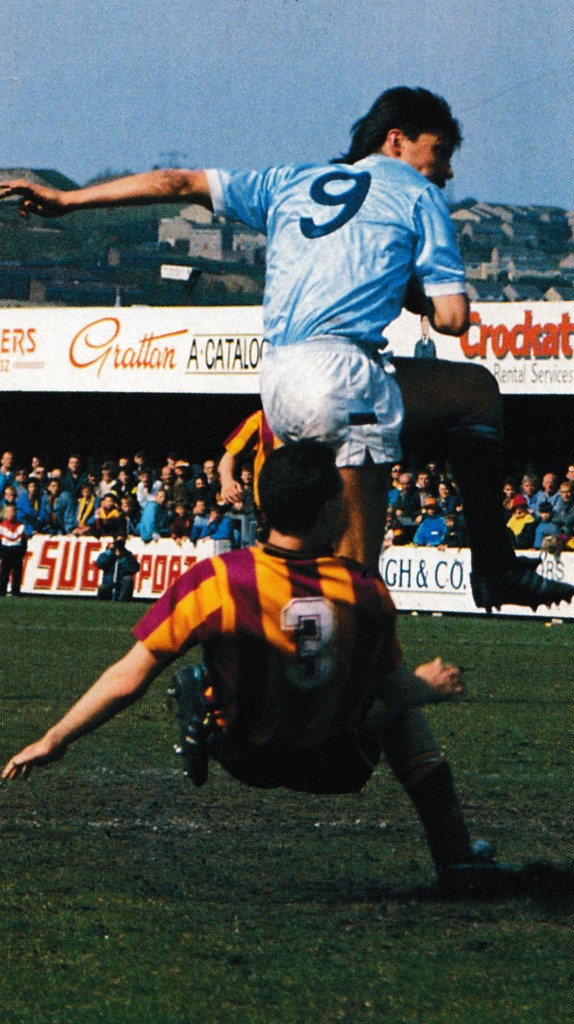 … We were hours away from one of the most important games of our lives, a game that we had to win or draw since Crystal Palace were still in with a shout. The facts were simple, if we were to lose at Valley Parade, and Palace were able to beat a relegated, demoralised Birmingham City by a margin of four goals, we'd be doomed to the play-offs.
Of great comfort to the younger lads was the fact that Tony Book and Glyn Pardoe were travelling with us that day. Just their mere presence had a soothing effect. Usually involved with the reserves or youth team on a Saturday, my former mentors had been given special dispensation to accompany us on the journey and it was strangely relaxing to hear their friendly voices chatting about this, that and everything. The gaffer, like a Trappist monk, remained silent and contemplative the whole time, He'd spent the lead up to the game talking tactics and lifting spirits and, as far as he was concerned, he'd said all that needed to be said.
"Stay focused, lads" he'd stressed earlier that week, drumming into us the importance of remaining mentally strong and steadfast. "I can't tell you how vital it is that you keep your mind on the game". That it transpired was easier said than done as we made our way to Bradford. Maintaing a state of calm proved to be virtually impossible, when all we could see out of the coach window was a convoy of Blues in full blown party mode, with carfuls of fans honking their horns, hanging out of their windows, singing City songs and waving their blow up toys.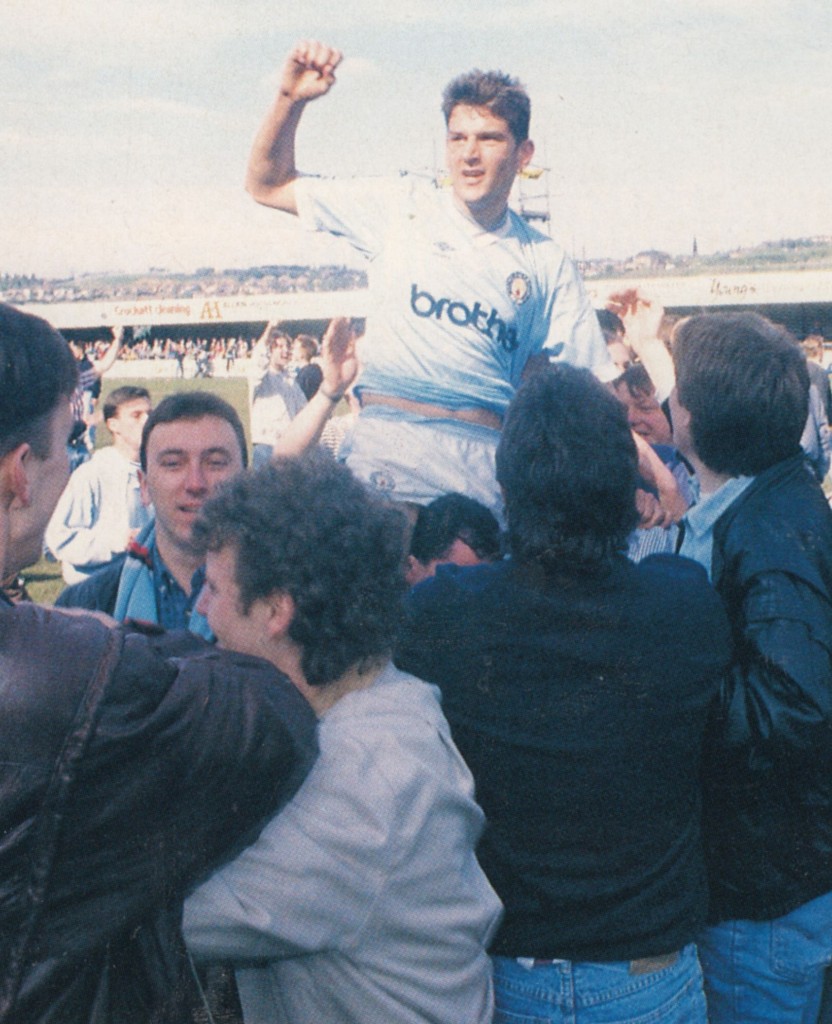 I remember seeing a Vauxhall Nova covered in inlatable fried eggs go racing by. Then a Chrysler Sunbeam with a quartet of rubber dolls pressed against each window. Followed by a Volvo estate with a tyrannosaurus rex strapped to the roof rack. I'd never taken LSD but this was probably the closest thing to an acid trip I was ever likely to experience.
… We were walking out into the warm spring sunshine to assess the Valley Parade pitch. It wasn't in the best of condition, to put it mildly. We surveyed the dry, dusty and cratered surface with heavy hearts, knowing that it would severely hamper our usual brand of flowing attacking football.
Hovering around the tunnel area with a camera crew in tow was ex City boss John Bond, who had been dispatched by Granada TV's 'Kick Off' to report on the match. Mr Bond had spent the majority of the season slating us in the media and failing to recognise that his former club, on a shoestring budget and featuring a crop of youngsters, had done fantastically well to get to the verge of promotion. His scornful style of punditry hadn't made him many friends at Maine Road.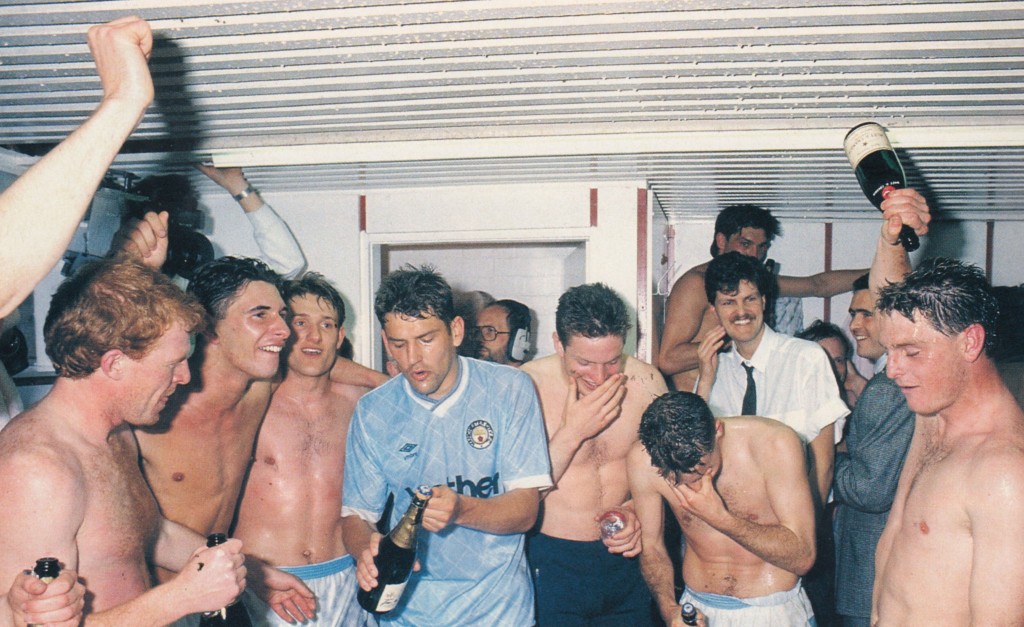 … I'm not doing an interview with that @*&%! was the general consensus among the players, and we all proceeded to snub him as he waved his microphone in our direction.
"Er, lads, can I have a quick word?"
"You can have two, John. Fuck and Off!"
The City fans, as vociferous as ever were packed behind the goal as we defended in the first half. Like many sides with nothing to play for, a relaxed Bradford City started the brighter.
… In those early stages we were definitely guilty of thinking far too much about the result, instead of concentrating on the job in hand and heeding the gaffer's advice to approach it as just another game.
As we suspected the pock-marked pitch didn't do us any favours, and the simplest passes ricocheted off the surface at random angles. It was one such dodgy divot that gave Bradford a lucky break in the 24th minute. Mark Ellis pinged a shot across the box, and one fluky bounce and six bobbles later the ball trickled over Paul Cooper's goal-line to make it 1-0. Strange though it may seem, this goal didn't send us into a flap; quite the reverse, in fact, it actually woke us up and galvanised us all into action. As half-time approached, we'd already seen several goalscoring chances go begging, with Nigel and Mouldy coming tantalisingly close.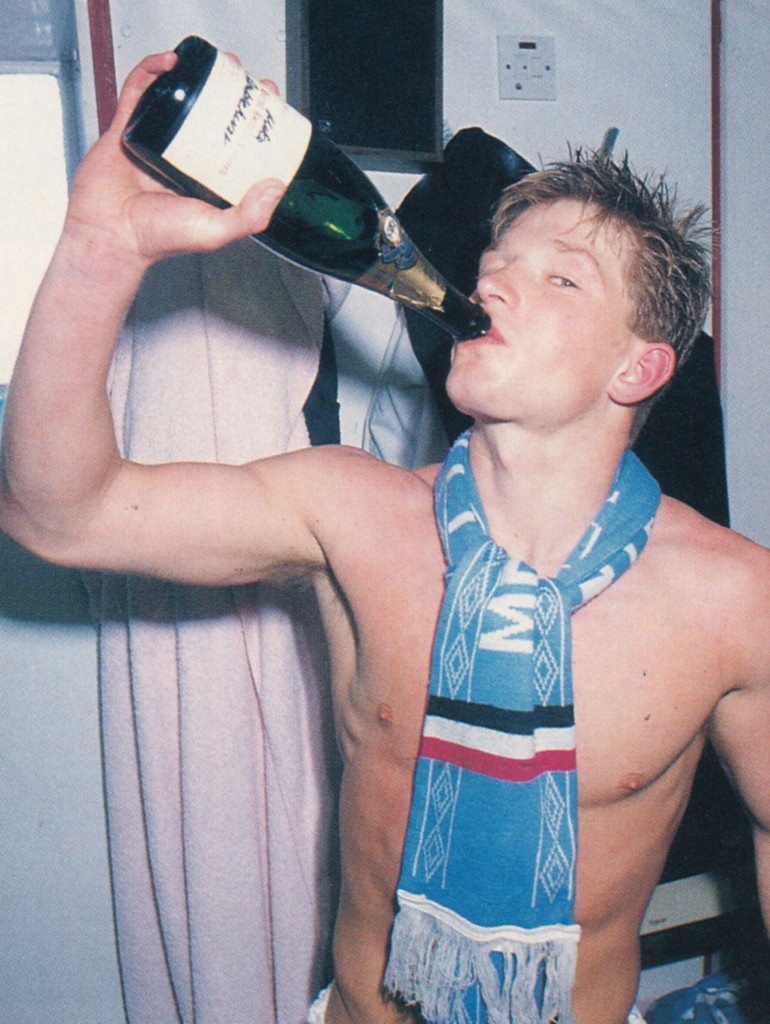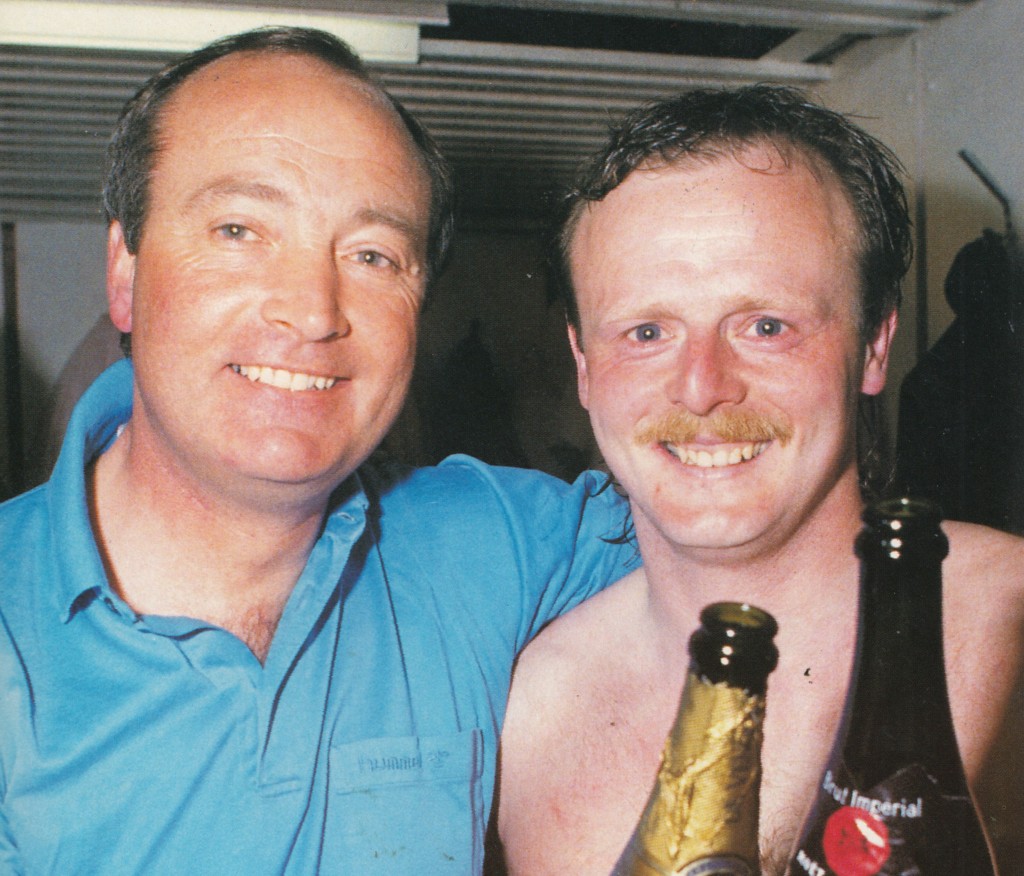 In the dressing room, an extraordinaringly calm Mel Machin sat us down and, speaking in quiet, measured tones, told us to hold our nerve and not trouble ourselves with negative thoughts. "It will come lads," he insisted "it will come."
The ensuing second half was like The Alamo, save a couple of breakaway attacks from Bradford. Time and time again we'd create a good opportunity in front of goal, only for a bad bounce to skew the end result. The home side, to their credit, scrapped like tigers and soon realised that the only way to knock us off our stride would be to increase the physical nature of their game.
"Let's piss on their chips and shut that lot up." I heard one of their players shout as he gestured to the legions of rowdy banana-waving City fans.
… Nigel Gleghorn was the first to get scythed down but, luckily for us, remained in one piece. Gleghorn and McNab had been our star performers on the day, the former jinking, checking and bombarding the box with quality balls, and the latter changing defence into attack with his hallmark killer passes.
It was only a matter of time before our equaliser arrived. Hand on heart that's how confident we felt. And this was in spite of the news filtering through to us from the stands and the dugout that the nightmare scenario of Crystal Palace thrashing Birmingham was coming to fruition.
… I saw a City fan running onto the pitch. Sporting a shaggy brown mullet and dressed top to toe in stonewashed denim, he looked like an escapee from a Status Quo tour bus. God knows how he'd managed to hurdle over the hoardings because the lad seemed completely bladdered. He started remonstrating with Reddo, so I sprinted over to try to calm the situation down. The fan then turned his attention to me, grabbing my waist and squaring up to me eyeball to eyeball. "Lakey, Lakey, Palace are stuffing Birmingham 5-0" he slurred (He'd actually been given some duff information; it was 4-1 at the time).
"If it stays like this we won't go up, mate. You've gotta tell everyone to pull their finger out…"
"We are doing, Pal we are" I said guiding him towards the touchline.
… Contrary to popular myth, it wasn't this fan's intervention alone that changed the course of the game. While the break in play certainly gave us a couple of minutes to regroup and refocus, it was our unrelenting pressure and self belief that finally did the trick. The hallowed equaliser came in the 86th minute, a superbly worked piece of skill by Paul Moulden who hooked a perfectly flighted pass into the channel. David White, on the left side of the pitch and on his wrong peg, managed to steal a yard and whip a precision cross onto the incoming foot of Trevor Morley, who slid the ball past keeper Paul Tomlinson.
Back of the net. Back where we belonged. And back home to Manchester for the mother of all parties.