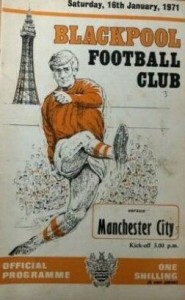 BLACKPOOL 3 CITY 3
League Division 1
16th January 1971
Attendance 29,356
Scorers
City Summerbee(42 & 85), Bell(78)
Blackpool Craven(1), Pickering(10 & ?)
Ref K Burns
City Corrigan, Book, Mann, Doyle, Booth, Oakes, Bell, Summerbee, Lee, Young, Jeffries – sub Bowyer(45)
Blackpool Taylor, Armfield, Mowbray, Kemp, James, Hatton, Green, Craven, Pickering, Coleman, Burns – sub Suddick(59)
CITY GOALS FROM SUMMERBEE, KING COLIN AND BUZZER AGAIN
Relegation threatened Blackpool certainly caught City by surprise at Bloomfield Road. Driven on by ex Blues' midfielder Tony Coleman they stormed to a two goal lead within the first ten minutes.
The Seasiders scored in just 50 seconds through John Craven, then on 10 minutes, Fred Pickering headed in a Fred Kemp cross, to make it 2-0.
City's forward line was not in good repair, both Neil Young and Francis Lee took early heavy knocks which left young limping for the rest of the game and Lee unable to to take to the field after half-time. However, City managed to keep out any further goals before the break and it was left to Mike Summerbee and Colin Bell to try and trouble the Blackpool defence, which they did three minutes before half-time, Bell striding down the right wing, crossed for Summerbee to score a lovely goal.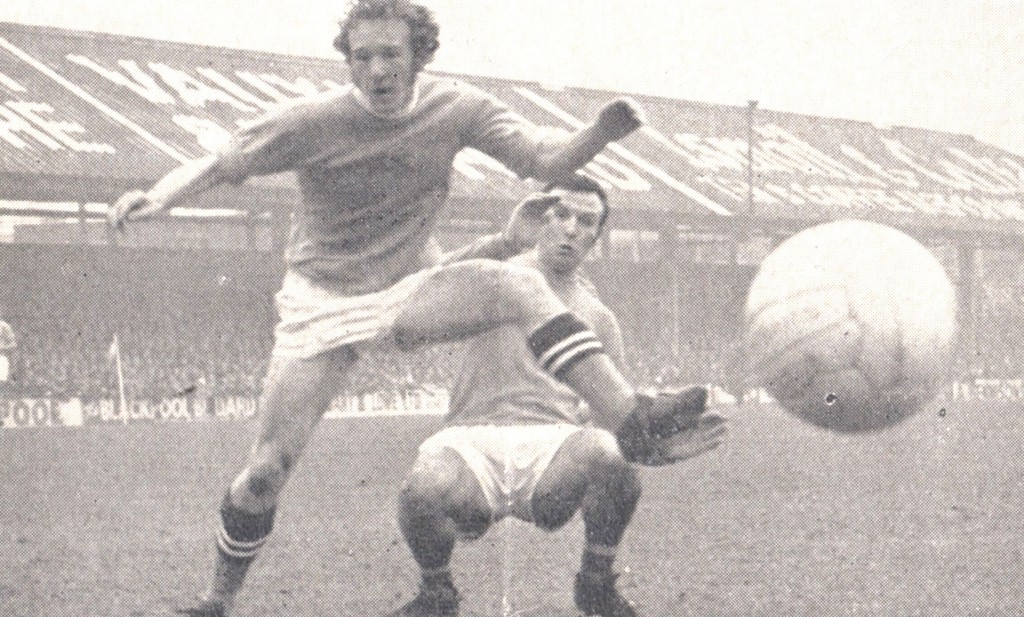 After the break however, Corrigan made a bit of a hash of a low centre from Kemp, parrying it straight to Pickering, who made no mistake with his second goal of the game.
Blackpool's intensity throughout the game saw them notably tire towards the last quarter of an hour, and that was all the cue needed for City to put in a last 15 minute match saving performance. Summerbee returned the first half compliment by feeding Bell, who made it 3-2 from close range, and then with just five minutes left, Young centred for Mike Doyle to head the ball into Summerbee's path and he also used his head to nod the ball past Taylor to make it 3-3 and salvage a point for the Citizens.