CITY 3 BIRMINGHAM CITY 0
Nationwide League Division 1
15th September 2001
Attendance 31,714
scorers Goater(23 & 42), Dunne(24)
City Weaver, Dunne, Pearce, Howey, Edghill, Etuhu, Benarbia, Tiatto, Granville, Goater, Wanchope – subs Dickov(80), Horlock(74), Huckerby(80), Murphy(unused), Colosimo(unused)
–
Birmingham Kelly, Gill, Bragstad, M Johnson, Grainger, Eaden, O'Connor, Hughes, Woodhouse, A Johnson, Horsefield – sub Hutchinson(45), Lazaridis(45), Furlong(79), Sonner(unused), Vaesen(unused)
 A minutes silence for 9/11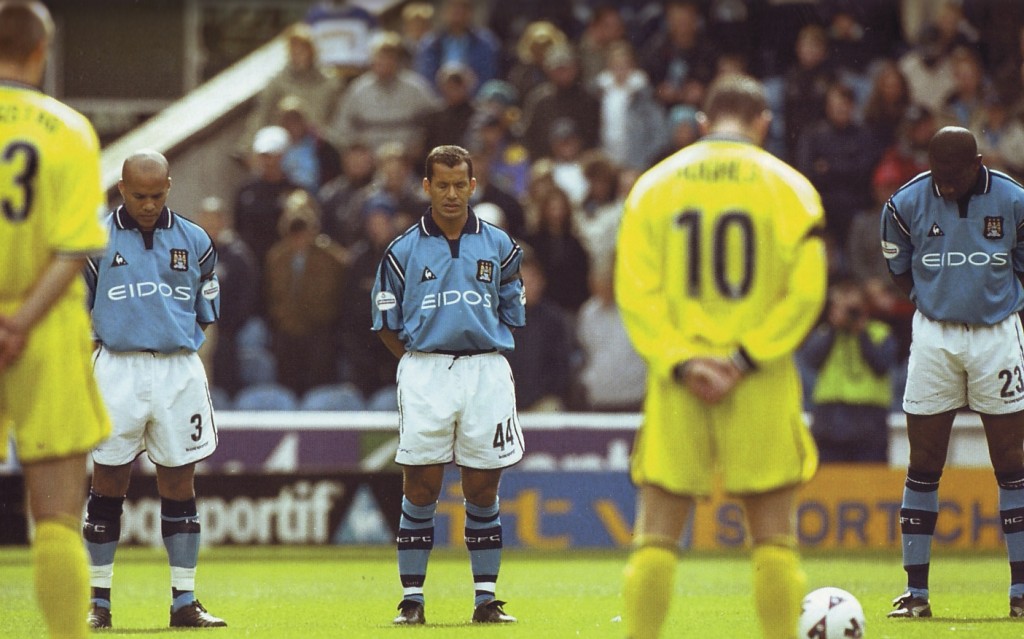 Richard Dunne scores
Sean Goater scores City's 3rd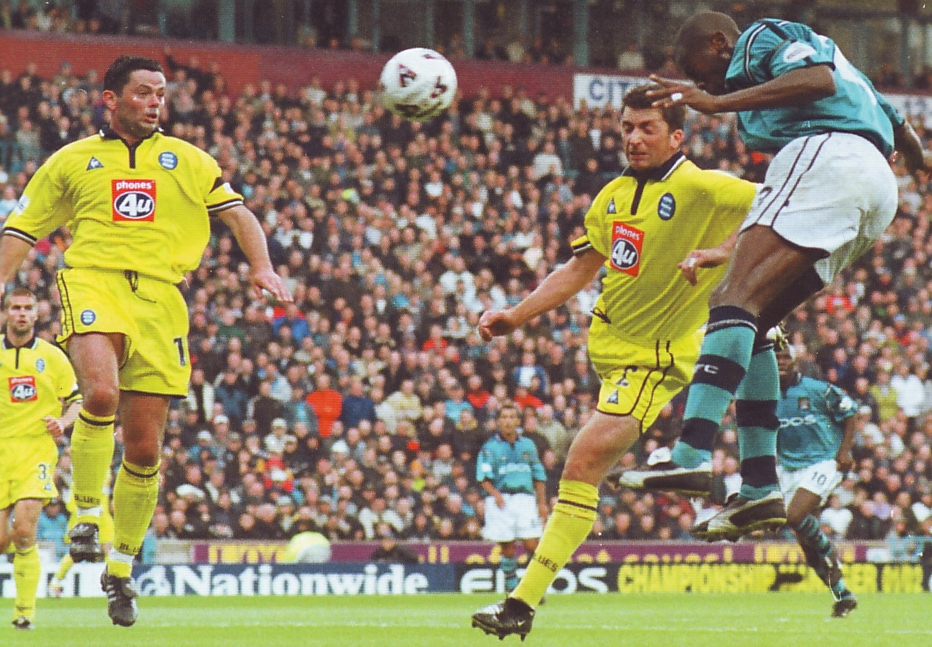 What The Press Said
A STAR IS BORN
Magic Man Benarbia Helps His New Mates To Start Thinking Big
THERE's a new Ali shuffle on the sporting stage and it's set to become a Maine Road knock-out. For the second time in just three home games Manchester City fans witnessed a debut of the highest class with Algerian star Ali Benarbia carrying on from where Eyal Berkovic so spectacularly left off against Watford. Benarbia arrived in Moss Side on Thursday clutching a fistful of championship medals from his days with the giants of French football and a CV to match anything seen in this half of Manchester in the last three decades. He has played with and against all the great luminaries of the modern French era and, what is more, topped a players' poll in which virtually all of the World and European Championship winning squad were fancied contenders. The 32-year-old's game is built more around stealth than speed but his brain is as nimble as a gazelle. Wherever the front players ran, he delivered the ball perfectly It was football at a quite different level to that which the current Maine Road generation have been used to and if Kevin Keegan ever manages to put the Algerian and Israeli on the same pitch then the subsequent pyrotechnics promise to be extraordinarily spectacular. Already this season the Maine Road manager has, on more than one occasion, questioned the selection procedure used by his players when it comes to passing. The thought process – or rather more precisely the lack of thought process – has troubled Keegan greatly. He can rest more easily now Benarbia has arrived.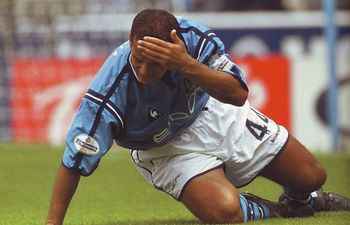 Never can someone with just an hour's training under his belt have produced such a footperfect performance. Not only is the Algerian supremely skilful but he has the happy habit of making the rest of the team look good too – and if that doesn't make him instantly popular with his team-mates nothing will. Not that he, or any other player, is capable of winning matches on his own which is why Keegan finally wore the look of a contented man after this third home win. Forget the rollercoaster rides against Crewe and Burnley or the cruise against a disjointed Watford, this was easily the best performance of the manager's short reign. From back to front, the Mancunian Blues were head and shoulders better than a Birmingham team that arrived brimful of confidence after six wins on the bounce.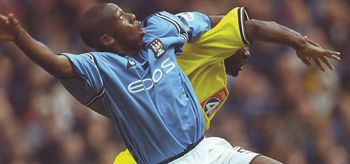 The pivotal early moment was a magnificent reaction save by Nick Weaver from a point-blank eighth-minute header by Geoff Horsfield. If that had gone in who knows what it might have done to the Blues' fragile confidence, but it didn't and they went on to give their visitors the Brum's rush for the fourth time in succession. Paulo Wanchope and Shaun Goater had already gone close before a pair of goals in as many minutes effectively ended the game as a contest. The first came after an exchange of passes on the right by the impressive Richard Edghill and Benarbia. The Algerian's final ball gave Wanchope a slim opening and when the Costa Rican's effort rebounded from the post, Goater was on hand to make it eight for the season. Two minutes later it was 2-0 when Benarbia collected Danny Tiatto's short pass and mesmerised the whole of the Birmingham defence with a cute reverse ball that allowed his Aussie co-conspirator to curl in a cross that Richard Dunne despatched with his left shin. Despite goals on the World Cup stage for the Republic of Ireland it was the central defender's first at club level. City were rampant and in the 42nd minute added more gloss to an already shining effort when Goater made it 3-0 with a close-range header from a Stuart Pearce corner that had been deflected on its way by defender Jeremy Gill.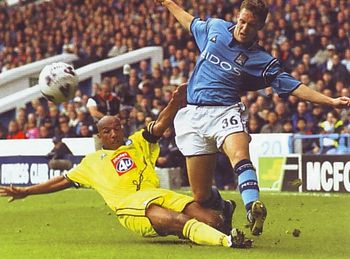 Teenager Dickson Etuhu was perhaps the happiest person to see the ball hit the net for it had been his persistence that had won the corner in the first place. Playing in the holding midfield role, Etuhu showed great strength, promise and awareness for someone who had never before played on such a stage in front of such a crowd. Only some sloppy second-half passing let him down, although that was entirely understandable and forgivable given the amount of effort he expended in the cause. The second half was notable only for Keegan's men not being able to add to their tally as Birmingham went into face-saving mode. Even so, it took two splendid Alan Kelly saves to prevent Tiatto and Goater from adding to their side's tally. FROM MANCHESTER EVENING NEWS BY CHRIS BAILEY AND PAUL HINCE