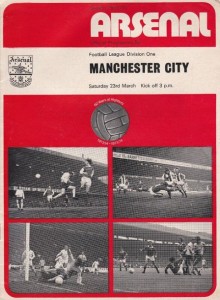 ARSENAL 2 CITY 0
League Division 1
23rd March 1974
attendance 25,319
scorers Radford(8 & 73))
Ref D Biddle
City MacRae, Pardoe, Donachie, Doyle, Booth, Horswill, Summerbee, Bell, Lee, Oakes, Tueart – Sub Carrodus(unused)
Arsenal Wilson, Rice, Nelson, Storey, Simpson, Kelly, George, Ball, Radford, Kennedy, Armstrong – Sub Brady(89)
FROM THE PRESS BOX

JOHN SAMUEL WRITING IN THE GUARDIAN 25TH MARCH 1974
Arsenal eased away from the relegation strugglers with only their second victory since Christmas, but to achieve it they needed a performance from Wilson brimful of quickness, bravery, and sound positioning. He will be a hard man to replace when his time for retirement comes.
One save from Bell, whose volley from Summerbee's corner was struck with absolute precision and timing, bordered on the magical. Bell looked stupified, as well he might, but a few seconds later Wilson was arching backwards like an Olympic gymnast, to touch the subtlest of lobs from Summerbee over the bar. As he took a goal kick a few minutes later the crowd broke into a sustained burst of applause.
A little before he had denied Tueart's wickedly sharp shot from the right, and, just afterwards, he tipped over another awkwardly deflected ball off Simpson's body. All the same, this was a day when Arsenal's mallet was nearly always more effective than City's chisel. Radford scored both goals and his domination of Booth was a crucial factor. Mr Biddle clamped down quickly on some early physical treatment, and the centre forward was not slow to profit.
In midfield Arsenal never relented. Ball, especially in the match's first swift blooming, Kelly and, critically in the second half, a partially cropped and wholly revitalised George narrowly won a battle which Bell and Oakes contested bitterly.
City had failures: Arsenal had none. Lee stumbled around like a man in the dark, Horswill on the other hand seemed half blinded by the brighter light of the First Division. Tueart looked to have settled more quickly. He has the essential speed and gifts of the unexpected, though City may find he is a player who needs the ball to a certain order.
Arsenal scored the first of two good goals after eight minutes, Radford turning in George's scudding cross by the near post. George, Rice and Kennedy contributed to another fine attack but ball miskicked in front of goal: Donachie almost caught Wilson by surprise with a clean, swift shot. It was exciting stuff. There was lots of clever touch football, but by the middle of the half the frost set in.
The game did not revive to this order until after Arsenal's second goal in the 73rd minute. George kicked a crossfield pass fully 70 yards to Armstrong on the left. The winger beat Pardoe on the outside, switched the ball back from the by-line and Radford headed in by the near post. City's professional pride was wounded but Wilson's inspiration was the equal of Bell's, and Arsenal moved out of the Second Division shadow which briefly had flickered at their heels.