2009/10 SEASON 
 After the disappointment of not qualifying for Europe last season, City fans were hoping for some major signings in the pre-season to push the Blues to the next level, and they weren't disappointed.
No sooner had the 2008/09 season ended and Mark Hughes announced the £12M capture of England star Gareth Barry from Aston Villa.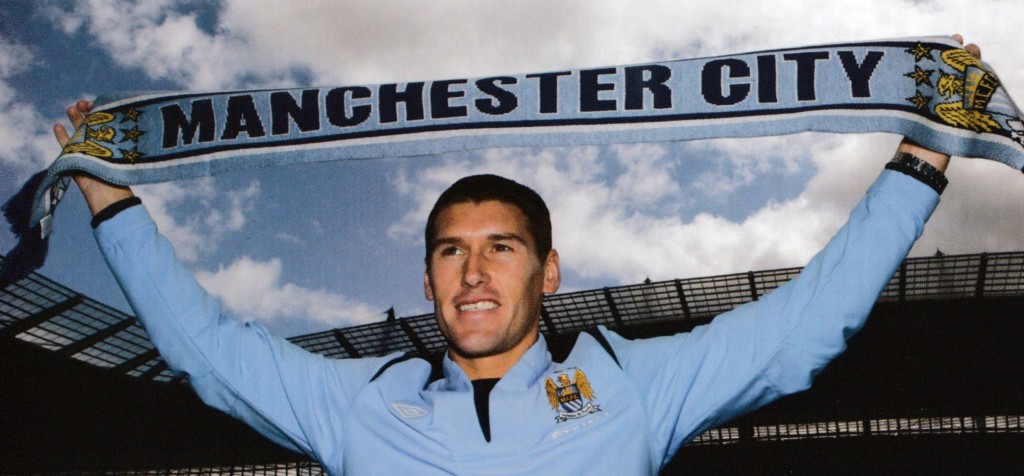 City then bolstered their frontline with £17M purchase of Roque Santa Cruz from Blackburn.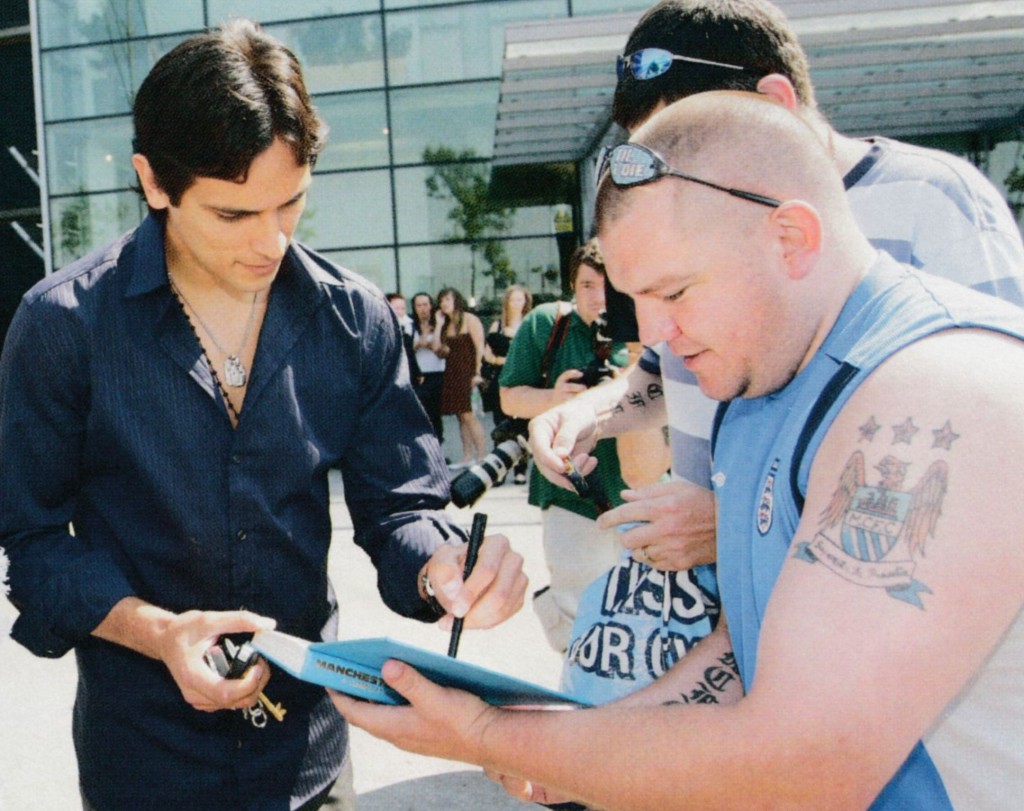 Joe Hart was allowed to go on a season long loan to Birmingham and so former England Under-21 goalkeeper Stuart Taylor was brought in from Aston Villa to act as cover for Shay Given. An expected departure from City was Gelson Fernandes who moved to St Etienne for a fee believed to be £1.5M. In addition out of contract players Michael Ball, Dietmar Hamann, Danny Mills and Darius Vassell also left the club. After a long protracted attempt to bring Samuel Eto to Eastlands City finally pulled out of the deal after Eto and Barcelona could not agree on a loyalty payment, however the City fans weren't left disappointed as The Blues announced the signing of Carlos Tevez.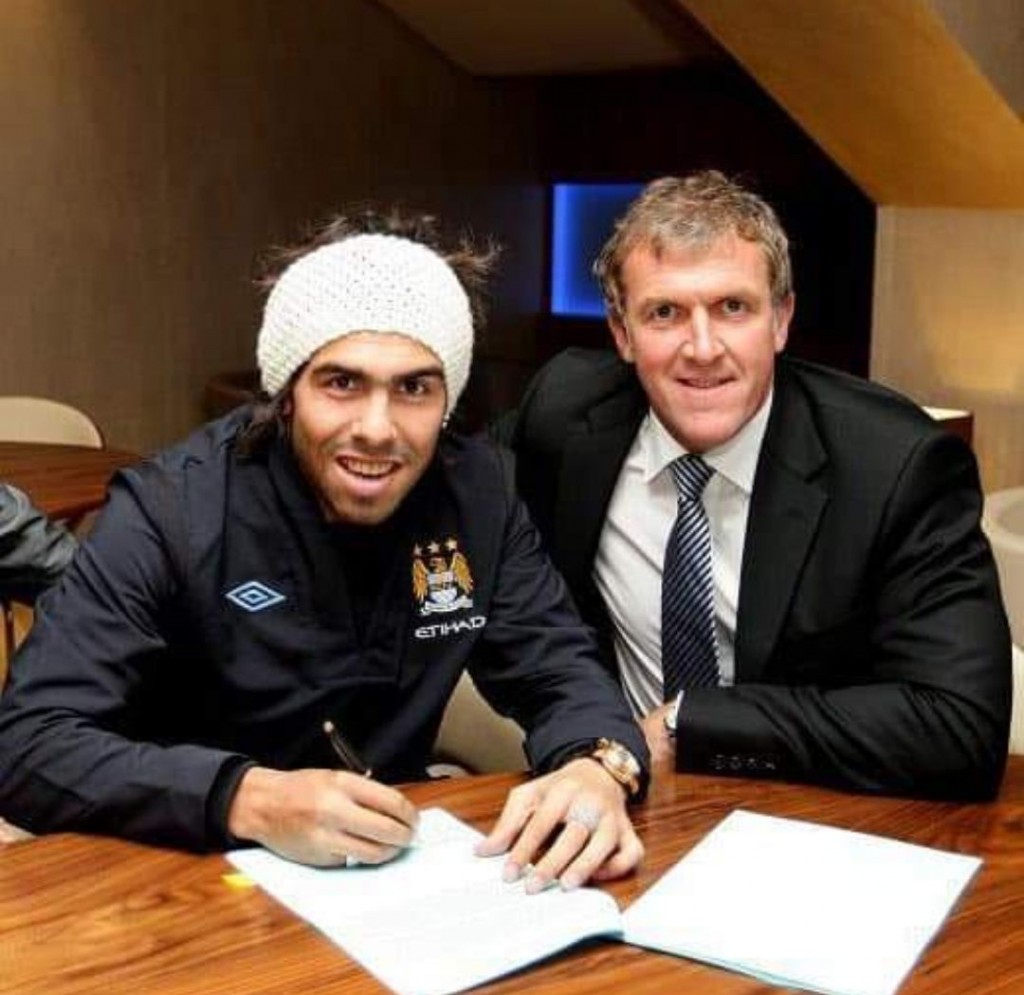 The Argentinian ace had finished a two year loan spell at Manchester United and snubbed the chance to join them permanently in favour of a move to The Citizens. The 25 year old's fee was in the region of £26M.
Another player allowed to leave on a season long loan was Jo who renewed his time with Everton.
Mark Hughes had taken some of the squad to Germany on training camp and whilst there they played a low key friendly against 1860 Munich which ended in a 1-1 draw.
With the Tevez signing in the bag the squad flew to South Africa for the Vodacom Challenge and opened with a game against the Orlando Pirates , disappointedly the Blues lost 2-0, however Mark Hughes did only put out a second string team with only Ireland, Zabaletta and Bellamy who will be potential starters in the Premier League. None of the new signings played apart from Shay Given's deputy Stuart Taylor.
The game was beamed back to a large screen outside Eastlands and 2,800 fans turned up to watch and to celebrate City's new Umbro kit launch.
There was more to celebrate after the game as news came through that The Blues had signed Emmanuel Adebayor from Arsenal for an undisclosed fee believed to be around £25M.
City's second game of the tour was a 1-0 win against Kaizer Chiefs . Setting up a final against the same team to be played four days later.
Meanwhile with the City squad getting ever larger, it was announced that Felipe Caicedo had joined Portuguese team Sporting Lisbon on a season long loan and Shaleum Logan joined Tranmere Rovers also on a season long loan. A more permanent move was announced for Ched Evans as he joined Sheffield United for a fee rising to £3M.
The Blues lost the Vodacom Challenge final 1-0 to the Kaizer Chiefs in front of a vociferous crowd of 25,000 in Pretoria
The revolving door at Eastlands carried on spinning with players coming to and leaving the club, Kolo Toure joined his ex Arsenal team mate Adebayour at Eastlands in a deal worth around £15M.
£8M was recouped as Elano left the Blues to join Turkish side Galatasaray. Danny Sturridges time at City also ended as he signed for Chelsea with a compensation fee to be decided on a later date. Valeri Bojinov also left for Parma but only on a one year loan deal.
The first friendly of the season on English soil was a 1-1 draw at Barnsley.
With just two more friendlies left against Scotlands big two the news on City's new boys was that Tevez was struggling to be fit for any of these games and Santa Cruz was definitely out until at least September as he was still recovering from last seasons knee injury.
City travelled to Glasgow and lost 3-2 in their penultimate friendly at Rangers and then beat Celtic 2-1 at Eastlands. The day before the season started and Kasper Schmeichel leaves Eastlands to join Sven Goran Eriksson's new revolution at Notts County for an undisclosed fee.
The opening Premier League game was away at City's bogey side Blackburn , however The bogey counted for nothing as City's stars, won 2-0 with debutant Adebayor scoring after just three minutes.
City had been invited to play Barcelona in the prestigeous Joan Gamper Trophy and it proved to be a great night for the Blues as they won 1-0 in the Camp Nou
Back to the league and a capacity Eastlands crowd saw City make hard work of a 1-0 victory over Mick McCarthy's newly promoted Wolves side, however it meant 6 points out of 6 and no goals conceded, Sheikh Mansour had every reason to be happy with his early season spending.
The spending continued as Mark Hughes brought in two defenders, the long courted Joleon Lescott arrived from Everton for a fee believed to be £24M and 35 year old Brazilian veteran Silvinho joined on a free from Celta Vigo.
City then beat Crystal Palace 2-0 away in the 2nd Round of the League Cup, the kind of banana skin game the Blues had slipped up in previous seasons.
The Blues made it two away wins on the trot as they beat Portsmouth 1-0. and moved into the top four with 9 points out of 9 and not a goal conceded.
On the final day of the transfer window two defenders left Eastland Richard Dunne bades an emotional farewell to the City fans as he joins Aston Villa for £6M and Tal Ben Haim moved to Portsmouth on a free. Mark Hughes' team faced their toughest task of the season so far as they played an in form Arsenal at Eastlands.
A record City of Manchester Stadium crowd were not disappointed as City defeated the Gunners 4-2 making it four wins out of four in the Premier League.
Unfortunately Adebayor was in trouble with the FA for two incidents in the win over the gunners, controversially he was banned for 3 games for a stamp on Robin Van Persie after inconclusive video evidence, and was given two weeks to answer a charge that he incited the Arsenal fans after he ran the full length of the pitch to celebrate his goal in front of the Arsenal fans.s, Adebayors absence from the Derby a week later was obviously a boost to City's rivals from Old Trafford, however in one of the most entertaining Derbys ever City came from behind three times but lost 4-3 to Manchester United in a game full of incidents, United's winner was scored in the sixth minute of added time after referee Martin Atkinson had indicated just 4 minutes would be added on, Craig Bellamy  was involved in an altercation with a fan who invaded the pitch after City's third equalising goal and substitute Javier Garrido was hit on the head by a coin thrown by a United fan as the teams left the pitch at half-time.
Despite the defeat The Blues were still in 5th place in the league with a game in hand on all of their rivals.
Three days later a weary City side beat Fulham 2-1 in extra time of the 3rd Round of the Carling Cup.
Back in the league and another home win as The Blues beat West Ham 3-1, a game which saw late appearances from long term injured pair, Michael Johnson and Roque Santa Cruz. City put up a great away display a week later with a 1-1 draw against an Aston Villa team who are also looking to be in the top six this season. The Blues went into the two week international break in a very healthy position, they were fourth in the league on 16 points and with a game in hand on Spurs, Man United and Chelsea the three teams above them.
Back from the international break The Blues earned another good away point in a 1-1 draw with Wigan , however a week later it was more two points dropped than one point won as City drew 2-2 against Fulham at Eastlands.
City earned a Quarter-Final place in the Carling Cup as they beat Scunthorpe 5-1 in front of an Eastlands crowd of over 36,000.
Three further draws followed 0-0 at Birmingham , a disappointing 3-3 draw at home to Burnley and after a further international break a good 2-2 draw at Liverpool . It meant six draws on the trot, a club record. A week later it was a Premiership record with a seventh draw this time 1-1 at home to Hull.
Unbeaten in seven or no wins in seven the media were certainly highlighting the latter and the pressure was mounting on Mark Hughes.
A fantastic 3-0 win at Eastlands against Arsenal's youngsters in the Carling Cup earned City their first semi-final for 28 years and it was made sweeter when The Blues drew Man United 'out of the hat' minutes after the game finished.
With sprits high after the Cup win City produced another fantastic performance, beating league leaders Chelsea 2-1 at Eastlands. and cementing a place in the top six, still with a game in hand.
Unfortunately The Blues then drew again 3-3 at Bolton and were then beaten by Spurs 3-0 at White Hart Lane in a drab display, which saw them slip down to eighth in the league with the busy Christmas schedule looming.
Prior to City's next game at Eastlands against Sunderland the press were reporting that Mark Hughes days as boss were numbererd and he could be sacked before Christmas, it would be sooner than they thought, City won 4-3 and shortly after the final whistle it was announced that Hughes had been sacked. Craig Bellamy remembers; "someone came down from upstairs and asked Shay and Kolo Toure to go up to the boardroom. They came back down after 15 minutes and said Sparky had been sacked and that Roberto Mancini would be replacing him. We were told we shouldn't say anything to the press and that our Christmas party had been cancelled." Soon after it was announced that Roberto Mancini had been given a long term contract to take over the management, in addition most of Hughes' background staff including Mark Bowen were also sacked and Brian Kidd was named as Mancini's assistant.
Mancini confirmed he was on a three and a half year contract with the option for City to dispence with his services after six months if he does not succeed and reach the Sheikh's target to finish in the top four at the end of the season.
The charismatic Italian couldn't have asked for a better start as City beat Stoke 2-0 at Eastlands on Boxing Day and then in the last game of the decade The Blues beat Wolves 3-0 at Molyneaux. With the big freeze hitting the UK City's FA Cup 3rd Round Tie was in doubt, however despite thousands of City fans being unable to get to the game in Middlesbrough due to the elements, the game went ahead and it was a third clean sheet on the trot as Mancini's team won 1-0.
It was turning into the coldest winter for decades and the snowstorms were incessant.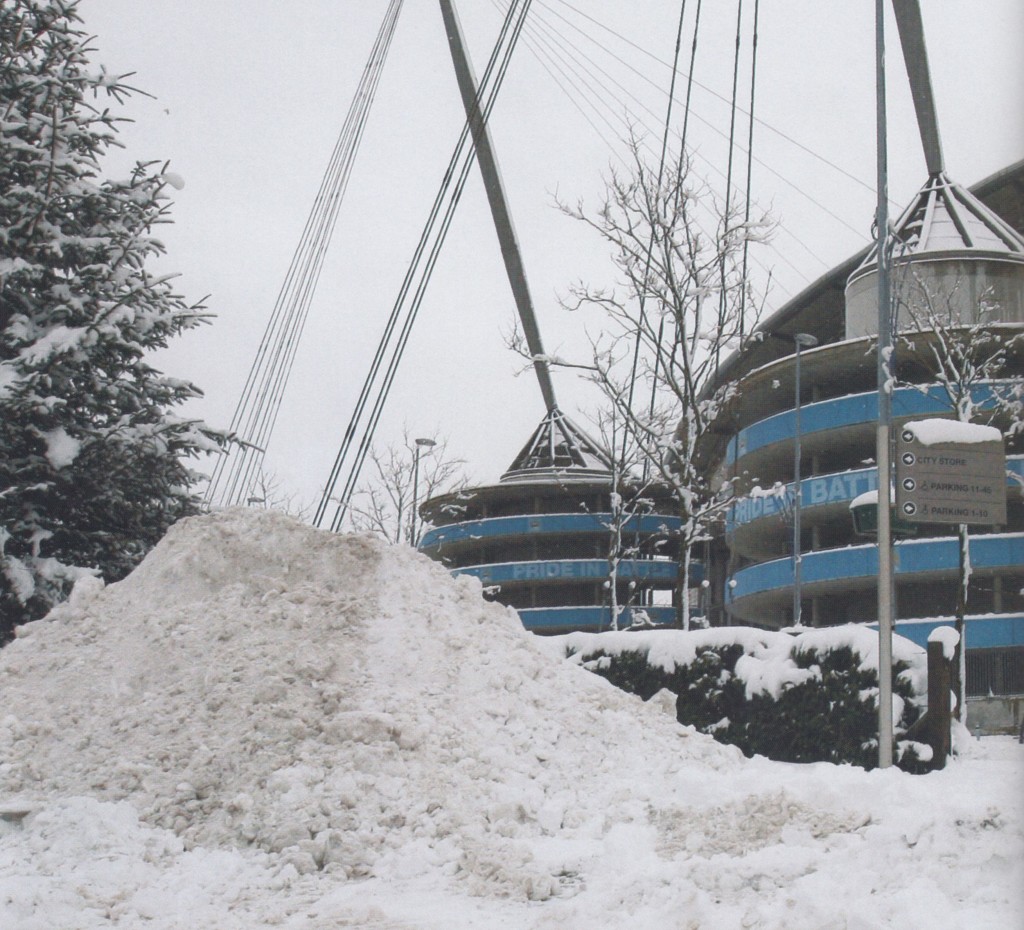 The City pitch was  still in pristine condition however the roads around the ground were virtually impassable and therefore City's highly awaited first semi-final since 1981, against rivals Manchester United was called off by the police on health and safety grounds.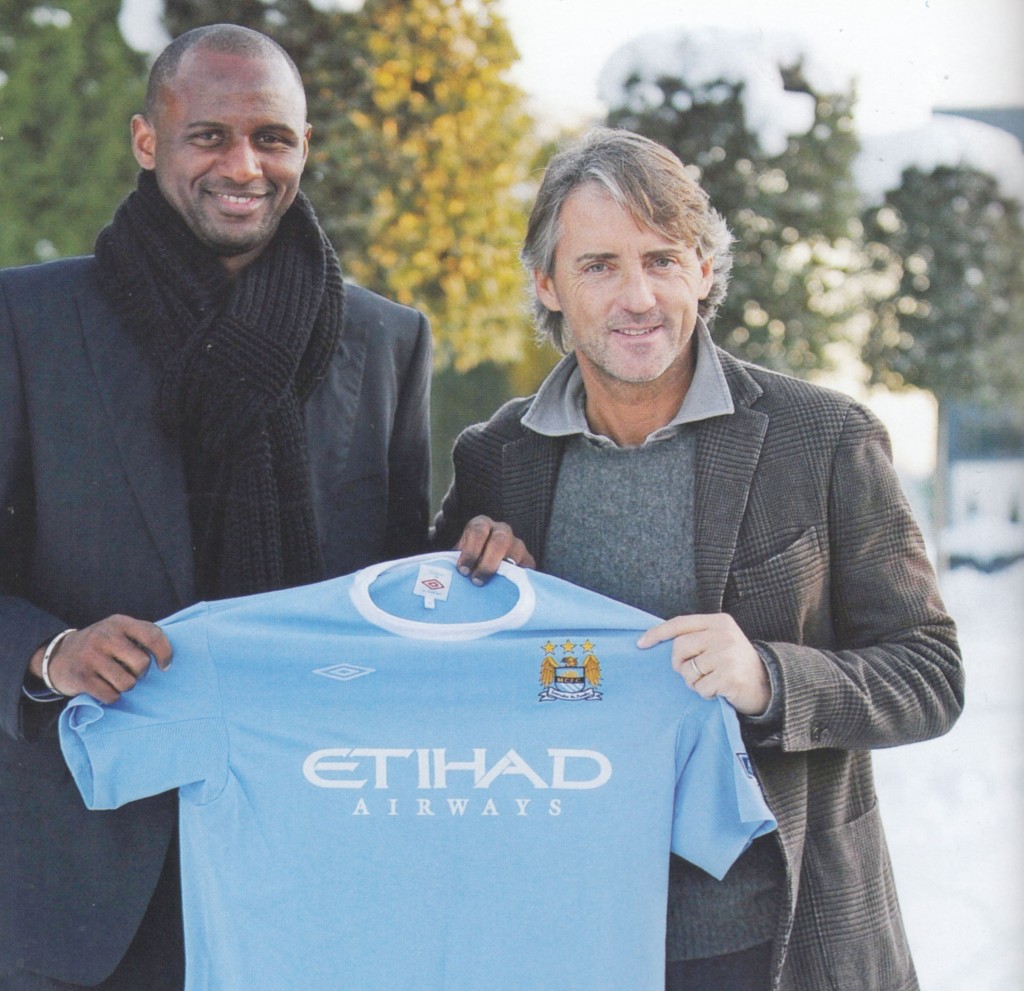 Mancini made his first addition to the squad as he brought in 33 year old Patrick Vieira from Inter Milan, initially on a six month deal with the option of a further year.  There was sad news from the African Cup of Nations where the cream of African's European based stars were eagerly awaiting the start of the tournament, Kolo Toure and Emmanuel  Adebayor were representing City however Adebyour and his team-mates from Togo were attacked in there coaches in Angola, three of the party were shot dead and many were injured. Togo pulled out of the tournament and although physically unharmed, a grief stricken Adebayor returned to England and was placed on compassionate leave.
With the cold snap threatening to wipe out virtually all the weekends games the Eastland's staff with the help of snow ploughs managed to clear the area enough for the televised  Monday  night ESPN game to go ahead and it proved to be well worth it, City beat Blackburn 4-1, and City moved into fourth spot in the league and incredibly Mancini became the most successful new manager in City's history by winning his first four games in charge.
The City fans were brought down to earth a week later. As a lacklustre performance coupled with a decent Everton display saw the toffees inflict a 2-0 defeat on the Blues at Goodison Park. Next up was City's re-arranged Semi-Final 1st leg against Manchester United , and a packed Eastlands cheered City to a 2-1 lead to take to Old Trafford.
And it was Cup football again five days later, this time the 4th Round of the FA Cup and away at Scunthorpe . The Blues won comfortably 4-2 and the game saw debuts for yet even more of City's Academy youngsters as  Abdisalam Ibrahim started and Greg Cunningham replacing Nigel Dejong at half-time.City's dream of a Carling Cup final appearance were then dashed as City were beaten 3-1 in the 2nd leg of the semi-final against Manchester United at Old Trafford.
Robinho was struggling to find the form to be able to force himself into being a first team regular and so he gladly jumped at the chance of returning to Brazil as a six month loan deal was agreed with Santos.
Back in the league and City got back to winning ways with a  competent but not spectacular 2-0 win against Portsmouth at Eastlands.
On transfer deadline day City announced their only purchase of the window as winger Adam Johnson moved from Middlesbrough for an undisclosed fee, thought to be around £8M. Benjani moved away from the Blues to Sunderland, on loan until the end of the season. City's historically bad away form returned with a drab display in a 2-1 defeat at Hull.
There were home debuts for Patrick Vieira and Adam Johnson against Bolton and it was the latter who was the bright light in another pedestrian City performance which still earned a 2-0 win over Bolton and took City level on points with fourth place Liverpool with the Blues havin two games in hand over the four teams above them.
A paltry Eastlands crowd of 28,000 turned up for City's 5th round FA Cup tie and it was a turgid affair which ended in a 1-1 draw against Stoke .  Three days later City met Stoke again, this time in the league and a 1-1 draw at the Britannia Stadium took The Blues back into 4th place.
City then drew 0-0 at Eastlands against 4th place rivals Liverpool , but even though City put up a good display in the replay of the FA Cup Quarter Final against Stoke at The Britannia Stadium, dreams of a Wembley semi-final were dashed as The Blues were beaten 3-1.
Carlos Tevez had been missing for the last four games in which City had failed to win, he had to return to Argentina for the birth of his child, however he returned to England for the match at top of the table Chelsea , and amidst the controversy of recent tabloid sensationalism regarding John Terry having an affair with Wayne Bridge's ex, all the UK's press were focused on 'would Bridge shake Terry's hand… he didn't! But it was City who took all the headlines with a fantasic 4-2 win to keep their Champions League aspirations alive.
A hard earned 1-1 draw at Sunderland was followed by a third away game on the trot and City moved to 4th in the league with a 2-1 win at Fulham .
A first home game in a month saw Everton end The Blues unbeaten season home record with a 2-0 win for the Toffees.
A Carlos Tevez hat-trick helped City get back on track as they beat Wigan 3-0 at Eastlands and the City scored six at a rain sodden Turf Moor to beat  Burnley 6-1 and then at Eastlands they went nap with a 5-1 win against Birmingham , which took City into 4th place with Tottenham close on their heels.
A disappointing last minute 1-0 defeat to Manchester United at Eastlands and a Spurs win over table topping Chelsea saw Tottenham leap frog City into 4th with just four games left to play. At the Emirates a week later  the Blues earned a point in a well fought 0-0 draw against, Arsenal , however Shay Given sustained a shoulder injury in the second half which will rule him out for the rest of the season. With untried acacemy keeper Gunnar Nielsen the only fit custodian on City's books the FA allow The Blues to temporary loan Sunderland's third choice keeper Martin Fulop.
Fulop is thrust straight into the team at home to Aston Villa which City win 3-1, setting up a a 'fight for 4th place' battle against Spurs at Eastlands in the penultimate game of the season.
Unfortunately for Mancini's team the last Champions League place eluded them as Tottenham won 1-0 leaving City a guaranteed spot in The Europa League. The last game of the season was a formality as City drew 1-1 at West Ham .
The curtain came down on the season with Mancini confirmed as the man to take City forward next season, and a good percentage of the City squad were South Africa bound for the World Cup, including Carlos Tevez, who picked City's Player of the Year award, Dedryck Boyata picked up the Young Players award