A year on from Dr Shinawatra's takeover and it was all change again in the staff at Eastlands.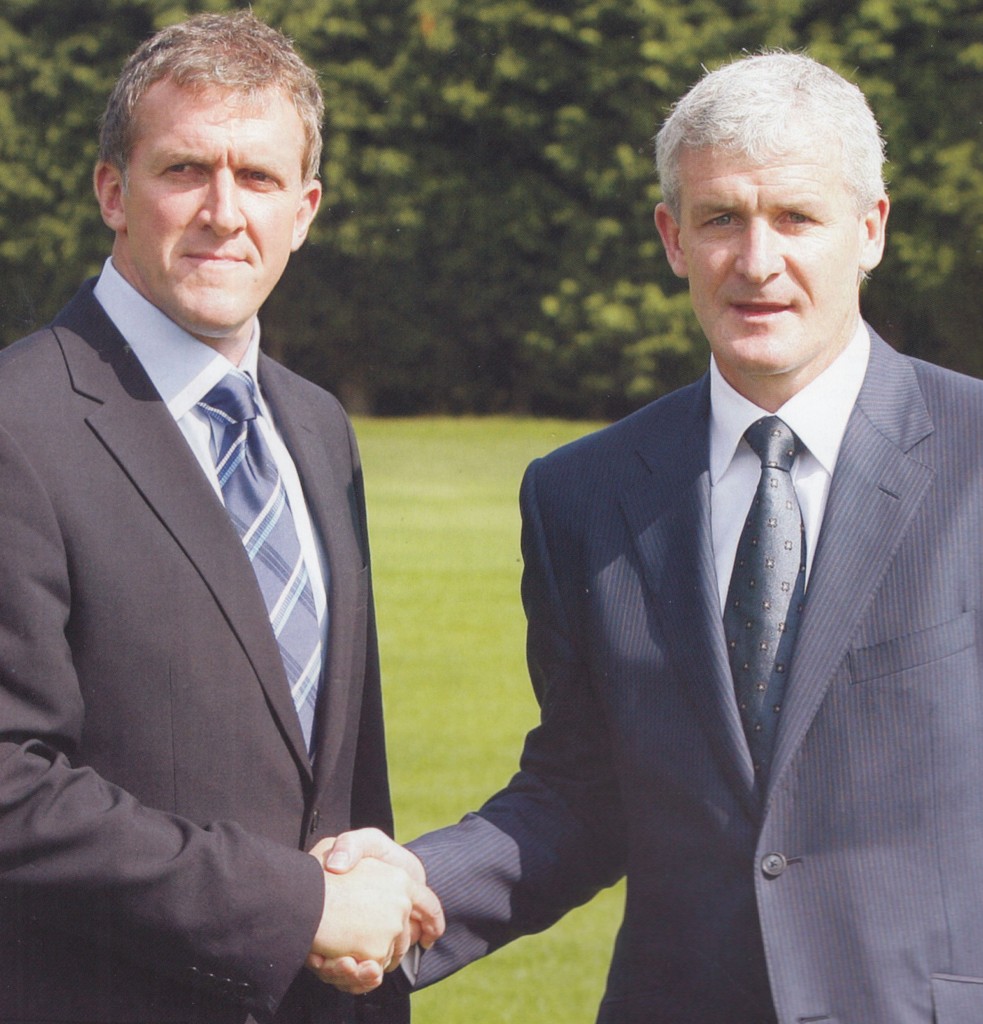 Mark Hughes had been brought in as the new City manager and he had appointed a new backroom staff consisting of Mark Bowen as his Assistant, Eddie Niedzwiecki as first team coach and Kevin Hitchcock as Goalkeeping coach.
Thaksin also appointed ex-Nike supremo Garry Cook as the club's Executive Chairman and it was his first job to broker a deal to bring Brazilian International Starlet Jo to City from CSKA Moscow, although the fee was undisclosed it was thought to in the region of a record breaking £17 million. As new talent came in one door several players were let go with their contracts not renewed, Sun Jihai joined Sheffield United, Geovanni joined newly promoted Hull, Emile Mpenza was also released and Andreas Isaksson was transferred to PSV Eindhoven for an undisclosed fee.City's season started earlier than usual as they faced a trip to the Faroe Islands on the 17th July play minnows,  EB Streymur in the 1st leg of the UEFA Cup 1st Qualifying Round. In what could have easiy been the preverbial banana skin City saw off the Islanders with a comfortable 2-0 win.   In the same week Georgio Samaras completed his move to Celtic in a deal believed to be worth £1m down and a further £1m after 100 games.  With Jo off to the Olympics with Brazil and injuries to Benjani and Bojinov City went into their first pre-season friendly at Hamburg with a lack of inexperienced forwards to call on and they were beaten 1-0.
Later that day some of City's past stars including Ali Bernabia were triumphant as The Blues won the North West Masters Football Tournament at the MEN Arena. Prior to Citys UEFA Cup 2nd leg game Mark Hughes sealed his second signing bring in Tal Ben Haim from Chelsea for an undisclosed fee. whilst Bernard Corradi was released from his contract by the Blues and moved to Serie A side Reggina.  Matt Mills also left the club as he moved to Doncaster for £300k. The Home leg of the European Qualifyer had to be held at Barnsley's Oakwell as the Eastlands pitch was not yet ready following a Bon Jovi concert. And a sparse crowd of just over 7,000 saw a comfortable 2-0 win against FB Streymur . two days later a 2nd string, although strong, City team drew 2-2 at Stockport. Whilst all the action had been going on on the field, there seemed a tremendous amount of problems off the pitch. Dr Shinawatra had returned to Thailand with his wife to clear his name however things had not gone to plan and his wife was sentenced to 3 years in jail with a decision still to be made on Thaksin's liberty and his wife on bail, Thaksin fled back to the UK and claimed Political Asylum stating he could not return to Thailand as he would not receive a fair trial, everything including City's finances and future now seemed very up in the air but the club were silent on exactly what was going on at the time. However ten years later Gary Cook revealed "Thaksin Shinawatra faced allegations of human rights abuses and fraud in his homeland that saw his near £1bn-worth of assets frozen. Shinawatra could no longer fund the club. "It was a reality [that we could have gone out of business]," Cook reveals. "There was a bit of a road crash starting to happen as there were no revenues incoming because it all belonged to the banks. We had a lot of players to pay and we'd also started to sign some players and put deposits on them. It all started to go a little bit wrong and then you've got no investment capital coming in from the owners. That only ends in one thing."
A strong Blues side drew 1-1 at Celtic before City met AC Milan in the Thomas Cook Trophy and a promising 1-0 win with a goal from the return from injury Valeri Bojinov was marred by a serious knee injury to Darius Vassell which was estimated to keep him out of the side for at least the next 10 weeks. The performances on the pitch then started to mirror the turmoil off it City met FC Miditjyland of Denmark in the first leg of the 2nd qualifying round of the UEFA Cup and embarrasingly were beaten at home 1-0. Three days later and things didn't get any better as City kicked off the Premier League season away at Aston Villa and were well beaten 4-1.  City were facing a major injury crisis up front with only youngsters, Sturridge, Evans and Caicedo available, however Mark Hughes' next signing was more defensive as he picked up Vincent Kompany from Hamburg for a fee believed to be around £5m. The 22 year old Belgian can play centre Back or defensive midfield.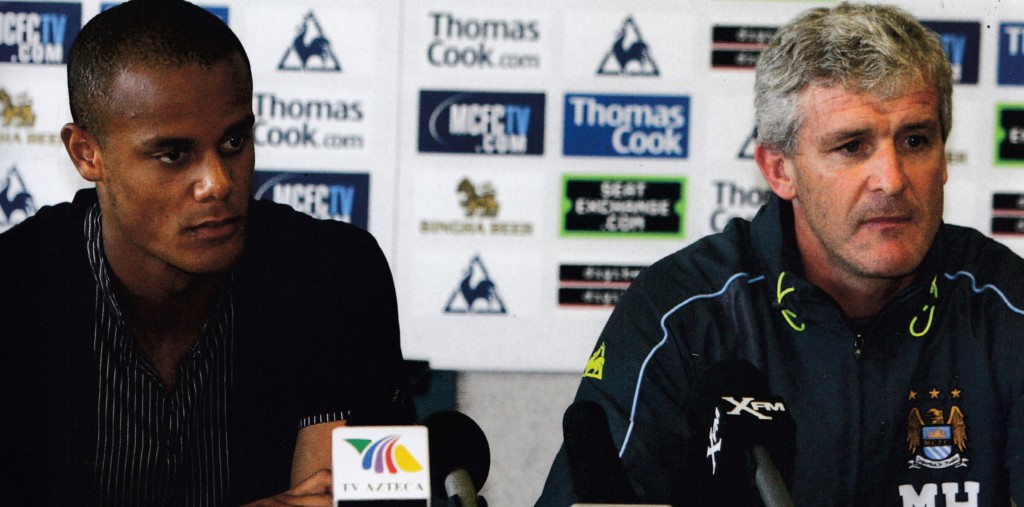 The City faithful need not have worried about the so called injury crisis as they steam-rollered past West Ham 3-0 in the first home game of the season. It would prove to be the start of a 10 day period which would be unforgettable for the City Faithful. City travelled to Denmark 5 days later and after a thrilling penalty shootout following a 1-0 result after extra time, Joe Hart saved 2 spot-kicks earning City a place in the 1st round proper at the expense of FC Midtjylland.
The following day 'The hero returned home' as Mark Hughes brought Shaun Wright-Phillips back to City from Chelsea in a deal believed to be worth around £9m. Two days later he scored a brace on his second debut for the club as City won 3-0 at Sunderland and moved into third place in the league. The following day was transfer deadline day, however all the talk was about the shock news that Thaksin Shinawatra had sold City to new owners, Abu Dhabi United Group for Development and Investment, a company that is estimated to be worth £850 Billion, the football world were stunned as ADUG proclaimed "Our goal is very simple – to make Manchester City the biggest club in the Premier League, and to begin with, to finish in the top four this season" Garry Cook remembers "The deal was very quick, and actually if you look back at it now, it was somewhat professionally naive on both parties. It was all a bit back of the napkin and a bit surreal really. It was a one page document that said 'We're going to buy a football club and can you make sure we get a marquee player at the end of the window'."
The City fans were not disappointed, it appeared The Blues were fighting with Rival's United for the signature of Spurs' Berbatov, however It was announced with just an hour or so to go to the end of the transfer window that City had smashed the British transfer record and had signed Brazil's no 10, Robinho from Real Madrid for £32.5m.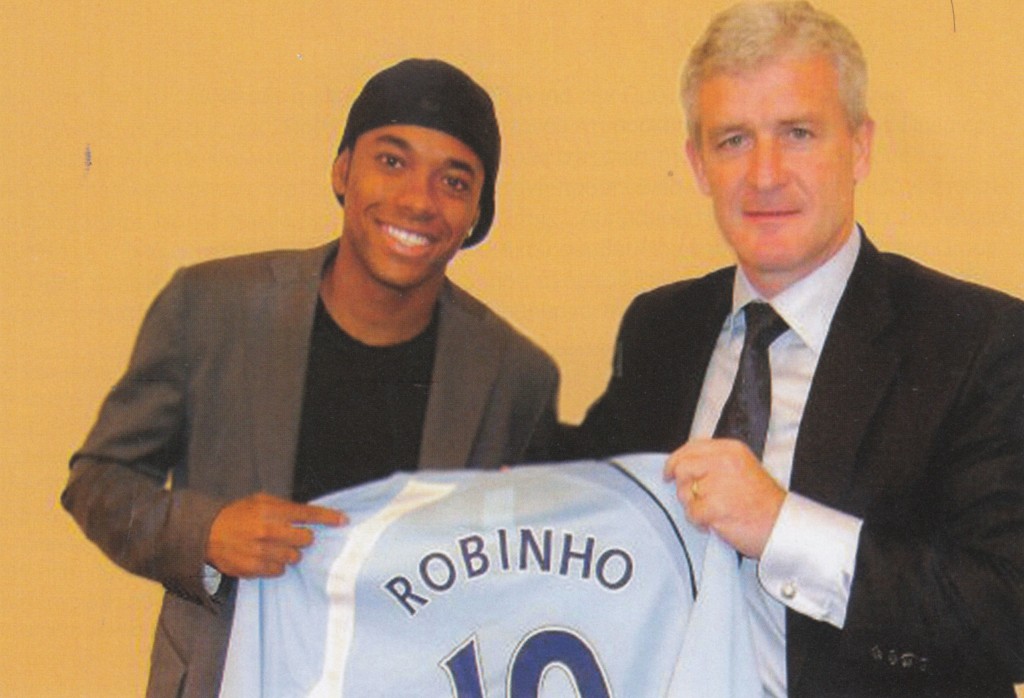 This overshadowed two more players coming to the club that week as Mark Hughes brought in 23 year old Argentinian International Right Back Pablo Zabaleta from Espanyol for a fee believed to be around £6.5m. Another Brazilian also joined the 'Blue Revolution', defender Glauber Berti signing on a 1 year deal from FC Nuremberg. With two defenders coming in it was time for one to leave as Vedron Corluka moved to Spurs after handing in a transfer request. There was a two week wait to see the new City stars in action due to the International break. There was a party atmosphere at Eastlands for the visit of Chelsea in a match that was billed by the media as 'The Clash of the Cash' City put up a good display in front of a record crowd for The City of Manchester Stadium, however Chelsea ended up 3-1 winners despite Robinho scoring on his home debut. With 4 Premier League games gone The Blues were in a healthy fifth place in the league 4 points behind leaders Chelsea and Liverpool. Next it was a trip to Cyprus in the 1st Round proper of the UEFA Cup and Jo scored both goals to against Omonia Nikosia to take a 2-1 lead into the 2nd leg. The good form that the Blues showed in Europe midweek was carried on to the Premiership where Mark Hughes team showed some Brazilian magic as they destroyed Harry Rednapp's Portsmouth side 6-0. The Eastlands crowd were also advised that the Due Diligence period of the Abu Dabi takeover was now complete and therefore the club was now in new Billionaire hands. The euphoria of the Portsmouth game was soon forgotten however as Mark Hughes' understrength team were dumped out of the League cup on Penalties at lowly Brighton . Four days later a full strength City team lost 2-1 at Wigan to a controversial penalty decision A good crowd of over 25,000 turned up at Eastlands to see City progress to the UEFA Cup Group stages as they beat Omonia Nikosia 2-1, however league form again let City down as they let slip a 2-0 lead to lose to Liverpool 3-2 in front of another capacity Eastlands crowd who were 'treated' to another diabolical refereeing display. Two days later City were handed a tough UEFA Cup group stage draw as it was announced they would face German side Schalke, Paris Saint-Germain, Racing Santander of Spain and Dutch team FC Twente, The top three teams from the group would proceed to the last 32 knockout stage. There was another International break and City stayed in the headlines as they named their new chairman, Khaldoon Al Mubarak. Back to the Premier League City gained a disappointing away point, drawing 2-2 against 10 man Newcastle . However back at Eastlands it was a different story as Robinho showed some Brazilian magic with a hat-trick to see off Stoke 3-0. City's away form was still a worry to Mark Hughes, and carried on being a worry as the Blues lost 2-0 at Middlesbrough and again by the same score at Bolton , Richard Dunne scoring own goals in both games. Hughes was grateful to get away from the pressure of the Premier League as City beat Steve McClaren's FC Twente 3-2 at Eastlands in their first UEFA Cup League game. City were brought down to earth three days later as Tottenham visited Eastlands and made it 3 defeats for the Blues on the trot as Harry Rednapps team won 2-1 in a game which saw Gelson Fernandes and Richard Dunne sent off. Mark Hughes was under pressure from some corners of the City fans who were concerned that City were closer to the relegation zone than the heady heights of the top six. However Hughes had been given the 'vote of confidence' by City's new owners and it seemed to be the boost that was needed. City visited the surprise Package of the season, Hull , and Stevie Ireland, quickly staking a claim for player of the season, scored both goals for City in an entertaining 2-2 draw. Ireland carried on his great form into the next game as City put up their best display of the season beating Arsenal 3-0. With Robinho and Zabaleta suffering injuries from the Arsenal game and Elano unavailable due to his wife having a baby, an understrength City side went to Germany and produced another fantastic display as they dominated a good Schalke side winning 2-0 with Stevie Ireland grabbing his 4th goal in 3 games. Back to the league and the bragging rights moved to Stretford as United won the derby 1-0 at Eastlands. City guaranteed themselves a place in the knockout stages of the UEFA Cup as they disappointedly drew 0-0 at home to Paris St Germain , another disappointing display a few days later saw the Blues take a point at Fulham in a 1-1 draw. Things got worse for Mark Hughes and City as an injury ridden Everton side came to The City of Manchester Stadium and nicked all three points with a late winner too keep the 'billionnaires of Manchester in the 'relegation zone'. Because of a guaranteed place in the knockout stages Mark Hughes sent an under strength team to Spain where they were outplayed by Racing Santander in a 3-1 defeat, however due to other results in the group City still topped the group. Hopes were high as City visited bottom of the table West Brom but another poor defensive performance saw City lose 2-1 and further become embroiled in a very tight bottom half of the table. The important Festive games started well for the Citizens as they annihalated a poor Hull side 5-1 at home on Boxing Day, then three days later two late goals from Sturridge and Robinho saw the Blues take an important point at Blackburn in a 2-2 draw. The transfer window opened a mere three days later and suddenly City were the bad guys of football with the press predicting that the Blues would ruin football with the money they would spend in January.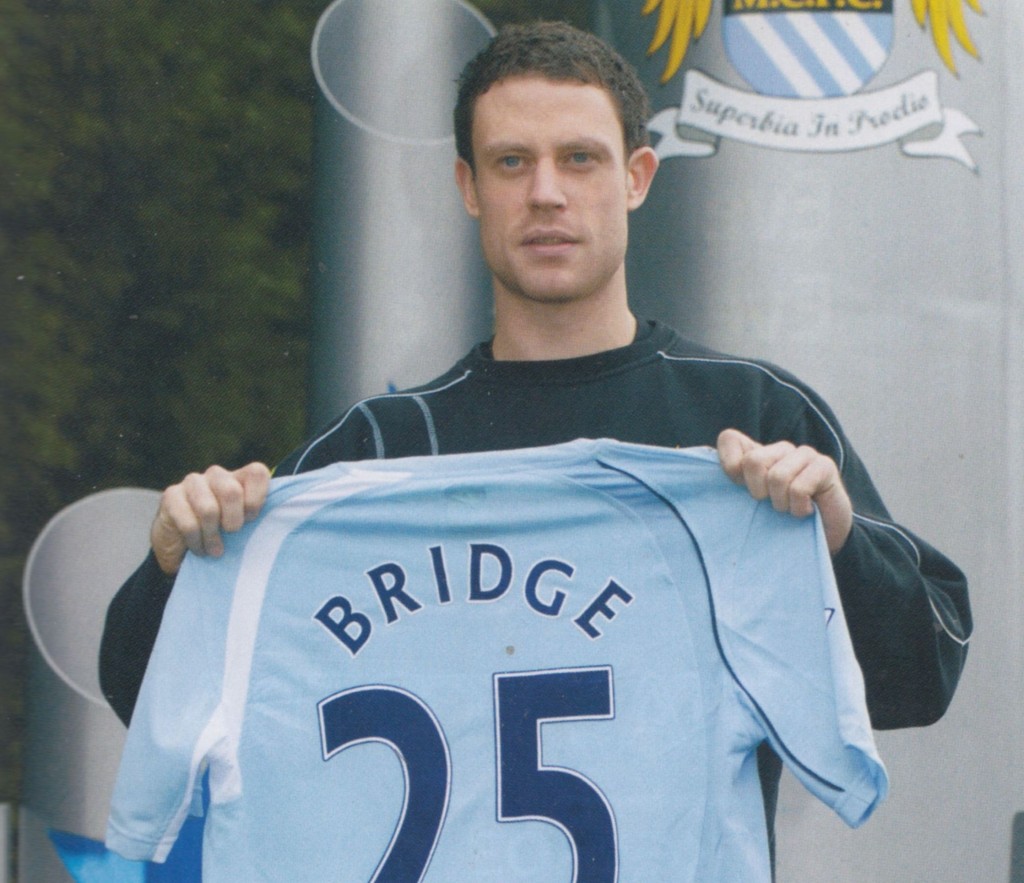 The deals did kick off quite quickly as Mark Hughes spent £12m to bring in left back Wayne Bridge from Chelsea, however he was not signed in time to help stop an embarrasing 3-0 exit from the FA Cup at Eastlands to struggling Championship side Nottingham Forest . City were then linked to an incredible £100m bid for Brazilian Kaka, the story would run and run but City eventually pulled out of the deal due to 'ridiculous demands. Mark Hughes was also linked to former player Roque Santa Cruz, however Blackburn's continued ridiculous overblown valuation of the player would also see that deal eventually fall by the wayside. The hope of getting away from transfer talk and back to actual football was foiled by the weather as the trip to Portsmouth was postponed. However a 10 man City team following the sending off of Dunne beat an in form Wigan side 1-0 at home to move further towards the top half of the table.
19 days into the transfer window City paid West Ham £14m for Craig Bellamy to bolster the attack, in his autobiography Bellamy talks of some unrest at the time of his signing "I realised I was playing with the big boys now. But I arrived at the club's winter training camp in Tenerife to find all hell had broken loose. Robinho had walked out. In some ways, I wasn't complaining. City had paid £14m for me and Mark Hughes had fought tooth and nail to sign me, above the objections of some people at the club who weren't too keen on paying that amount of money for a 29-year-old with a lot of injuries on the clock. Oh, yeah, and they were trying to sign Kaka from AC Milan for £ 91m. That deal broke down on the day I arrived, too. Garry Cook, City's chief executive, said famously that Kaka had 'bottled it'. And Robinho was arrested in connection with an alleged rape. He was soon cleared of any involvement in anything but all this was before I'd even played a game. It was chaos even without any help from me.."  Hughes then persuaded the board to spend a reputed £12m to Hamburg for Dutch defensive midfielder Nigel De Jong. Both players made their debut in a 2-1 win at home to Newcastle to move into the top half of the table. City had taken 10 points from a potential 12 but that run came to an end as a 10 man Stoke team won 1-0 in a frustrating display at the Brittania Stadium.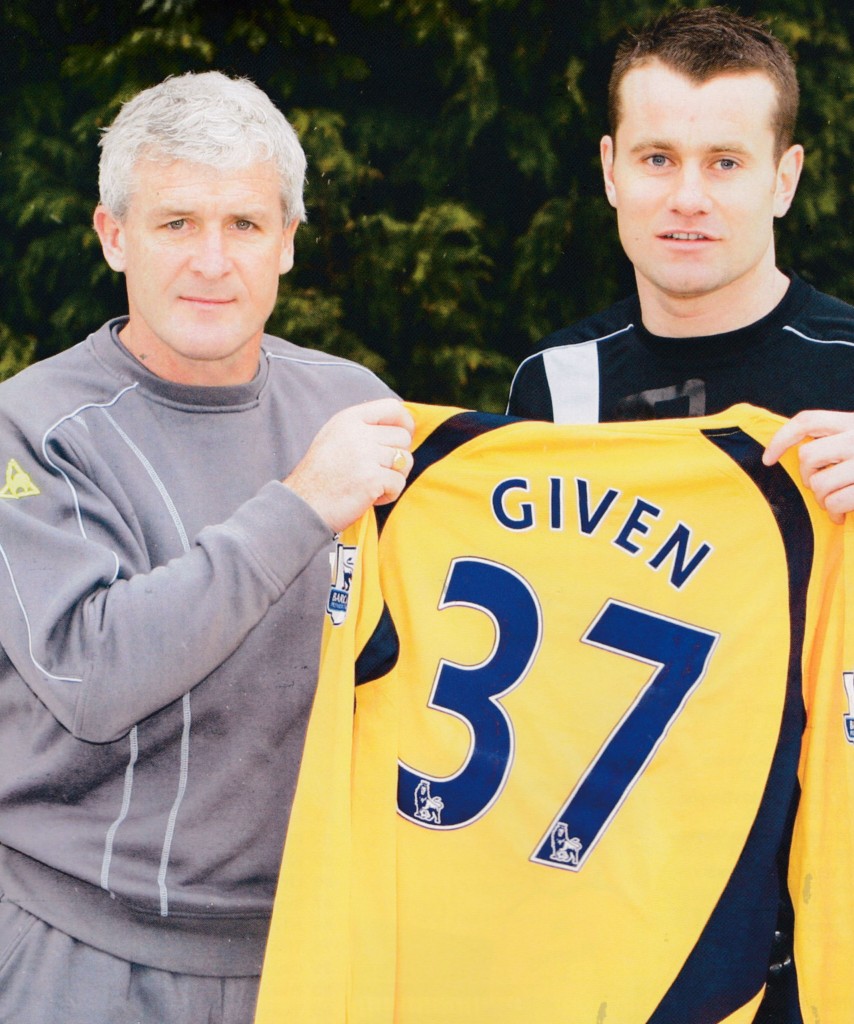 The next day City reacted by paying Newcastle £8m for Shay Given.  With the transfer window closing on 2nd February the last piece of activity involving the Blues saw out of favour striker, Jo, joining Everton on loan until the end of the season. Shay Given was the star man on his debut with three world class saves to help City win 1-0 at home to Middlesbrough . Sadly City's away day blues continued as a Portsmouth side inspired by caretaker duo Paul Hart and Brian Kidd disposed of a disappointing City side 2-0. The Blues European adventure continued with an impressive first Leg 2-2 draw in Copenhagen in the round of 32. And The Blues put up a similar gritty performance three days later in a 1-1 draw at Liverpool . In the return leg of the UEFA Cup against Copenhagen City disposed of the Danes 2-1 with a great attacking display to put them into the last sixteen. Unfortunately for City they could not transfer their impressive European displays  to the Premier League and they suffered yet another away defeat, this time 1-0 at West Ham . In addition both Bellamy and Robinho received injuries which would see them miss City's next game against 'top four' chasing Aston Villa. Although The Blues were without injured Bellamy, Robinho and Richards an Eastlands crowd were treated to an inspired City display as they beat Aston Villa 2-0, a game which saw Valeri Bojinov come off the bench to play his first 10 minutes of League football at the City of Manchester Stadium since his first injury against Manchester United in August 2007. City were now in eighth position in the league and realistically the best they could hope for with eleven games left was seventh place, which could guarantee European football dependant on the result of the FA Cup Quarter-Finals. Another way for the Blues to qualify for Europe was to win the UEFA Cup and an excellent 2-0 home win against Aalborg in the 1st leg of the round of 16 gave City hope of progressing further in the competition. Back to the league and it was 'same old same old' for City on their travels as they were beaten 1-0 by Chelsea at Stamford Bridge. A memorable 2nd leg in the UEFA Cup saw City beaten 2-0 in normal time by Aalborg and after stalemate in extra time, Shay Given was the City hero as the Blues qualified for the Quarter Finals in a penalty shoot-out. Citys great home form continued as they completed a league double over Sunderland winning 1-0, but another bad away trip followed as they lost 2-0 to Arsenal . The Quarter Final of the UEFA Cup beckoned but Mark Hughes' men disappointedly lost 3-1 in the 1st leg against Martin Jol's Hamburg in Germany. And an injury ravaged City then lost at home for the first time in the league in 2009 3-1 to Fulham . An unprecednted offer of tickets for just £5 made for a fantastic atmosphere at Eastlands and although City put up an amazing display, a 2-1 win over Hamburg on the night was not good enough to see the Blues through to the semi-finals of the UEFA Cup. All The Blues could play for now was seventh spot in the league which would give them a place in the Europa League next season, but as they were 10th Mark Hughes had to rally the troops to get the best points tally possible from the last six games. Although not a great performance City overcame relegation favourites West Brom 4-2 at Eastlands. And then they moved in to 9th position just three points behind Fulham with their first away win since August as they beat Everton 2-1. It was four wins on the bounce as City easily disposed of bogey team Blackburn 3-1 at The City of Manchester stadium, and with seventh place beckoning it would be rivals United who scupper City's European hopes as they beat the blues 2-0. And Tottenham made it mathematically impossible for City to qualify for the Europa Cup as they beat the Citizens 2-1 at White Hart Lane in the penultimate game of the season. With nothing to play for an unexpected fantastic crowd of over 47,000 turned up, almost in anticipation of what was to come next season, to see an enternaining 1-0 win against Bolton City finished in tenth position in the league and Mark Hughes new that he would have to guide The Blues into at least the top 6 next season to keep the confidence of the Billionaire owners. Stephen Ireland was unanimously awarded The player of the season award.