2003/04 Season Review
It was a start of a new era for Manchester City as the 2003 to 2004 season started as the Blues moved into the fantastic new City of Manchester Stadium and a return to European football after 24 years, albeit through the 'back door' of the 'Fair Play' League
City's pre-season started with two games in Denmark, a 1-0 defeat to Odense Boldklub and a 2-1 win against Feyenord. Back to England and City drew 2-2 at Lincoln, then scored 10 goals in two games beating Oldham 6-0 and Rochdale 4-0.
It was a prestigeous season for City as an emotional goodbye to Maine Road had occurred just a few months earlier now fans arrived in awe to see The Blues new stadium, a re-modelled City of Manchester Stadium, built for the Commonwealth games, the running track now gone and replaced with an extra tier to give a capacity of 48,000 with each and every seat having an amazing view of the pitch.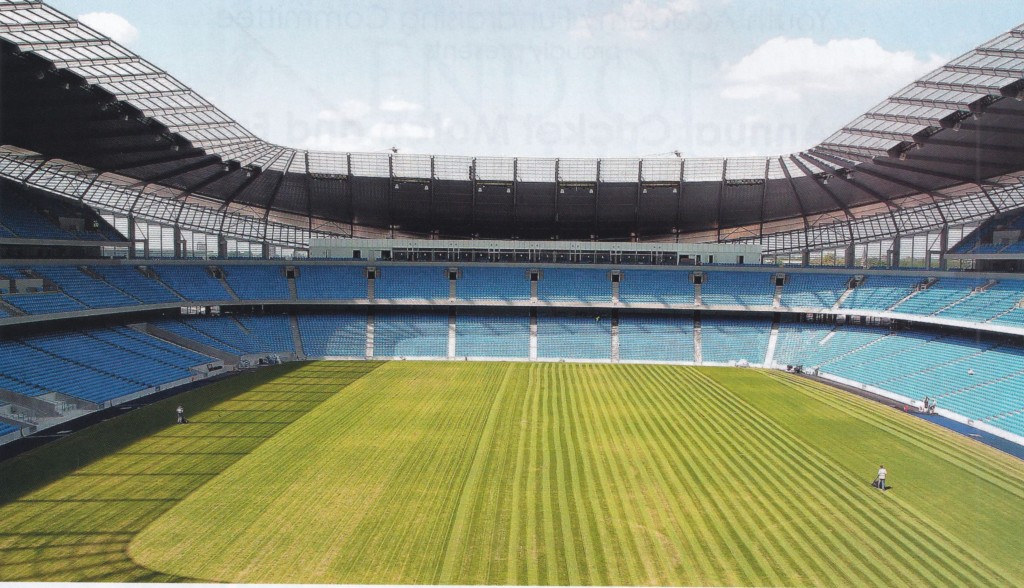 The first game to be played at the stadium was a prestigious first Thomas Cook Trophy game against Barcelona, it was an emotional day as the fans and players paid their last respects to the memory of Marc-Vivien Foe . a more joyful farewell went to two City heroes, Shaun 'The Goat' Goater and Ali Bernabia who captained the team on the day playing the first 25 minutes.  pre-season the Goat had an offer from Reading and City accepted a £500,000 bid and Shaun left a cult hero!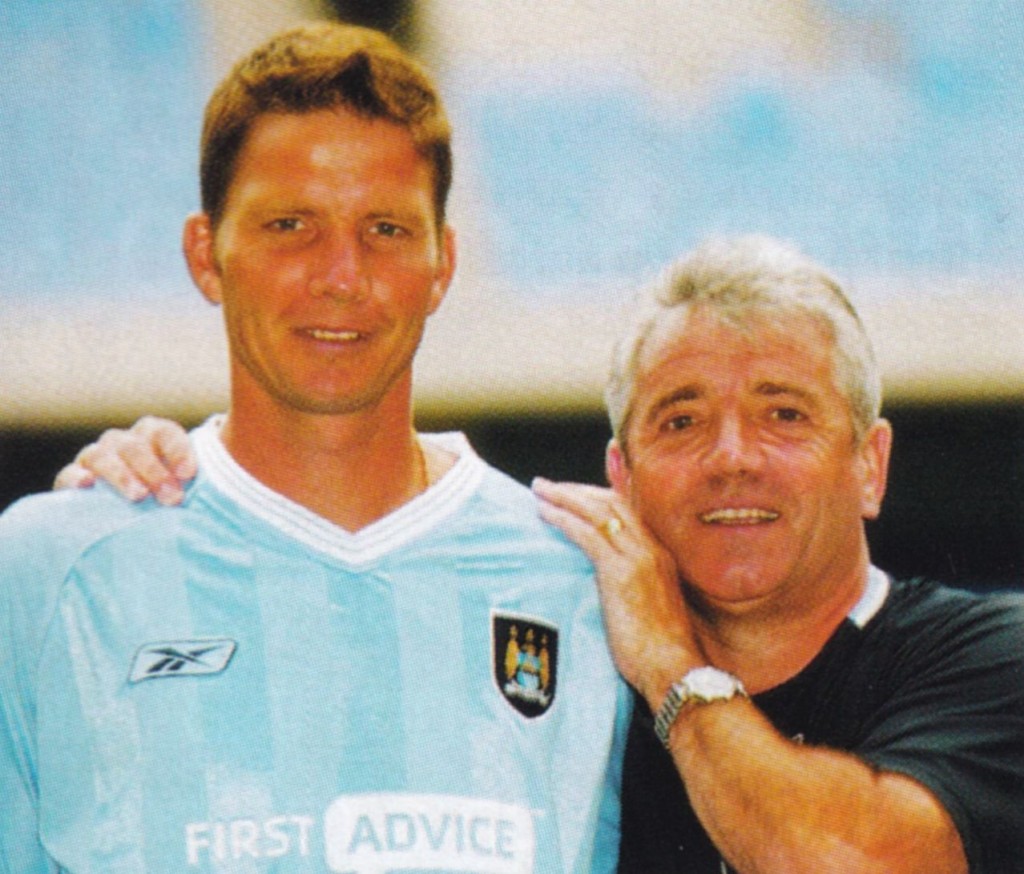 Kevin Keegan had brought in some experienced players pre-season with the arrival of David Seaman, Paul Bosvelt, Michael Tarnat, Trevor Sinclair and Antoine Sibierski. Players who had left were Carlo Nash to Middlesbrough, Kevin Horlock to West Ham, Niclas Jensen to Borussia Dortmund and there was the possibility that City could be without the services of Eyal Berkovic as well as he had handed in a transfer request pre-season.
And so to Europe and it was not too be the glitziest of opponents in the Qualifying round of the UEFA Cup as City met Total Network Solutions of Wales at COMs and steamrolled over the part-timers with a 5-0 win to set up the 2nd leg as a formality.
There was too be an impressive start to the Premiership campaign for Kev's blues as they visited Charlton and were victorious in an impressive 3-0 win. Then a crowd of 46,287 saw City kick off there first Premiership campaign at The City of Manchester Stadium with a 1-1 draw against Portsmouth . The Blues were in dreamland 2 days later as they travelled to Blackburn and won 3-2, a victory that took City to the top of the Premier League albeit just for 48 hours.
TNS played the return leg of the UEFA Cup tie at Cardiff's Millenium and in an eerie atmosphere just over 10,000 fans, at least 9,000 of which were City fans saw a much changed side beat the Welsh part-timers 2-0, completing a 7-0 aggregate victory.
It was to be a tough test for City's next home game as they met league leaders Arsenal and although the Blues were beaten 2-1 it was a good start to the season as City stood in 4th place with 7 points from 4 games.
City lifted there first trophy of the season as a team which included Paul Power, Paul Simpson, Stevie Redmond and David White were crowned Masters Champions at a packed Telewest Arena in Newcastle, beating rangers in the final 3-1.
Kevin Keegan then added two more players to the squad by bringing in Claudio Reyna from Sunderland and Steve McManaman from Real Madrid prior to the next game at home to Aston Villa , and both players made their debut in an impressive 4-1 win, which saw a hat-trick from Nicolas Anelka and a first league start for Paulo Wanchope in 19 months. A trip to Fulham ended in a 2-2 draw and after six games The Blues lay in sixth place.
Back to Europe and City entertained Belgian side Sporting Lokeren and stuttered to a 1st leg 3-2 lead with Kevin Keegan very upset at the City faithful who booed the team (or at least certain individuals) at half-time as the team were losing 2-1.
Back to the league and nothing for the City fan faithful to shout about as They drew 0-0 at home to Tottenham and then failed to score again in a 1-0 defeat at Wolves .
City then scraped through to the 2nd round of the UEFA Cup with a scruffy 1-0 win in Lokeren .
City then provided the Eastland's crowd to a goal spectacular as they beat Bolton 6-2, the only down side saw Shaun Wright-Phillips become the first City player to be sent off at The City Of Manchester Stadium.
Next came three away games a 1-0 defeat at Chelsea, a Carling Cup 3rd Round 3-0 win at QPR followed by an excellent 2-0 win at Southampton in the Premiership.
Another disappointing home leg in the UEFA Cup saw City draw 1-1 against the Pole's Groclin . And City's league form began to suffer as well as they were beaten 3-0 at home to Leicester and then again at Newcastle by the same score leaving them in 8th position with 18 points from 13 games. The Blues then suffered an embarrassing exit from the UEFA Cup as they failed to score in the second leg against Groclin.
City's league form started to become of some concern as they lost at home again 1-0 against Middlesbrough , they were dumped out of the League Cup at Tottenham 3-1 and then managed a point at Everton in a 0-0 draw but then were beaten 3-1 at Old Trafford by rivals Manchester United and so after a promising start at The City of Manchester Stadium City were out of the League Cup, UEFA Cup and had slipped to 12th in the league just 3 points above the relegation zone with a third of the season gone.
The last three games of 2003 still saw City without a win since November 1st, they drew 1-1 at home to Leeds , lost at Birmingham 2-1 and then earned a credible 2-2 draw at Eastlands against Liverpool .
2004 saw City in the FA Cup 3rd Round and a replay was earned as The Blues came from behind to draw 2-2 with Leicester at Eastlands, Another match passes without a win at home as Charlton hold City to a 1-1 draw in the Premiership.
Unhappy Eyal Berkovic moves to Portsmouth and appears against the the Blues in the next game as City are dealt a 4-2 drubbing at Portsmouth to leave them still just three points above the bottom three.
It was a grateful break from the Premiership as City won their first match in the last 15 attempts knocking Leicester out of the FA Cup 3-1 in the 3rd Round replay at The walkers Stadium.
The need for City to stop the rot in the Premiership saw Kevin Keegan splash out on England keeper David James, and as one England keeper comes ino the squad an ex England keeper leaves as David Seaman announces he is leaving the club and retiring from football due to recurring injuries.
David James was unable to help City to their first Premiership victory in 11 attempts as the Blues drew at home to Blackburn 1-1.
Kevin Keegan brought in a further 'keeper as back up to David James as Icelandic keeper Arni Arason signed on a short-term contract. This was followed by another home 1-1 draw this time in the FA Cup 4th Round against Tottenham. Moving into February and City suffered another away defeat as they were beaten 2-1 by Arsenal .
After such a disappointing season so far, what came next was to be a game that will go down in not only City folklore but FA Cup Folklore as City trailed 3-0 at Half Time to Tottenham in the FA Cup 4th Round Replay at White Hart Lane and were down to ten men as Joey Barton was sent off as the players left the pitch after 45 minutes. The second half brought probably the greatest comeback in FA Cup history as 10 man City scored 4 second half goals to earn a fifth round tie at Old Trafford.
Typically City couldn't reproduce their Cup form in the league as they drew 0-0 at home to Birmingham and then lost 2-1 to Liverpool at Anfield.
City's visit to Old Trafford saw there only chance of a trophy disappear as Manchester United knocked them out 4-2.
Amidst talk of relegation and Kevin Keegan's future City eventually gained their first Premiership win in 15 games as they beat Bolton 3-1 at the Reebok, however they then lost to Chelsea 1-0 at Eastlands and now stood 5th from bottom in the table still just 3 points above the relegation zone.
Another famous victory against rivals Manchester United as Ferguson's side were trounced 4-1 at Eastlands but then predictably the Blues lost their next game 2-1 at Leeds.
Arthur Cox took charge of managing the team as Kevin Keegan has to go into hospital for a problem with an inflamed nerve and two draws followed, 0-0 at home to Fulham and 1-1 at Aston Villa left Keegan's side just four points from the relegation zone with only seven games left to play.
With Keegan back at the helm the draws continued 3-3 at home to Wolves and 1-1 at Tottenham , worse was to come as Southampton beat City 3-1 at Eastlands, things were looking glum for the Blues, as they travelled to Leicester where they earned an invaluable point in a 1-1 draw.
With three games left City's safety in the Premiership was confirmed as they beat Newcastle 1-0 at Eastlands, although Leeds could mathematically still end level on points they were 36 goals behind City on goal difference which could not be made up in just two remaining games.
City then lost 2-1 at Middlesbrough , but in the last game of the season the Eastlands crowd were treated to a 5-1 win against Everton , to leapfrog the Toffees into 16th in the league to end a disappointing season.
Shaun Wright-Phillips was named City's Player of The Year.